30 Challenges to Enlightenment: The Complete Library
The following list contains all books mentioned and referenced throughout the 30 Challenges to Enlightenment guidebook. If you would like to just see the essential books and tools required to excel in this course, you can view the 30 Challenges to Enlightenment: Essential Collection here.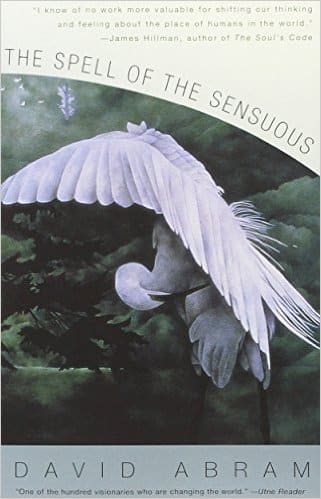 The Spell of the Sensuous: Perception and Language in a More-Than-Human World by David Abram
"David Abram draws on sources as diverse as the philosophy of Merleau-Ponty, Balinese shamanism, Apache storytelling, and his own experience as an accomplished sleight-of-hand magician to reveal the subtle dependence of human cognition on the natural environment."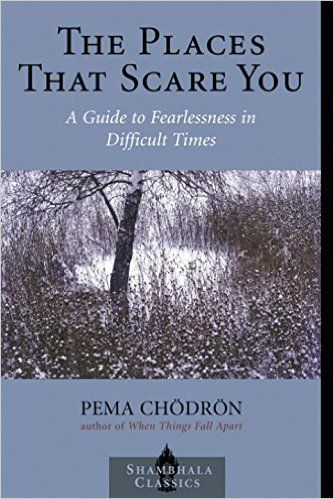 The Places that Scare You: A Guide to Fearlessness in Difficult Times by Pema Chödrön
"This book teaches us how to awaken our basic goodness and connect with others, to accept ourselves and others complete with faults and imperfections, and to stay in the present moment by seeing through the strategies of ego that cause us to resist life as it is."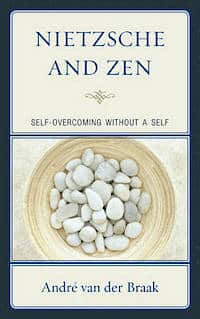 Nietzsche and Zen: Self Overcoming Without a Self by André van der Braak
"In Nietzsche and Zen: Self-Overcoming Without a Self, André van der Braak engages Nietzsche in a dialogue with four representatives of the Buddhist Zen tradition . . . In doing so, he reveals Nietzsche's thought as a philosophy of continuous self-overcoming, in which even the notion of 'self' has been overcome."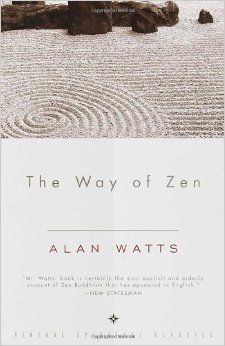 The Way of Zen by Alan Watts
"In his definitive introduction to Zen Buddhism, Alan Watts explains the principles and practices of this ancient religion to Western readers. With a rare combination of freshness and lucidity, he delves into the origins and history of Zen to explain what it means for the world today with incredible clarity. Watts saw Zen as 'one of the most precious gifts of Asia to the world,' and in The Way of Zen he gives this gift to readers everywhere."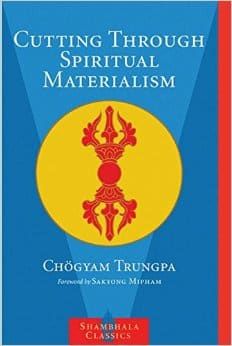 Cutting Through Spiritual Materialism by Chögyam Trungpa
"(Trungpa's)… incisive, compassionate teachings serve to wake us up from this trick we all play on ourselves, and to offer us a far brighter reality: the true and joyous liberation that inevitably involves letting go of the self rather than working to improve it. It is a message that has resonated with students for nearly thirty years, and remains fresh as ever today."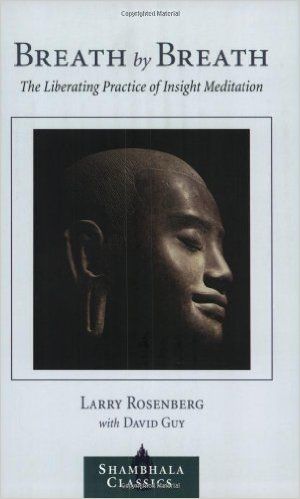 Breath by Breath: The Liberating Practice of Insight Meditation by Larry Rosenberg
"Freedom from suffering is not only possible, but the means for achieving it are immediately within our grasp—literally as close to us as our own breath . . . In this book, Larry Rosenberg brings this timeless meditation method to life. Using the insights gained from his many years of practice and teaching, he makes insight meditation practice accessible to modern practitioners."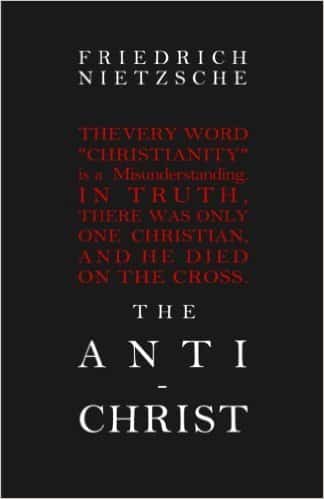 The Anti-Christ by Friedrich Nietzsche
"Here is Friedrich Nietzsche's great masterpiece The Anti-Christ, wherein Nietzsche attacks Christianity as a blight on humanity. This classic is essential reading for anyone wishing to understand Nietzsche and his place within the history of philosophy."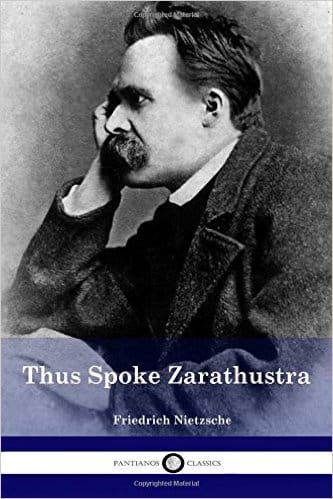 Thus Spoke Zarathustra by Friedrich Nietzsche
"First published between 1883 and 1891, this philosophical novel is written in a distinct and original style which combines dialogue with verse. It established Nietzsche as a bold and original thinker; a reputation that would only be enhanced by later works such as Beyond Good and Evil."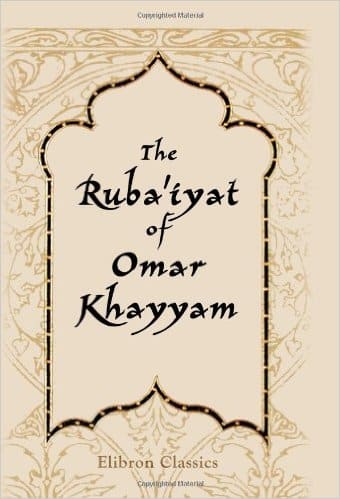 The Ruba'iyat of Omar Khayyam by Omar Khayyam
"Philosopher, astronomer and mathematician, Khayyam as a poet possesses a singular originality. His poetry is richly charged with evocative power and offers a view of life characteristic of his stormy times, with striking relevance to the present day."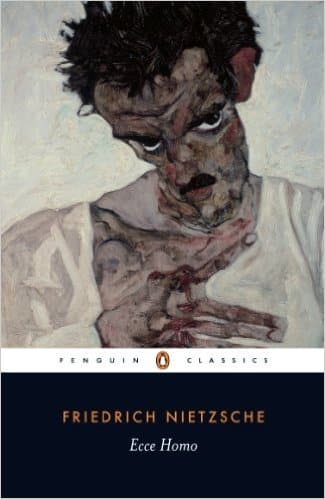 Ecce Homo: How One Becomes What One Is by Friedrich Nietzsche
"In this extraordinary work Nietzsche traces his life, work and development as a philosopher, examines the heroes he has identified with, struggled against and then overcome – Schopenhauer, Wagner, Socrates, Christ – and predicts the cataclysmic impact of his 'forthcoming revelation of all values'."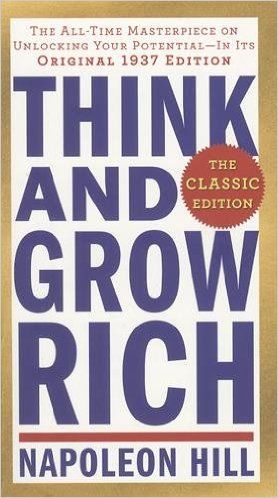 Think and Grow Rich by Napoleon Hill
"Think and Grow Rich has been called the 'Granddaddy of All Motivational Literature.' It was the first book to boldly ask, 'What makes a winner?' The man who asked and listened for the answer, Napoleon Hill, is now counted in the top ranks of the world's winners himself."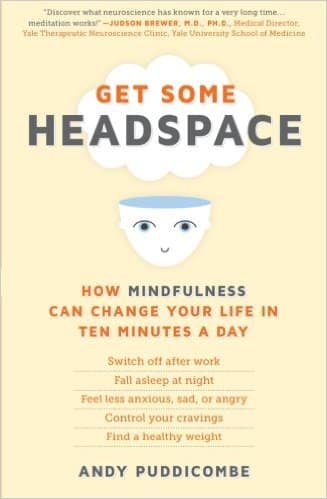 Headspace: How Mindfulness Can Change Your Life in Ten Minutes a Day by Andy Puddicombe
"As a former Buddhist monk with over 10 years of teaching experience, Andy Puddicombe has been acknowledged as the UK's foremost mindfulness meditation expert . . . Simple exercises, stories and techniques culled from Andy's years of experience will help anyone calm the chatter in their minds. The result? More headspace, less stress."
Pedagogy of the Oppressed by Paulo Freire
"The methodology of the late Paulo Freire has helped to empower countless impoverished and illiterate people throughout the world. Freire's work has taken on especial urgency in the United States and Western Europe, where the creation of a permanent underclass among the underprivileged and minorities in cities and urban centers is increasingly accepted as the norm."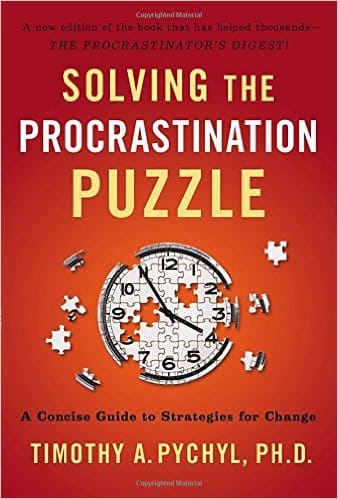 Solving the Procrastination Puzzle: A Concise Guide to Strategies for Change by Timothy A. Pychyl
"With numerous practical tips for change, Solving the Procrastination Puzzle brings clarity and scientific studies—and a touch of humor!—to the quest for successfully achieving goals. This accessible guide is perfect for entrepreneurs, parents, students, and anyone who wants to get unstuck, stop delaying, and start living their most inspired life."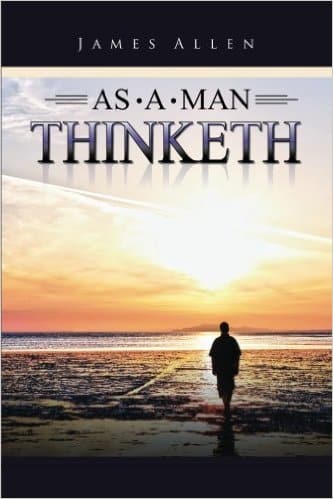 As a Man Thinketh by James Allen
"Do you believe in the power of positive thinking — yet remain unclear as to how that power can be harnessed in your life? James Allen's As a Man Thinketh explains and promotes the direct connection between what we think and the direction our lives take."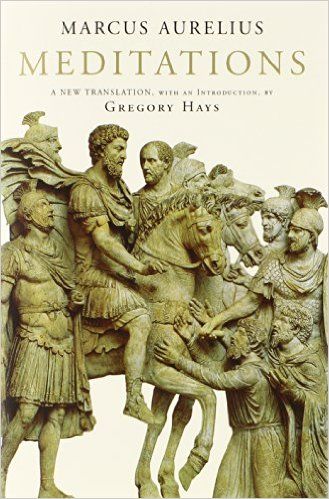 Meditations by Marcus Aurelius
"Few ancient works have been as influential as the Meditations of Marcus Aurelius, philosopher and emperor of Rome (A.D. 161–180). A series of spiritual exercises filled with wisdom, practical guidance, and profound understanding of human behavior, it remains one of the greatest works of spiritual and ethical reflection ever written."
Zen in the Art of Writing: Essays on Creativity by Ray Bradbury
"Ray Bradbury, prolific writer and author of Fahrenheit 451, shares the creative wisdom that powered his writing career. In a series of essays Bradbury helps us find authenticity, simplicity, and excellency in the art of writing."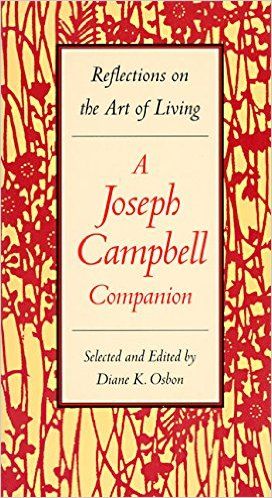 Reflections on the Art of Living: A Joseph Campbell Companion by Joseph Campbell
"Celebrated scholar Joseph Campbell shares his intimate and inspiring reflections on the art of living in this beautifully packaged book, part of a new series to be based on his unpublished writings."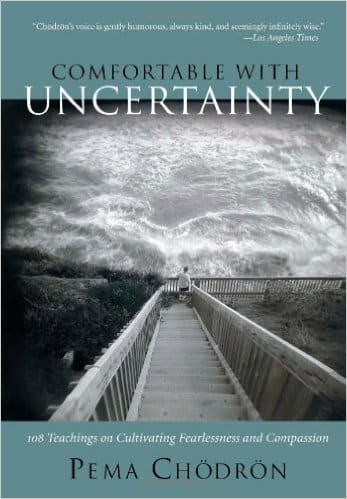 Comfortable with Uncertainty: 108 Teachings on Cultivating Fearlessness and Compassion by Pema Chödrön
"This book offers short, stand-alone readings designed to help us cultivate compassion and awareness amid the challenges of daily living. More than a collection of thoughts for the day, Comfortable with Uncertainty offers a progressive program of spiritual study, leading the reader through essential concepts, themes, and practices on the Buddhist path."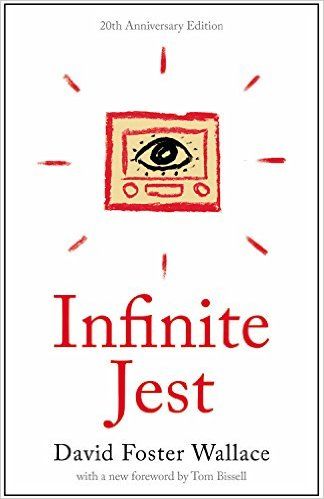 Infinite Jest: A Novel by David Foster Wallace
"Equal parts philosophical quest and screwball comedy, Infinite Jest bends every rule of fiction without sacrificing for a moment its own entertainment value. It is an exuberant, uniquely American exploration of the passions that make us human – and one of those rare books that renew the idea of what a novel can do."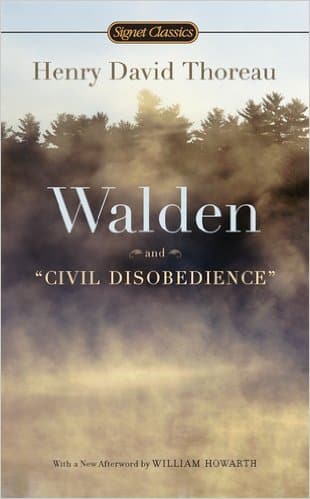 Walden and Civil Disobedience by Henry David Thoreau
"In 1845, Thoreau moved to a cabin that he built with his own hands along the shores of Walden Pond in Massachusetts. Shedding the trivial ties that he felt bound much of humanity, Thoreau reaped from the land both physically and mentally, and pursued truth in the quiet of nature. In Walden, he explains how separating oneself from the world of men can truly awaken the sleeping self."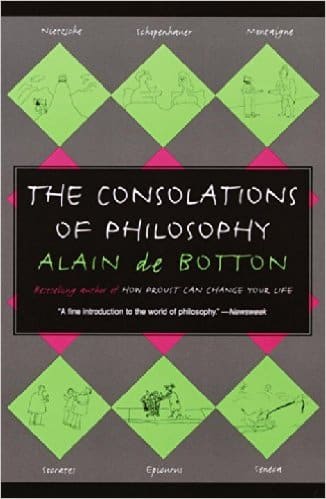 The Consolations of Philosophy by Alain De Botton
"From the internationally heralded author of How Proust Can Change Your Life comes this remarkable new book that presents the wisdom of some of the greatest thinkers of the ages as advice for our day to day struggles . . . The Consolations of Philosophy is a book as accessibly erudite as it is useful and entertaining."
The Brothers Karamazov by Fyodor Dostoevsky
"Completed only two months before his death, The Brothers Karamazov is Dostoyevsky's largest, most expanisve, most life-embracing work. Filled with human passions — lust, greed, love, jealousy, sorrow and humor — the book is also infused with moral issues and the issue of collective guilt."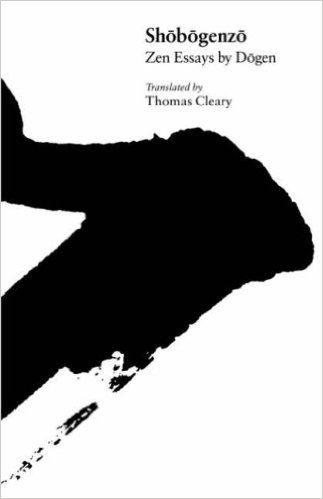 Shobogenzo: Zen Essays by Eihei Dogen
"A remarkable collection of essays, Shobogenzo, "Treasury of the Eye of True Teaching," was composed in the thirteenth century by the Zen master Dogen, founder of the Soto Zen school in Japan. Through its linguistic artistry and its philosophical subtlety, the Shobogenzo presents a thorough recasting of Buddhism with a creative ingenuity that has never been matched in the subsequent literature of Japanese Zen."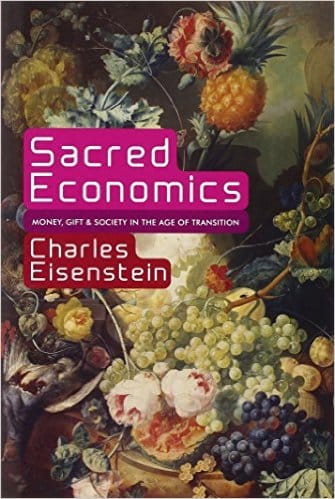 Sacred Economics: Money, Gift, and Society in the Age of Transition by Charles Eisenstein
"Sacred Economics traces the history of money from ancient gift economies to modern capitalism, revealing how the money system has contributed to alienation, competition, and scarcity, destroyed community, and necessitated endless growth. Today, these trends have reached their extreme—but in the wake of their collapse, we may find great opportunity to transition to a more connected, ecological, and sustainable way of being."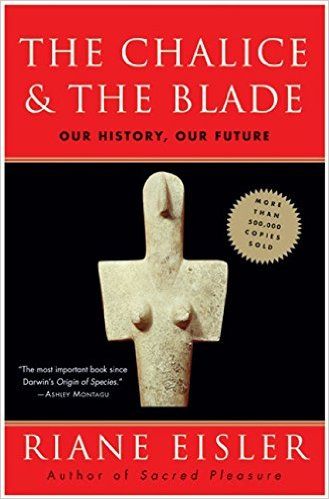 The Chalice and the Blade: Our History, Our Future by Riane Eisler
"The Chalice and the Blade tells a new story of our cultural origins. It shows that warfare and the war of the sexes are neither divinely nor biologically ordained. It provides verification that a better future is possible — and is in fact firmly rooted in the haunting dramas of what happened in our past."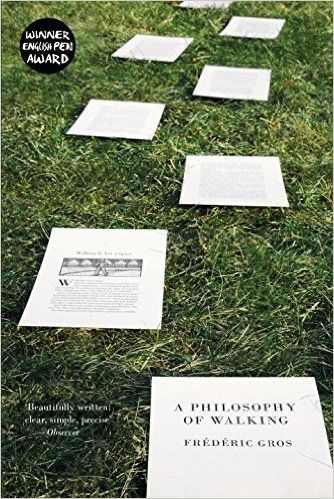 A Philosophy of Walking by Frederic Gros
"Gros draws attention to other thinkers who also saw walking as something central to their practice. On his travels he ponders Thoreau's eager seclusion in Walden Woods; the reason Rimbaud walked in a fury, while Nerval rambled to cure his melancholy . . . Brilliant and erudite, A Philosophy of Walking is an entertaining and insightful manifesto for putting one foot in front of the other."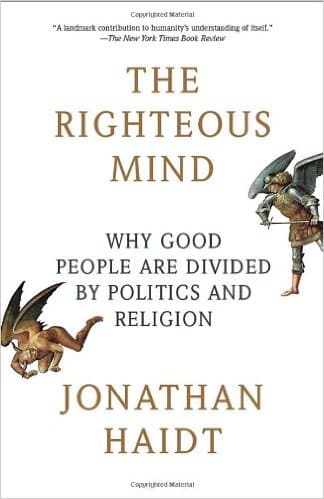 The Righteous Mind: Why Good People Are Divided by Politics and Religion by Jonathan Haidt
"In this subtle yet accessible book, Haidt gives you the key to understanding the miracle of human cooperation, as well as the curse of our eternal divisions and conflicts. If you're ready to trade in anger for understanding, read The Righteous Mind."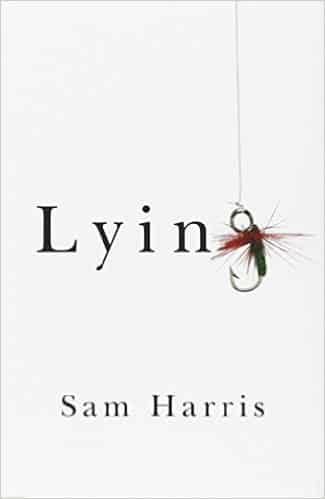 Lying by Sam Harris
"Acts of adultery and other personal betrayals, financial fraud, government corruption—even murder and genocide—generally require an additional moral defect: a willingness to lie . . . In Lying, best-selling author and neuroscientist Sam Harris argues that we can radically simplify our lives and improve society by merely telling the truth in situations where others often lie."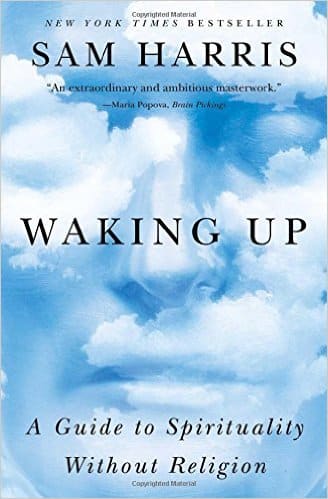 Waking Up: A Guide to Spirituality Without Religion by Sam Harris
"Waking Up is part memoir and part exploration of the scientific underpinnings of spirituality. No other book marries contemplative wisdom and modern science in this way, and no author other than Sam Harris—a scientist, philosopher, and famous skeptic—could write it."
Siddhartha by Hermann Hesse
"In the novel, Siddhartha, a young man, leaves his family for a contemplative life, then, restless, discards it for one of the flesh. He conceives a son, but bored and sickened by lust and greed, moves on again. Near despair, Siddhartha comes to a river where he hears a unique sound. This sound signals the true beginning of his life — the beginning of suffering, rejection, peace, and, finally, wisdom."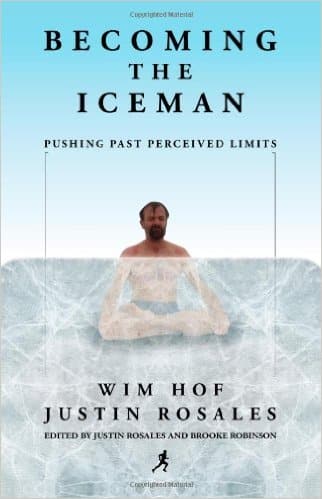 Becoming the Iceman by Wim Hof and Justin Rosales
"Becoming the Iceman is a project inspired by Wim and Justin to show the world that anyone can adopt the ability to become an Iceman or Icewoman. The project's goal is to show that the ability to control the body's temperature is not a genetic defect in Wim, but an ability that can be adopted by everyone."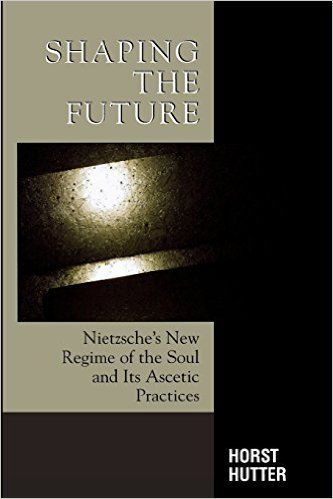 Shaping the Future: Nietzsche's New Regime of the Soul and Its Ascetic Practices by Horst Hutter
"Shaping the Future maps out the ascetic practices of a Neitzschean way of life . . . Hutter makes a great contribution to the study of Nietzsche and the growing movement that sees philosophy as a practical activity and way of life."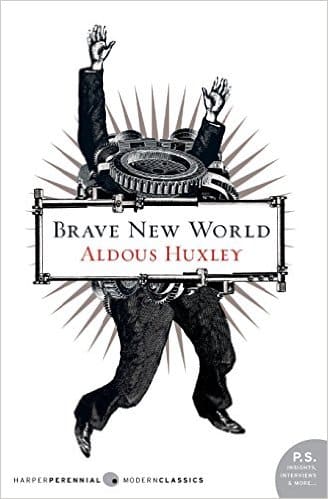 Brave New World by Aldous Huxley
"Aldous Huxley is rightly considered a prophetic genius and one of the most important literary and philosophical voices of the 20th Century . . . Brave New World remains absolutely relevant to this day as both a cautionary dystopian tale in the vein of the George Orwell classic 1984, and as thought-provoking, thoroughly satisfying entertainment."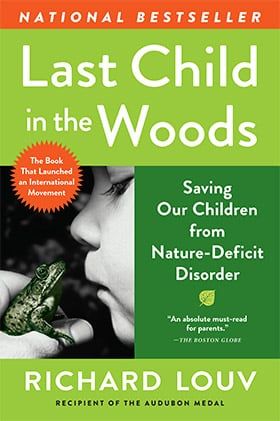 Last Child in the Woods: Saving Our Children From Nature-Deficit Disorder by Richard Louv
"Nature-deficit disorder is not a medical condition; it is a description of the human costs of alienation from nature. This alienation damages children and shapes adults, families, and communities. There are solutions, though, and they're right in our own backyards. Last child in the Woods is the first book to bring together cutting-edge research showing that direct exposure to nature is essential for healthy childhood development-physical, emotional, and spiritual."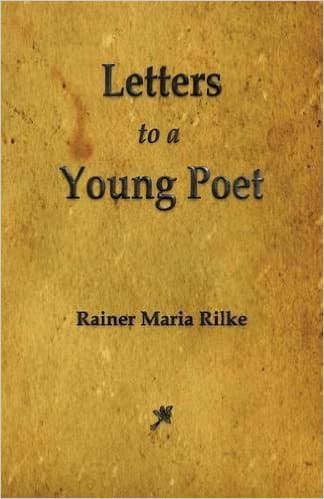 Letters to a Young Poet by Rainer Maria Rilke
"Drawn by some sympathetic note in his poems, young people often wrote to Rilke with their problems and hopes. From 1903 to 1908 Rilke wrote a series of remarkable responses to a young, would-be poet on poetry and on surviving as a sensitive observer in a harsh world."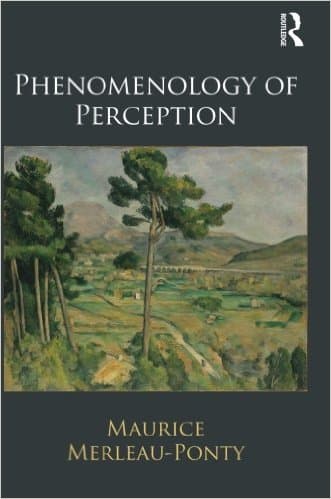 Phenomenology of Perception by Maurice Merleau-Ponty
"First published in 1945, Maurice Merleau-Ponty's monumental Phénoménologie de la perception signalled the arrival of a major new philosophical and intellectual voice in post-war Europe. Breaking with the prevailing picture of existentialism and phenomenology at the time, it has become one of the landmark works of twentieth-century thought."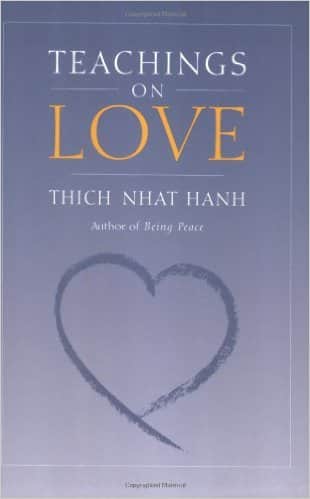 Teachings on Love by Thich Nhat Hanh
"Weaving together traditional stories, personal experiences, and a deep understanding of the Buddha's way of mindful living, Thich Nhat Hanh provides step-by-step practices that foster understanding and intimacy in any relationship and extend our love even to those that cause us pain."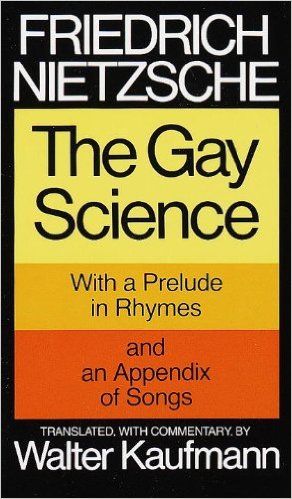 The Gay Science: With a Prelude in Rhymes and an Appendix of Songs by Friedrich Nietzsche
"Nietzsche called The Gay Science "the most personal of all my books." It was here that he first proclaimed the death of God — to which a large part of the book is devoted — and his doctrine of the eternal recurrence."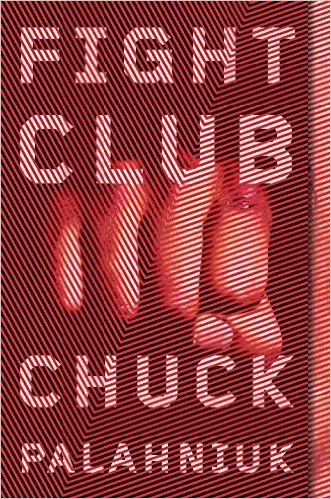 Fight Club: A Novel by Chuck Palahniuk
"In his debut novel, Chuck Palahniuk showed himself to be his generation's most visionary satirist . . . A gloriously original work that exposes what is at the core of our modern world."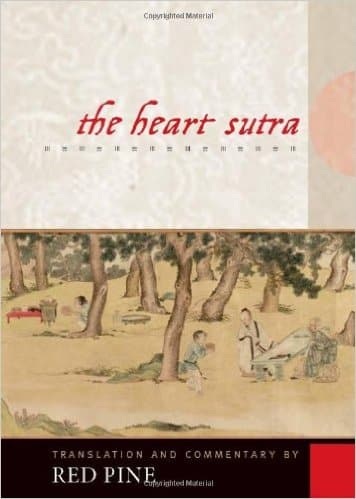 R
ed Pine
"The Heart Sutra is Buddhism in a nutshell. It has had the most profound and wide-reaching influence of any text in Buddhism. This short text covers more of the Buddha's teachings than any other scripture, and it does so without being superficial or hurried. Although the original author is unknown, he was clearly someone with a deep realization of the Dharma."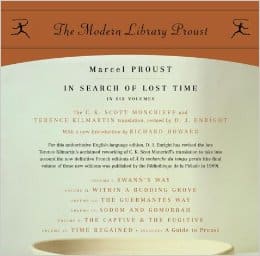 In Search of Lost Time by Marcel Proust
"In Search of Lost Time is one of the greatest, most enjoyable reading experiences in any language. As the great story unfolds from its magical opening scenes to its devastating end."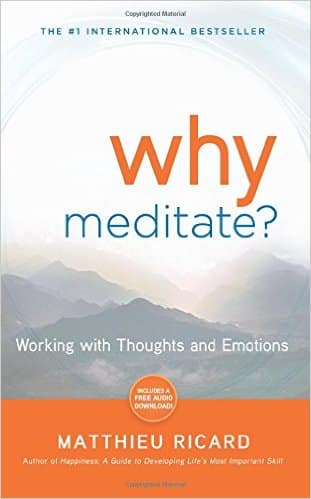 by Matthieu Ricard
"Although meditation is a lifelong process even for the wisest, Why Meditate? demonstrates that by practicing it on a daily basis we can change our understanding of ourselves and the world around us. In this brilliant short book and the accompanying audio download, Ricard talks us through the theory, spirituality, and practical aspects of meditation. He illustrates each stage of his teaching with examples, leading readers deeper into their own practice."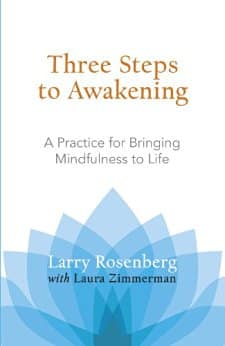 Three Steps to Awakening: A Practice for Brining Mindfulness to Life by Larry Rosenberg
"The deceptively simple three-phase method presented here is a meditation practice that can be worked with for a lifetime. Larry Rosenberg looks to Zen, to Insight Meditation, and to the teachings of J. Krishnamurti to find three kinds of meditation that anyone can do and that complement each other in a wonderful way: (1) breath awareness, (2) breath as anchor, and (3) choiceless awareness.
Having the three methods in one's repertoire gives one meditation resources for any life situation. In a time of stress, for example, one might use breath awareness exclusively. Or on an extended retreat, one might find choiceless awareness more appropriate. The three-step method has been taught to Larry's students at the Cambridge Meditation Center in Cambridge, Massachusetts, for many years."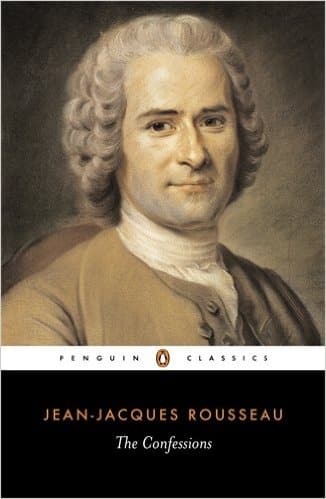 The Confessions by Jean-Jacques Rousseau
"Widely regarded as the first modern autobiography, The Confessions is an astonishing work of acute psychological insight. Jean-Jacques Rousseau (1712-78) argued passionately against the inequality he believed to be intrinsic to civilized society. In his Confessions he relives the first fifty-three years of his radical life with vivid immediacy – from his earliest years, where we can see the source of his belief in the innocence of childhood, through the development of his philosophical and political ideas, his struggle against the French authorities and exile from France following the publication of Emile. Depicting a life of adventure, persecution, paranoia, and brilliant achievement, The Confessionsis a landmark work by one of the greatest thinkers of the Enlightenment, which was a direct influence upon the work of Proust, Goethe and Tolstoy among others."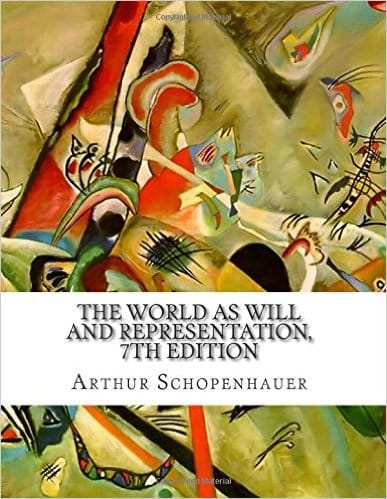 The World As Will and Representation by Arthur Schopenhauer
"The World as Will and Representation is the central work of the German philosopher Arthur Schopenhauer. The value of this work is much disputed. Some rank Schopenhauer as one of the most original and inspiring of all philosophers, while others see him as inconsistent and too pessimistic. He has had a huge effect on psychoanalysis and the works of Sigmund Freud; some researchers have even questioned whether Freud was telling the truth when he said that he had not read Schopenhauer until his old age. The notion of the subconscious is present in Schopenhauer's will and his theory of madness was consistent with this. Also, his theory on masochism is still now widely proposed by doctors. Nietzsche, Popper, Wittgenstein, Tolstoy, Jung, Borges, D. H. Lawrence, Camus, Beckett, Mahler and Wagner were all strongly influenced by his work. For Nietzsche, the reading of The World as Will and Representation aroused his interest in philosophy. Although he despised especially Schopenhauer's ideas on compassion, Nietzsche would admit that Schopenhauer was one of the few thinkers that he respected, lauding him in his essay Schopenhauer als Erzieher (Schopenhauer as Educator 1874), one of his Untimely Meditations. Schopenhauer's discussions of language and ethics were a major influence on Ludwig Wittgenstein."
Being Wrong: Adventures in the Margin of Error by Kathryn Schulz
"In the tradition of The Wisdom of Crowds and Predictably Irrational comes Being Wrong, an illuminating exploration of what it means to be in error, and why homo sapiens tend to tacitly assume (or loudly insist) that they are right about most everything. Kathryn Schulz, editor of Grist magazine, argues that error is the fundamental human condition and should be celebrated as such. Guiding the reader through the history and psychology of error, from Socrates to Alan Greenspan, Being Wrong will change the way you perceive screw-ups, both of the mammoth and daily variety, forever."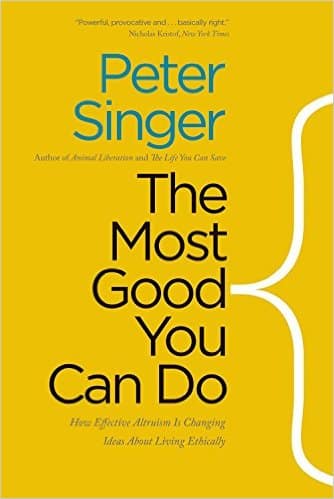 "Peter Singer's books and ideas have been disturbing our complacency ever since the appearance of Animal Liberation. Now he directs our attention to a new movement in which his own ideas have played a crucial role: effective altruism. Effective altruism is built upon the simple but profound idea that living a fully ethical life involves doing the "most good you can do." Such a life requires an unsentimental view of charitable giving: to be a worthy recipient of our support, an organization must be able to demonstrate that it will do more good with our money or our time than other options open to us. Singer introduces us to an array of remarkable people who are restructuring their lives in accordance with these ideas, and shows how living altruistically often leads to greater personal fulfillment than living for oneself."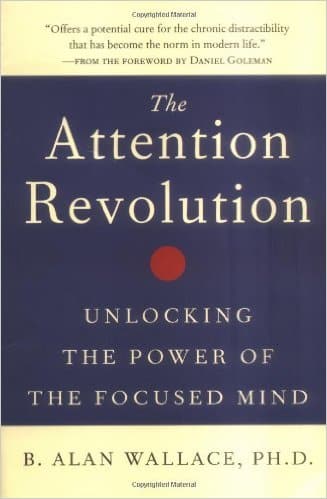 The Attention Revolution: Unlocking the Power of the Focused Mind by B. Alan Wallace
"Meditation offers, in addition to its many other benefits, a method for achieving previously inconceivable levels of concentration. Author B. Alan Wallace has nearly thirty years' practice in attention-enhancing meditation, including a retreat he performed under the guidance of the Dalai Lama. An active participant in the much-publicized dialogues between Buddhists and scientists, Alan is uniquely qualified to speak intelligently to both camps, and The Attention Revolution is the definitive presentation of his knowledge."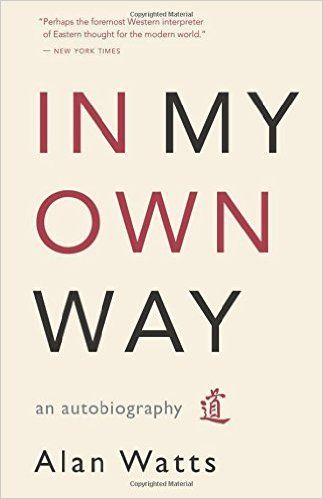 In My Own Way: An Autobiography by Alan W. Watts
"In this new edition of his acclaimed autobiography — long out of print and rare until now — Alan Watts tracks his spiritual and philosophical evolution from a child of religious conservatives in rural England to a freewheeling spiritual teacher who challenged Westerners to defy convention and think for themselves. From early in this intellectual life, Watts shows himself to be a philosophical renegade and wide-ranging autodidact who came to Buddhism through the teachings of Christmas Humphreys and D. T. Suzuki. Told in a nonlinear style, In My Own Way wonderfully combines Watts' own brand of unconventional philosophy and often hilarious accounts of gurus, celebrities, psychedelic drug experiences, and wry observations of Western culture. A charming foreword written by Watts' father sets the tone of this warm, funny, and beautifully written story of a compelling figure who encouraged readers to "follow your own weird" — something he always did himself, as his remarkable account of his life shows."