Nietzsche T-shirt: The Coolest Friedrich Nietzsche Art You'll Ever See
We have reinvented Nietzsche for our new line of t-shirts.
I'm am on a journey to become the most awakened version of myself, and this requires daily reminders and affirmations about the path that I'm on.
Last year, I developed an interest in fashion and personal identity but soon got fed up with the options available to me.
Sure, there were lots of clothing lines out there that looked nice, but none that perfectly matched the image I wanted to cultivate for myself.
There were plenty of t-shirts with rock bands on them…
But none with portraits of the thinkers and philosophers I most admire…
… well none that I would actually wear.
There is a reason why tattoos are so universally popular and why different religions and groups over the centuries had custom-made outfits:
Our clothing can be more than clothing if we choose: under certain conditions, what we wear can remind us each day of our mission and purpose.
It communicates to ourselves and others that we are part of a tribe.
In knowing this, we decided to team up with the legendary British artist Luke Dixon, to reinvent some of History's greatest geniuses.
We started with the Nietzsche (click this link to see it).
This is how we did it:
Luke Dixon's Nietzsche T-shirt Creative Process
Step 1: Draw a highly detailed reinvented version of Nietzsche with ink
Friedrich Nietzsche went through many stages in his philosophical career. For this stage I wanted to represent a younger Nietzsche, as the professor. Nietzsche became a professor at the age of 24—that was unheard of at the time as much as it is unheard of now.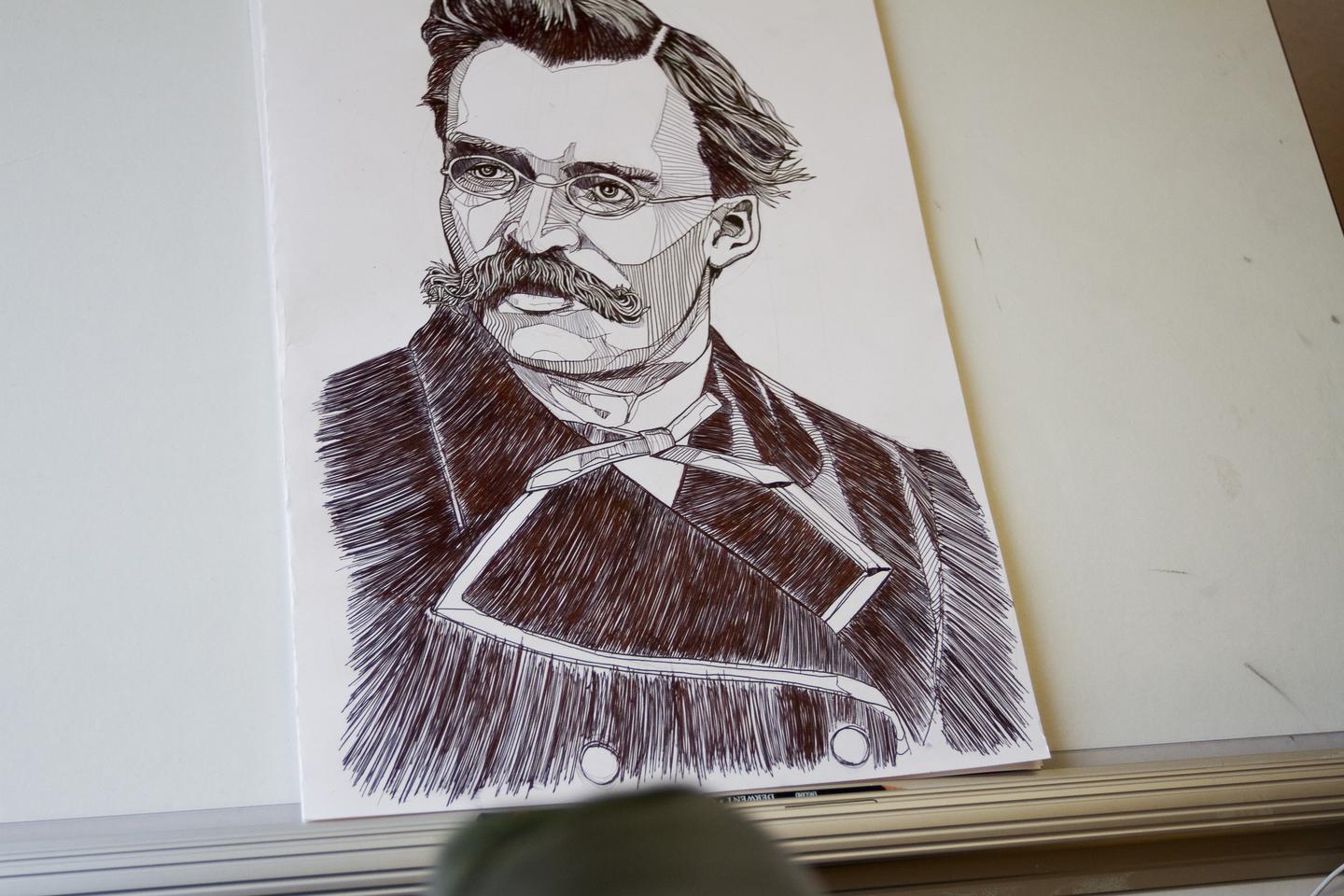 Step 2: Find suitable colors and create super high-quality print
Luke selected the primary colors for Nietzsche that represented his passion and intensity, while also showing his German, traditional roots with black and white.