LOSTBOYEVSKY • • 4 min read
If You're Reading This Right Now, You're Insanely Lucky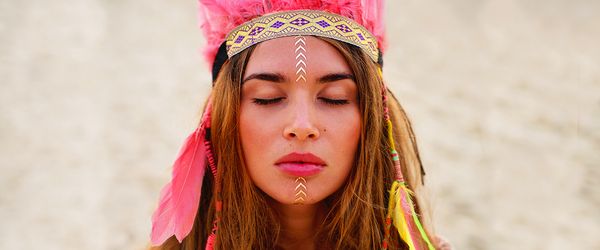 IF YOU'RE READING THIS RIGHT NOW, YOU'RE INSANELY FUCKING LUCKY.
Realizing how lucky you are to be reading this is the first step to being way happier and more fulfilled in this existence.
Think for a moment about everything you might want in life: To travel the world. Write a novel. Sample cuisine from every country. Start a company with a huge social or environmental impact. Climb Mount Vesuvius. Make 10 million dollars and give half of it to the most effective charities in the world. Try magic mushrooms. Make a silly rap album. Start a family.
I don't fucking know what you want in this universe. That's the shit you need to figure out.
But I do know something:
Whatever it is that you want, YOU MUST BE ALIVE TO GET IT.
This statement might seem exceptionally simple and obvious. "Of-fucking-course I need to be alive to get what I want," you might think.
But I wouldn't be saying this if I felt most people actually understood the significance of the statement and felt it on a deep level.
You see, most of us take our aliveness for granted. Most of us don't think much of the fact that we're breathing right now. It's just an unacknowledged background fact.
But consider for a moment all of the most impressive-seeming people you can think of, alive or dead: the people who seem(ed) to have everything you might want: Elon Musk, Jane Goodall, Steve Jobs, Alan Watts, etc. Whoever your heroes are.
Now imagine if they were asked what they would rather have had in life: everything they ever accomplished and attained, or, their existence itself.
It's a no-brainer: THEY WOULD WANT THEIR LIFE.
I know, I know: That was kind of a trick question, because nothing they accomplished or attained would have been possible if they hadn't existed in the first place.
But that's also my point.
Your life is the necessary precursor to everything awesome, fantastic, sublime, and/or badass that you might do or see in this galaxy.
Life itself is like an essential currency that you trade for literally everything else. Without it, you get nada.
As such, there's nothing you can do or get in this world that is more valuable than YOUR LIFE ITSELF.
YOU'RE FUCKING ALIVE, MAN. YOU'RE FUCKING ALIVE.
I just want to shout it from the rooftops. It feels like somehow the simplest, most obvious prophecy that no one fully grasps.
THERE IS NOTHING IN THIS WORLD THAT IS MORE VALUABLE THAN YOUR BEATING HEART. IT IS WORTH INFINITY DOLLARS.
Without the beating heart that is allowing you to read this, forget everything else. Nothing else matters.
WHEN YOUR HEART STOPS, YOU'RE DONE. FINITO. IT'S ALL OVER. GOODBYE, SHOW'S OVER. TO DUST YOU SHALL RETURN. EL FIN.
But until then…
OOOHHHHHHHHH, UNTIL THEN!!!
Until then EVERYTHING IS FUCKING POSSIBLE!!! Repeat after me: Because I am alive, everything is possible.
We take being alive for granted, but it's actually by far and away THE MOST IMPORTANT THING HAPPENING RIGHT NOW.
Without it, there's no love, no joy, no friends, no toys, no fun, no prosperity, nothing to fight for, no nothing. ALL THE GOOD SHIT IN LIFE STEMS FROM THE SIMPLE FACT THAT YOU'RE ALIVE.
Again, all of this probably seems exceptionally oversimplified, even circular. You're probably thinking that this just another stupid fucking internet article.
BUT IT'S NOT.
This is the message that you need to understand.
YOU'RE ALREADY THE RICHEST PERSON IN THE WORLD BECAUSE YOU OWN SOMETHING THAT IS UTTERLY INVALUABLE: LIFE ITSELF.
Next time you're feeling shitty about what's happening in your life, shut the fuck up and slap yourself in the face.
Well, maybe don't do that, but…
Remind yourself that YOU STILL HAVE LIFE. Unlike the billions of humans who are fucking dead right now or the trillions upon trillions of potential humans who were never born, YOU'RE FUCKING ALIVE. RIGHT NOW.
AND THAT MEANS INFINITE POSSIBILITIES. INFINITE THINGS TO EXPERIENCE. THE WORLD IS A FUCKING LABYRINTHINE PLAYGROUND BURSTING WITH UNTOLD WONDROUSNESS.
I don't really know how to put it more clearly. If you've read this whole article and are just thinking, "Meh, whatever, life doesn't seem that special," then, well, all I can say is: Go smoke some cannabis and watch a sunset.
But hopefully for some of you this post is a spark or a seed—a little something which embeds in your consciousness and will soon blossom into a beautiful realization: The realization that WE ALL FUCKING WON THE LIFE LOTTERY. AGAINST ALL ODDS, HERE WE ARE, GODDAMMIT!!!
Who fucking gives a shit that you don't quite have everything you think you want in this world? Unless you're someone who doesn't even have their basic needs met and is struggling for survival itself, you need to suck down a fat pint of Reality Check Lager.
Whatever you want in life, you can probably get it eventually if you want to work hard enough for it. But for now, fuck it! You're alive, and it's absolutely fucking FREE to go out and look at the sky, walk around, smell the flowers, talk to other humans, observe wildlife, etc.
THERE'S A BOUNTIFUL FUCKING EARTH SPRAWLING OUT BEFORE YOU IN ALL DIRECTIONS.
QUIT FUCKING WHINING BECAUSE YOU ONLY HAVE THE SECOND-TO-NEWEST IPHONE.
GO OUTSIDE AND HAVE A FUCKING ADVENTURE, MOTHERFUCKER.
———