Jordan Lejuwaan • • 8 min read
25 Reasons Why You MUST Go To Burning Man Once In Your Life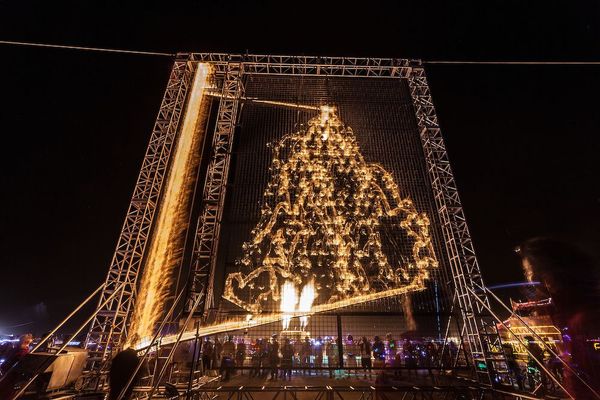 Burning Man is the biggest and most bizarre party in the world, comprised of 60,000 people camping in the desert of Nevada for a week. It's utter insanity that will rock your world forever. But what happens at burning man that makes it so incredible…?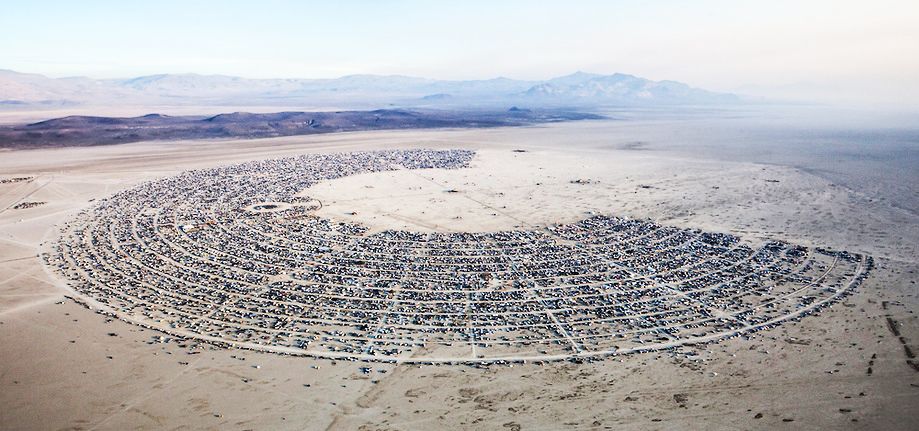 photo by Duncan Rawlinson
Here are 25 reasons why you won't be able to stop yourself from going after reading this article…
Art Installations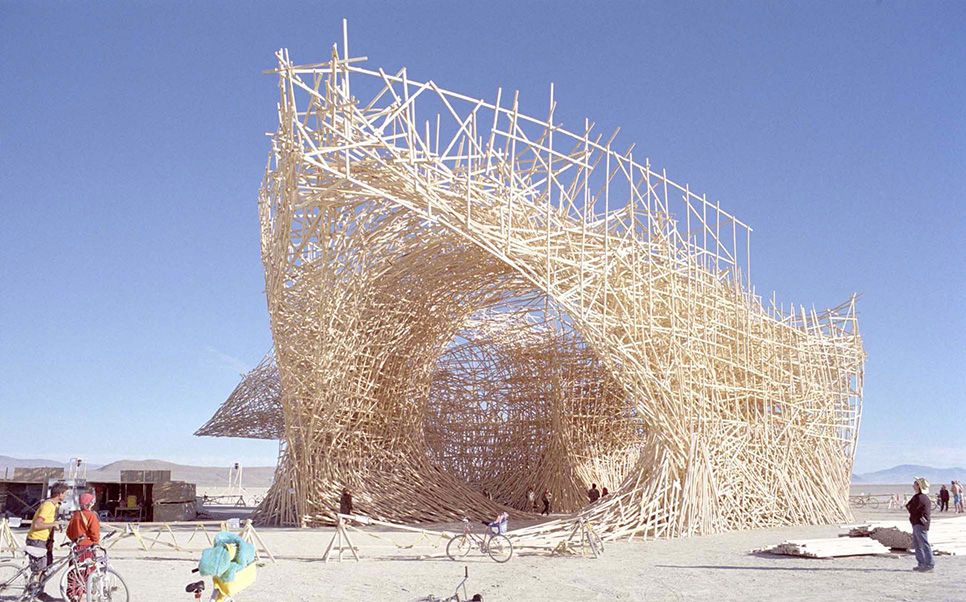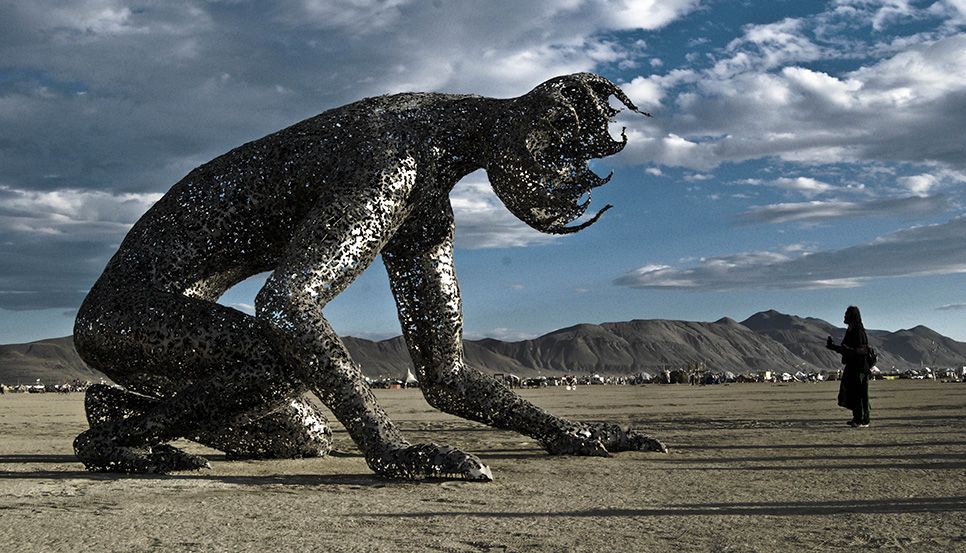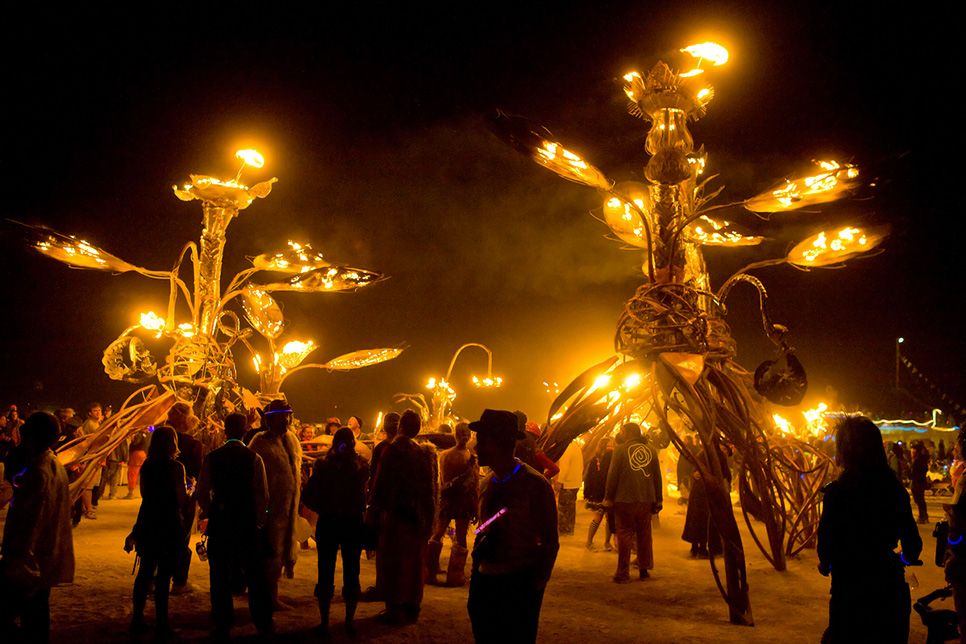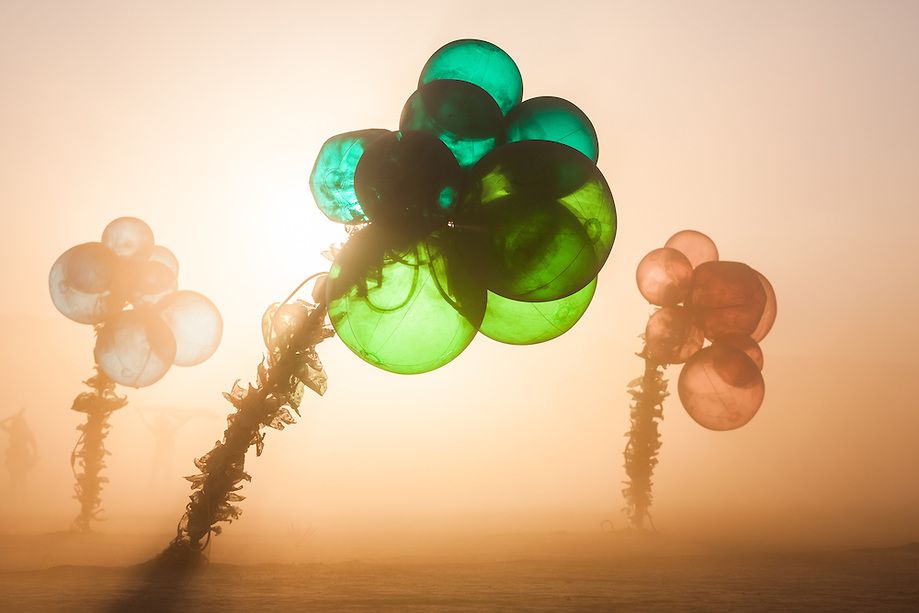 photo by Duncan Rawlinson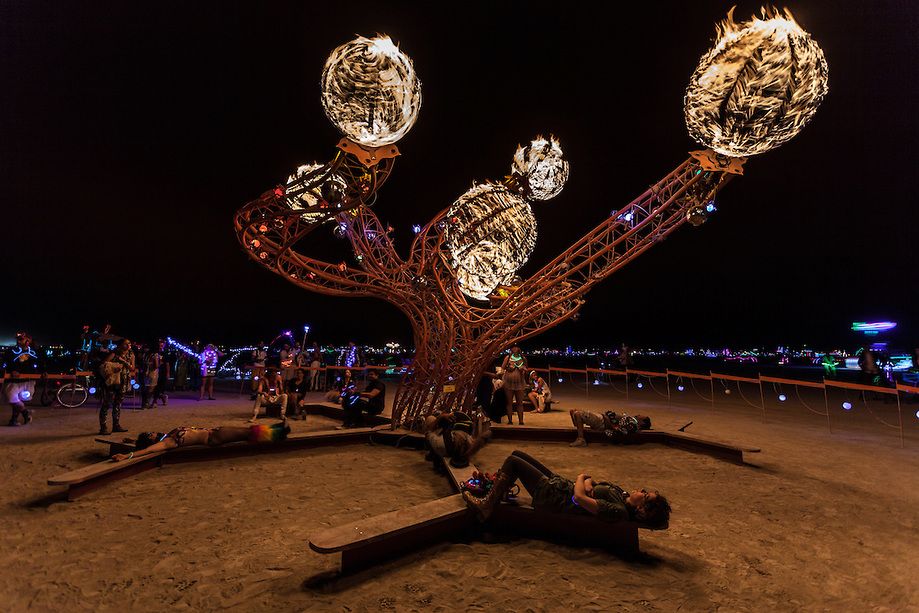 photo by Duncan Rawlinson
photo by Duncan Rawlinson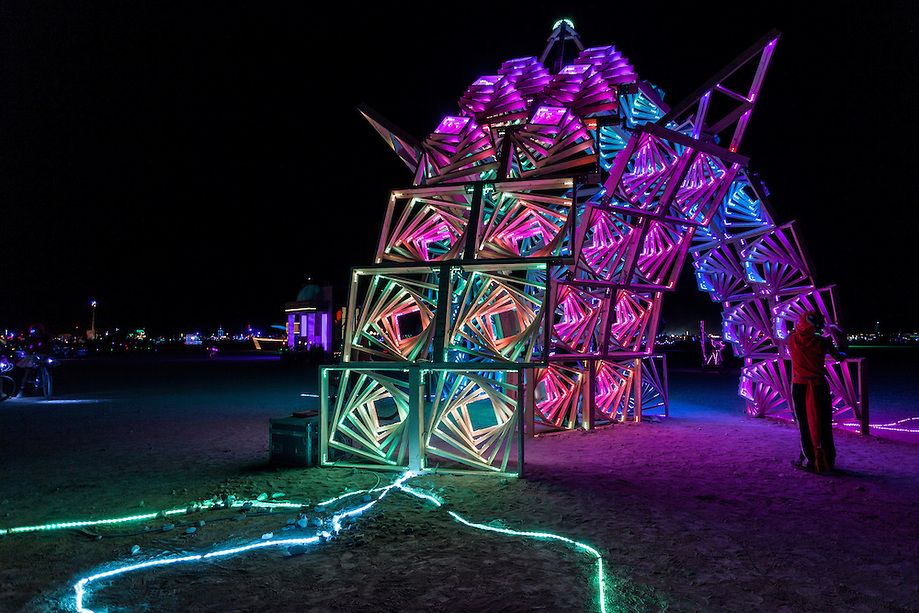 photo by Duncan Rawlinson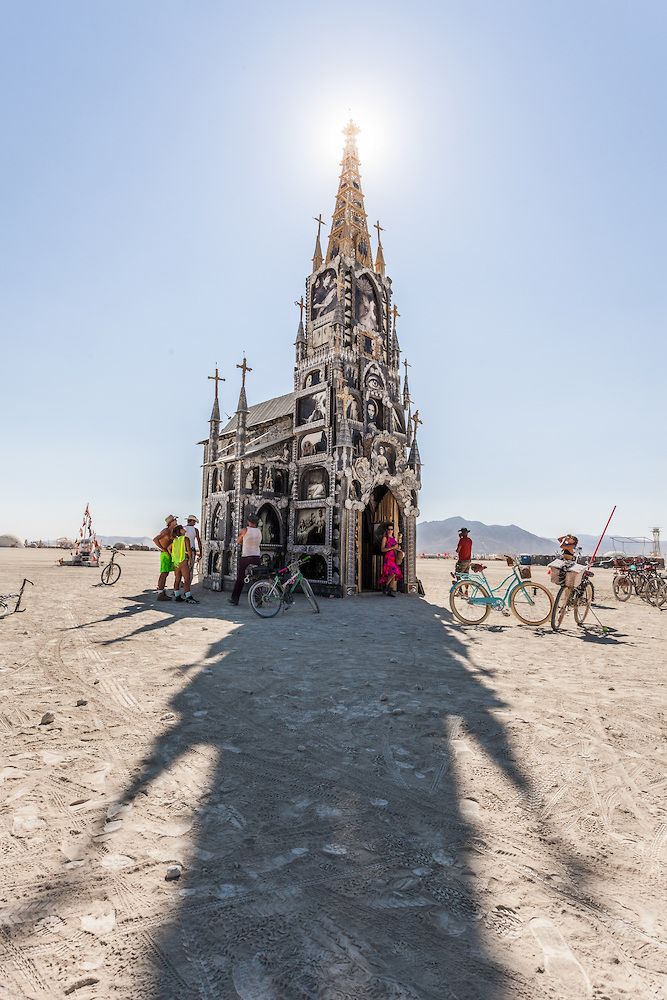 photo by Duncan Rawlinson
Workshops
When people ask what happens at burning man, you'll often hear about the incredible workshops. The Burning Man guide is full of hundreds of workshops, ranging from the most depraved spanking classes to the most spiritual meditation/yoga classes. Examples:
Holotropic Breathing
DIY Energy Machine
Gong Meditation
Laughter Yoga
Radical Improv
Introduction to Open Relationships & Polyamory
Knife Throwing
The Neurobiology of Hallucination
How to Save the World
Talking with Strangers
Fire Dodgeball
The description in the guide read: "Bring your own gloves." I didn't have gloves… so I played dodgeball without flaming balls flying at my face. Next year will be different!
'Truth is Beauty' Statue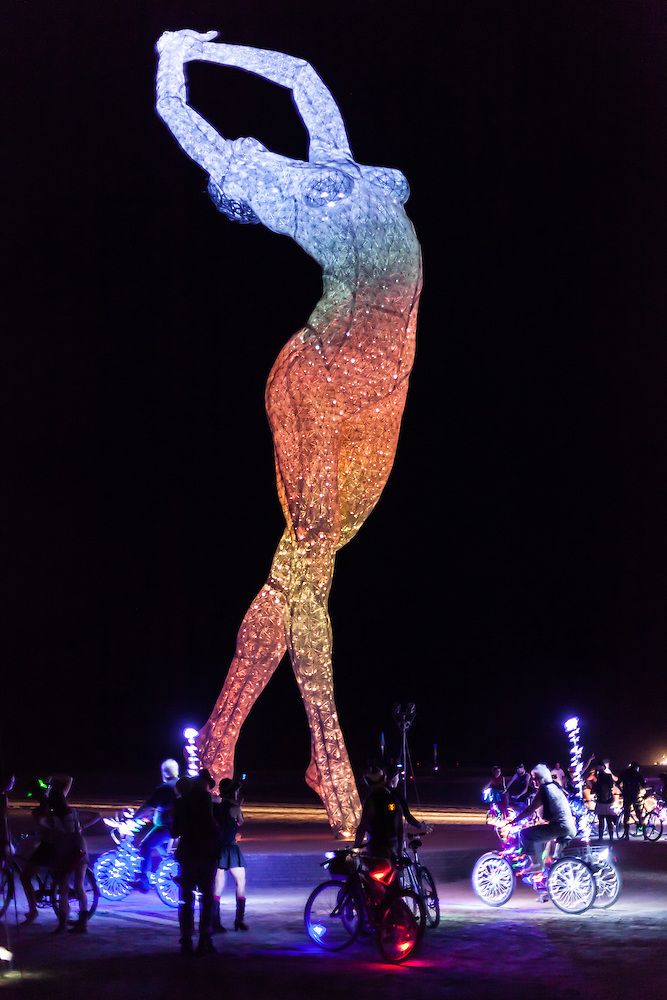 photo by Duncan Rawlinson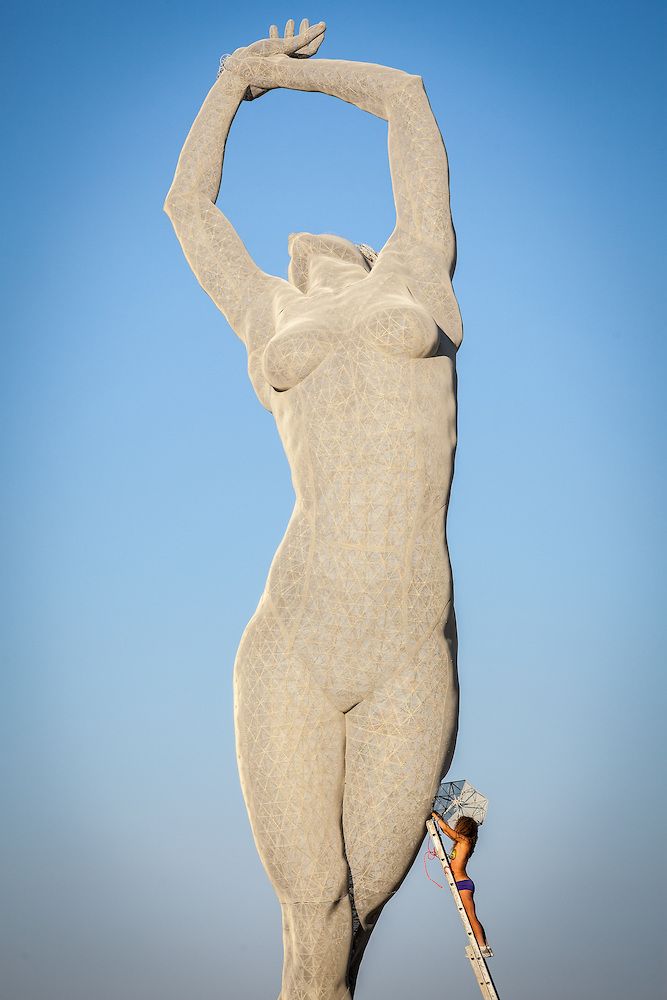 photo by Duncan Rawlinson
This sculpture has quickly become one of the most iconic images from BM, but pictures do not do her justice. At night, the woman fluctuates from being completely dark, to having a light pulsate from near her heart, to exploding with light over her entire body. It is rapturous to watch this from below.
Dust Storms
No matter what time of day, you cannot leave camp without goggles and a dust mask lest you find yourself in the middle of a dust storm. The worst storms prevent you from seeing 5-feet in front of you. This might sound horrible, but it actually adds a really fun element to the experience.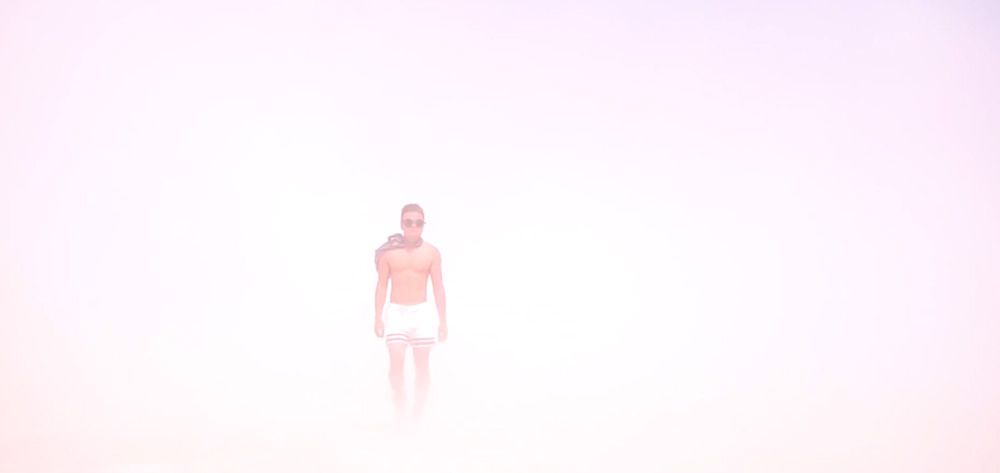 This Timelapse
Gift Economy
The only thing you can buy with money at BM is ice. Otherwise the entire playa operates on a thriving gift economy. There is free food and drinks at every turn, free alcohol is omnipresent (people are begging people to take it by the end of the week), and most burners bring unique presents to give out to special people they meet on the playa.
It's shocking to experience this level of giving from literally everyone you come across. It is infectious, and you leave wishing you had brought more to give. Technically you could show up with no food or shelter and survive comfortably, but then you'd miss out on the fun of giving :)
Orgy Dome
This is exactly what it sounds like. This giant cabana provides a 24/7, air-conditioned assortment of couches and mattresses for twosomes, threesomes & more-somes to explore their sexuality in an open setting. I tried it out with my girlfriend and it felt like being in a harem from the 5th century. This really pushed my sexual boundaries and will be a definite stop in my Burns for years to come.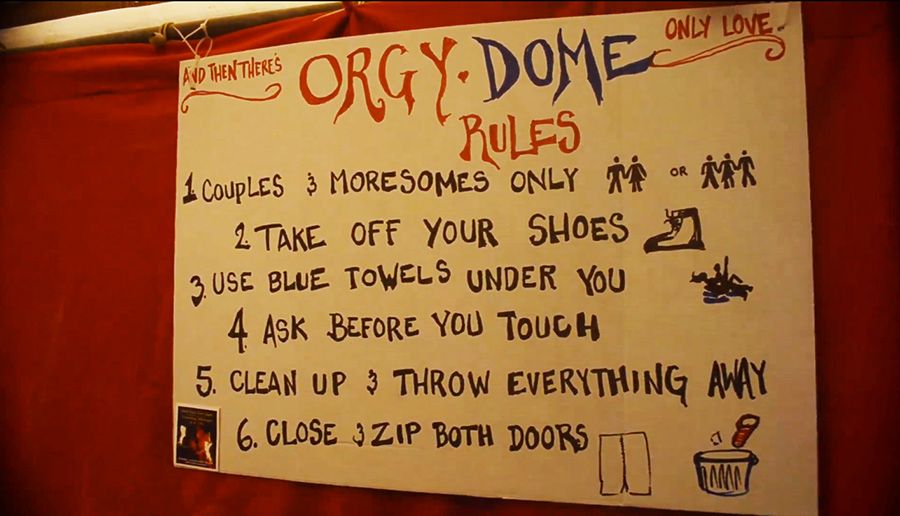 PAudiotrons
Someone had the brilliant idea of installing sound systems in random port-o-potties around the playa. I've always found using a port-o-pottie at raves to be an awesome experience; they're perfect for meditation, and the bass vibrates them SO good :)
Pink Puja
This was the most transformative workshop that I attended at BM. It pushed my limits of comfort through cultivating intimacy with complete strangers. We would eye gaze with a partner for several minutes while the orchestrator would describe a meditation to enhance the feeling of connection, and then rotate to a new stranger.. For example, during one eye-gazing session we were told to think of 3 words that we were not told enough growing up by one of our parents. Then we were to see the person in front of us transforming into that parent, and to whisper those 3 words into their ear. The partner was then instructed to embody the spirit of that parent, and to whisper the 3 words back in the most loving way possible. The feeling this brought up is hard to describe here. It was powerfully emotional, feeling the love you yearn for from a parent, but from a complete stranger. Just wow.
Spank-o-matic
Spanky's Bar had a high-power automatic spanking machine. I watched many people approach the machine thinking it would be a light tap only to discover that Spanky's doesn't mess around. Their asses leave more red than the playa sunset.
The Temple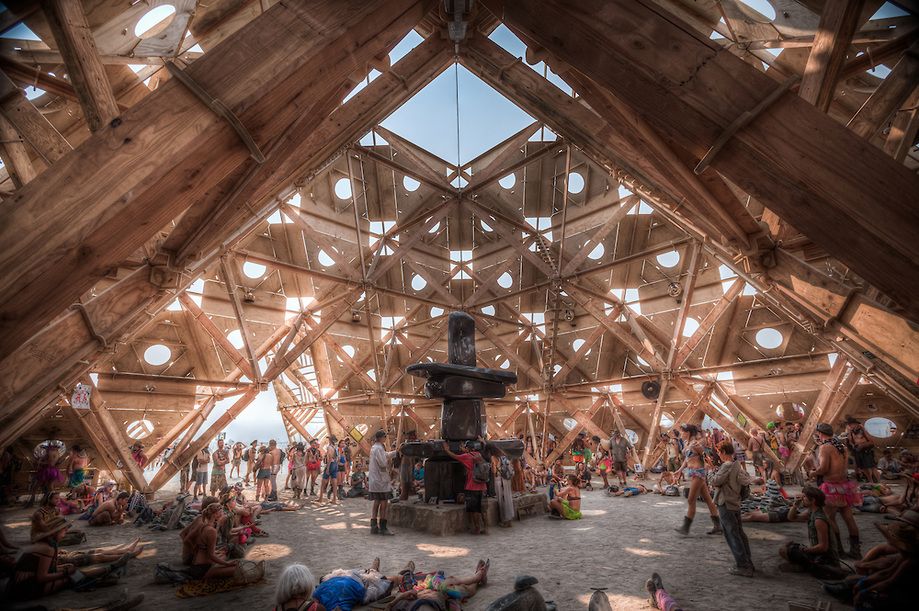 photo by Duncan Rawlinson
The temple serves as an effigy of everything you wish to let go of. Every inch is covered with notes expressing sad memories, dark confessions, messages to dead loved ones, old grudges, etc. The vibe in the temple is so thick that it's almost tangible. All this makes for a tremendously cathartic experience when it all goes up in flames. Several 'waves' of howling went around the circle of onlookers, giving me the chills each time I let out this most primal cry of sorrow with those around me.
Deep Playa
The area far beyond what is shown on the BM map is known as the deep playa. Burners take it upon themselves to leave random art installations and chill spaces randomly throughout this vast area. So you may be cycling along for 5 minutes without seeing anything before coming across an oasis of couches, umbrellas and lemonade. There's also a burner-favorite art car called Robot Heart which plays live electronic shows at random locations in the deep playa each night. You never know what you'll discover in the deep playa…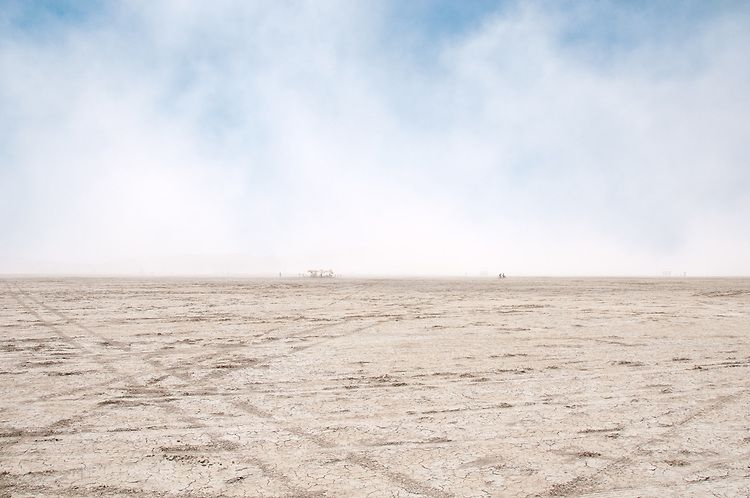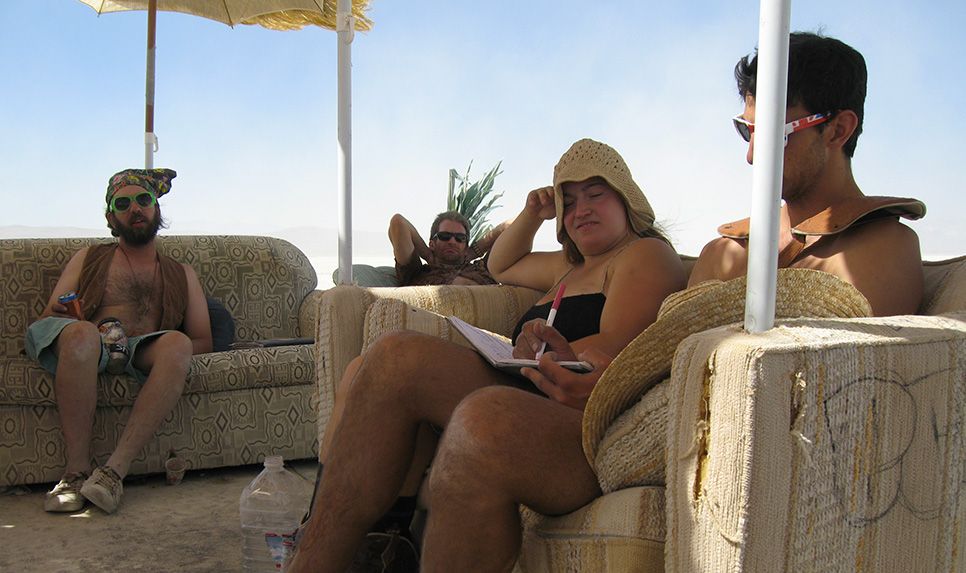 Genuine Human Interaction
There is a strong culture of recognizing the oneness in all of us. People make eye contact, say hello, and have real conversations with you. The social interaction is so natural and warming, yet so alien on the first day since we're so used to avoiding each other in the streets.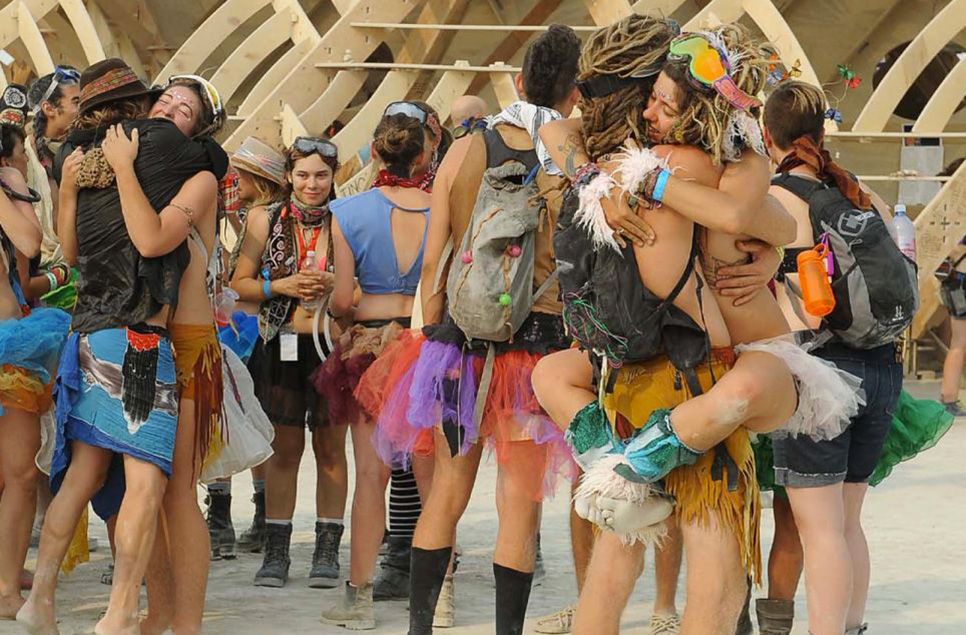 TED Talks
There are a number of camps offering TED-like talks, including TEDx Black Rock City, Palenque-Norte and Fractal Planet. I saw Jonathan Zap speak about the singularity archetype, Michael Garfield speak about the coming paradigm shift in privacy thanks to tech like Google Glass, and James Oroc speaking about the wonders of DMT.
The Burn
The 'Man' means different things to each burner, but the general consensus is that he represents 'the man', corporate corruption, dirty politics and everything that is holding our world back. When he explodes into flames, the crowd erupts into cheers and high-fives. The playa-wide party following the burn is easily the most insane night of BM.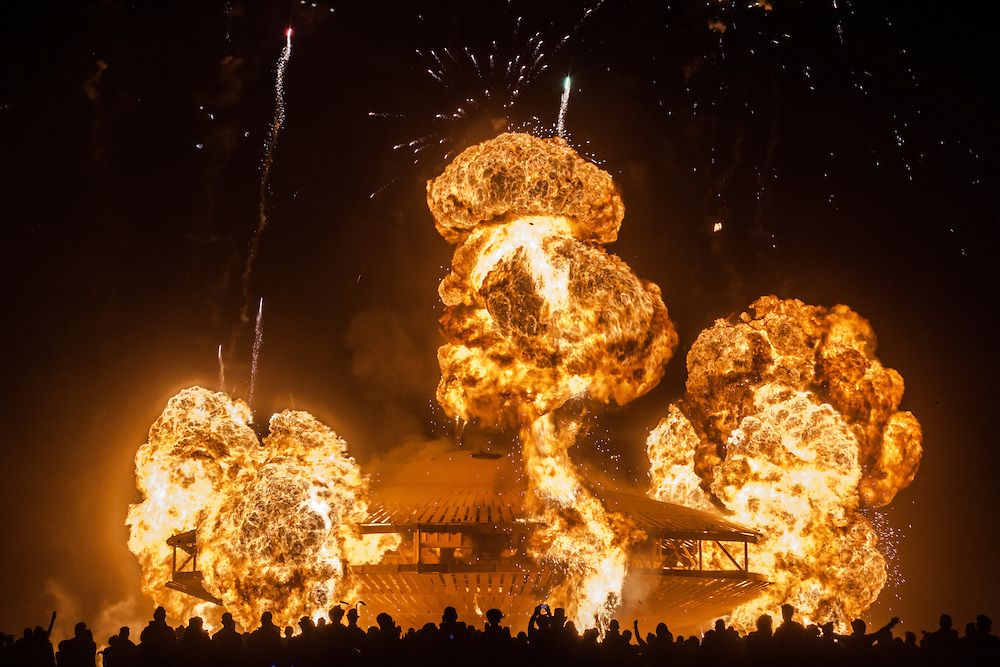 photo by Duncan Rawlinson
Theme Camps
There is a camp for everything. In the French Quartier you can grab a chocolate croissant and cheese, in the Circus Camp you can swing on a trapeze, at the Hardcore Rock camp (unfortunately situated next to my camp…) you can rock out until 9am (literally), at HeeBeeJeeBee Healers you can find someone to give you a full-body massage, etc, etc.
Art Cars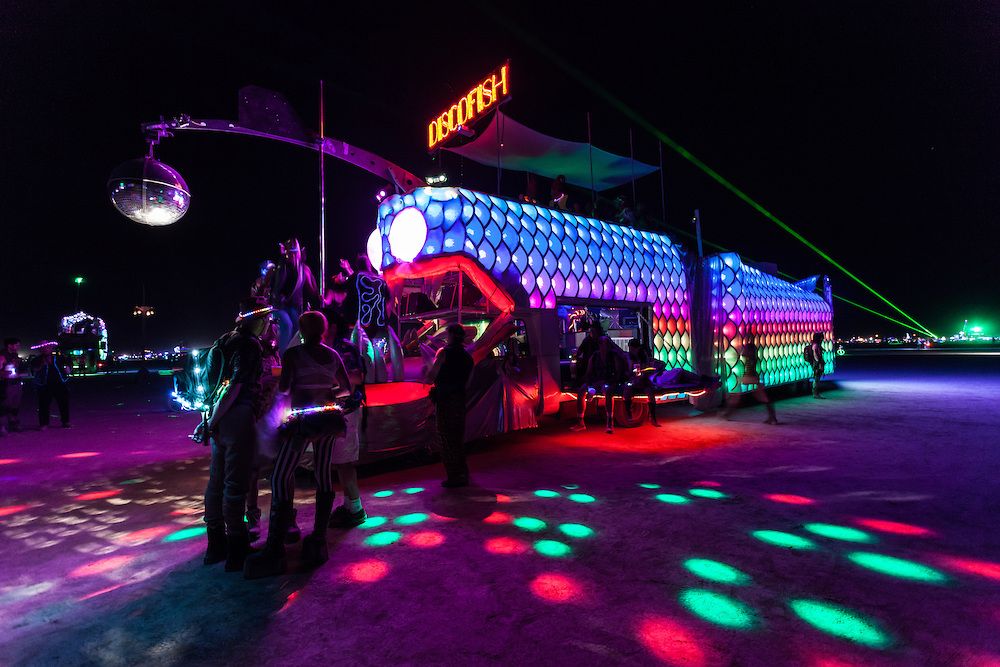 photo by Duncan Rawlinson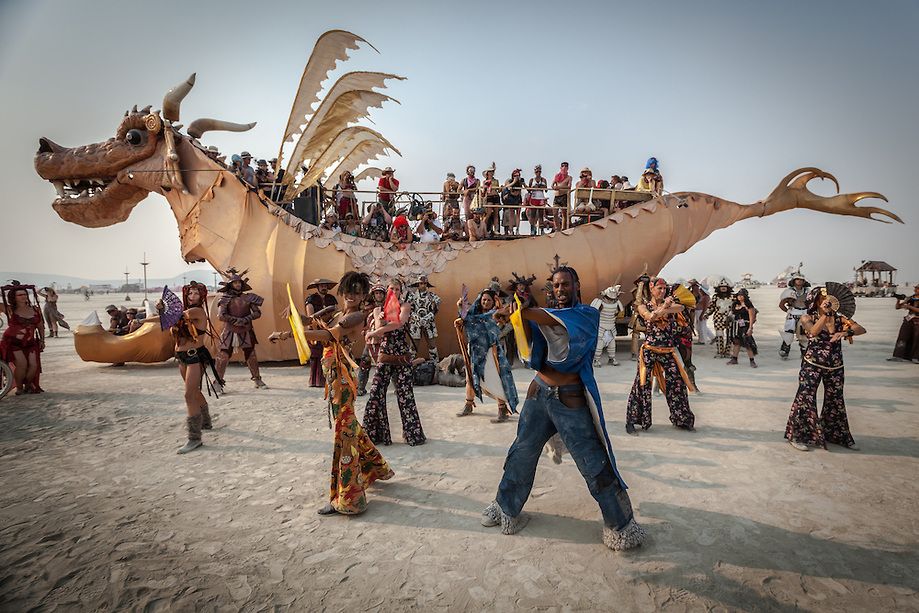 photo by Duncan Rawlinson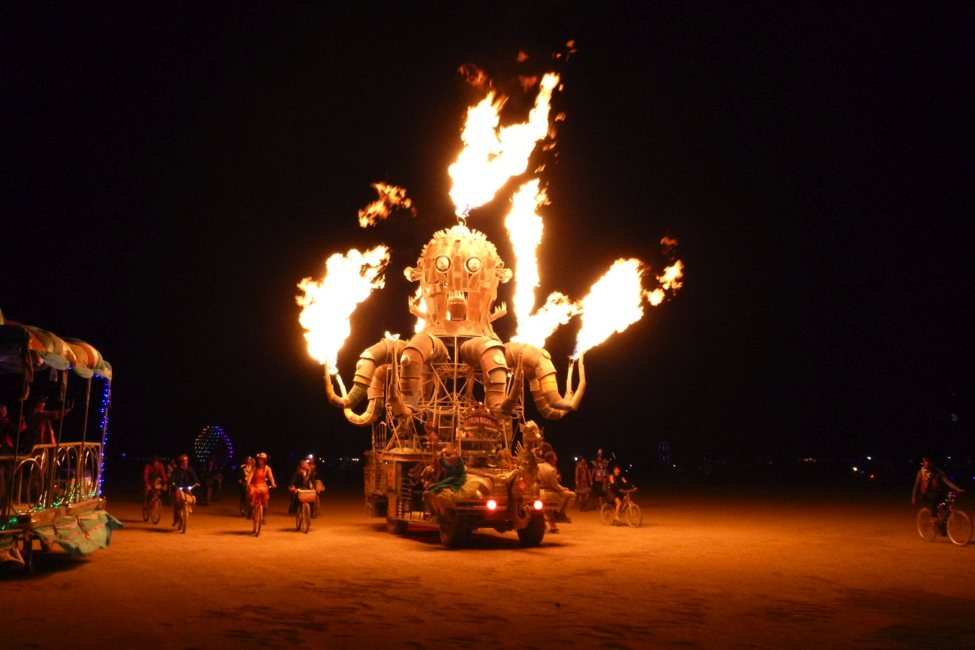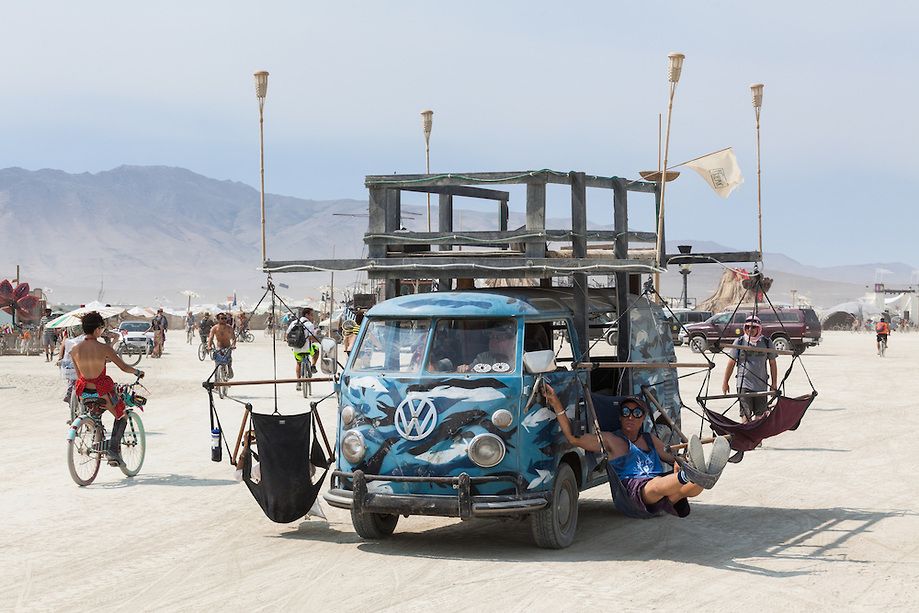 photo by Duncan Rawlinson
Greeters
The mood is set as soon as you cross the gate into Burning Man. Your group is approached by an ecstatic greeter (in my case, dressed in a full bear skin) who commands you to raise your hand if you're a Burner virgin. All virgins are then required to drop their bags, dive headfirst onto the playa, roll around until they're covered in dust, stand up and triumphantly yell "I'M A VIRGIN NO MORE!!!" You then receive the best hug of your life by the furry greeter.
Fire Skeeball
When you get a ball in, a massive flame erupts from the hole. Enough said.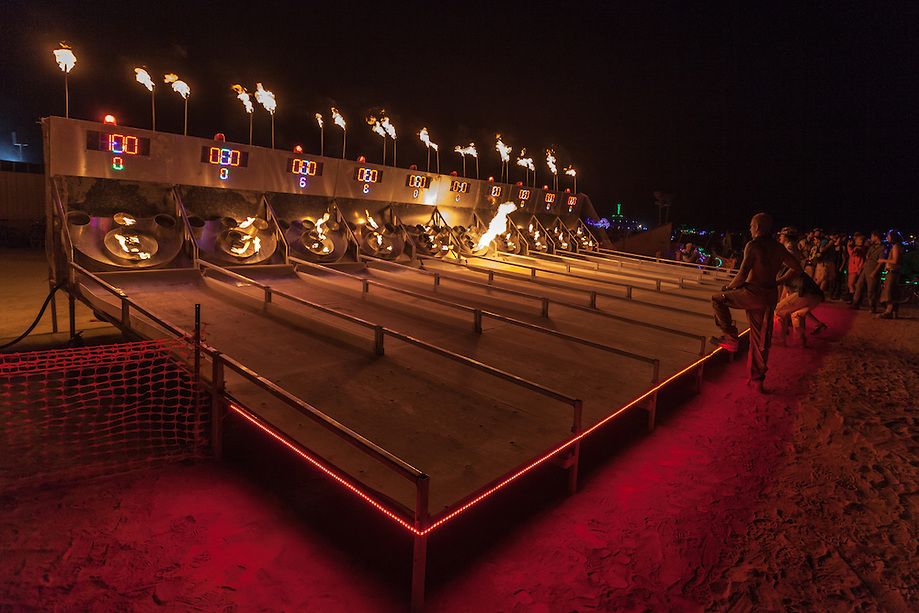 photo by Duncan Rawlinson
Nudity
Nudity is extremely prevalent on the playa, both male and female alike. It's a bit shocking for the first day until you become desensitized to what our society has transformed into something hyper-sexual. Being that I am a man from western society, my reaction over the week changed from sexually charged to a simple observation of beauty. And you completely let go because what happens in Burning Man, stays in Burning Man.
The 'Default World'
This is how Burners refer to the normal world back from BM. There is a general distaste for the Default World on the playa, but a lot of burners have it right by attempting to bring the spirit of Burning Man back with them. I think this term only further solidifies the polarity of the two environments. Burning Man doesn't have to end if you keep that energy flowing.
It Don't Stop!
Burning Man doesn't stop. The most dead period is probably 8am to 11am, but even that time is chalk-full of of workshops, morning breakfast meetups, talks and other bizarre happenings. You will never be bored on the playa.
Nexicon Portal, created by Gary Stadler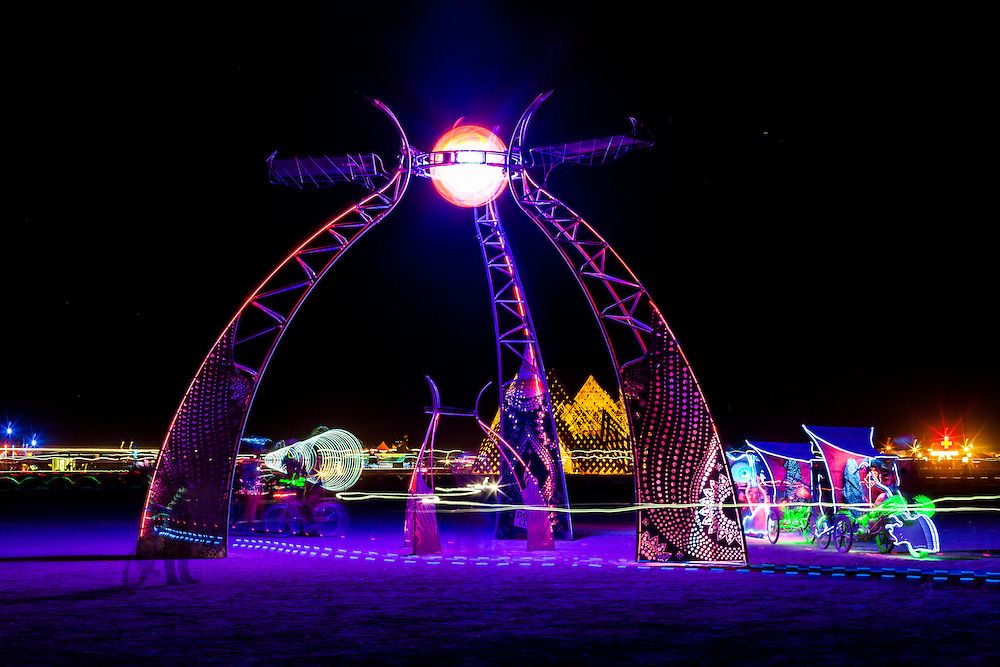 photo by Duncan Rawlinson
This was my favorite art installation by a mile. It featured 30 blue 1-watt lasers through diffraction gratings on a rotating 3-axis gimble lined with red LEDs… in other words the giant ball shot out a million green laser points while rotating around in a figure-eight, which was rotating in a circle. If you stood just under the ball, you would feel like the desert floor was being whisked away from beneath your feet as you're shot around in a dizzying vortex of green light. Pro tip: try this while candy-flipping :)
http://www.youtube.com/watch?v=RawdDFltxHs
The Sunrise