Jon Brooks • • 15 min read
25 Best Apps for iPhone: Self-Improvement Edition (2018)
For the last 5 years I've been on an obsessive quest to find the best apps for iPhone.
I really would not like to say how much money I've spent on these little digital playgrounds over the last 5 years.
Elon Musk was just interviewed on Joe Rogan's podcast and made the claim that we are all cyborgs due to our modern uses of interactive technology, but many of us don't quite realize it. Having an iPhone makes us all immeasurably smarter, better, faster.
An iPhone used correctly is an online university, the largest library in existence, a separate place to store memory, and a set of interactive procedures carefully structured to improve one's cognitive functioning.
After experimenting with hundreds and hundreds of apps, below I've distilled my favorite 25 best apps for iPhone, categorized across four main dimensions of self-improvement:
1) Study Apps
Apps to expand your knowledge, improve your cognitive capabilities, and prime your mind with practical blueprints for navigating through the stormy sea of life.
2) Wellbeing Apps
Apps designed to improve your mental and physical wellbeing, cultivate positive mind states, and reduce the harmful impact of negative emotions in your life.
3) Productivity Apps
Apps made to cut distractions, keep you focused, get stuff done, and overcome procrastination.
4) Habit Tracking Apps
Apps that keep you accountable, show your improvement,
---
Note: If you're an Android user, you'll be happy to her that 17 out of the 25 best apps for iPhone I've listed are also available on your device. I've left a note at the bottom of each review.
25 Best Apps for iPhone
Study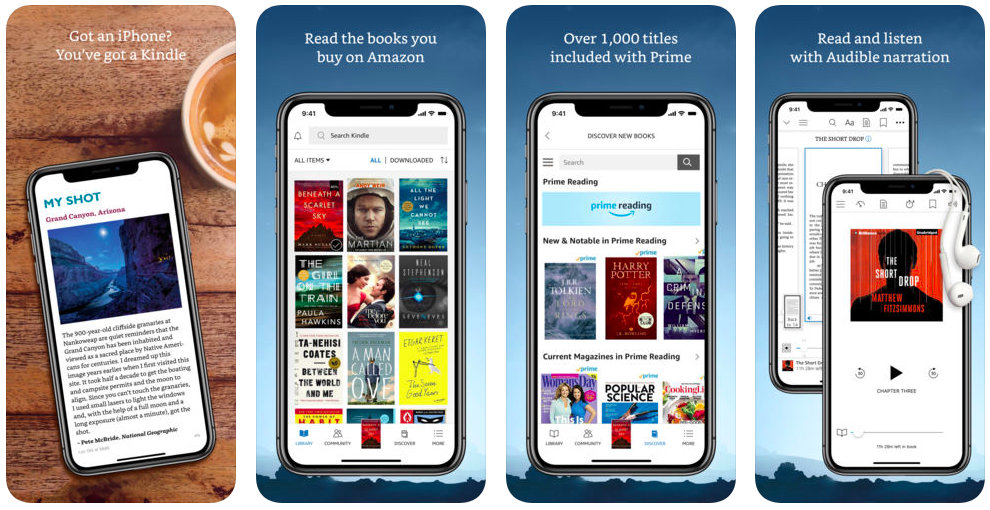 I love reading on my actual Kindle because it lacks the distractions of a smartphone, but I don't always have my Kindle with me. When I'm in a queue or at the gym, or if find myself with nothing to do for a couple of minutes, I crack open the Kindle app on my iPhone. It syncs seamlessly with my actual Kindle as well as Audible (see next). I also love the green and the black page backgrounds which are exclusive on the app.
If you're new to the Kindle app and need some new books to read, start with Jordan' Peterson's top 15 books.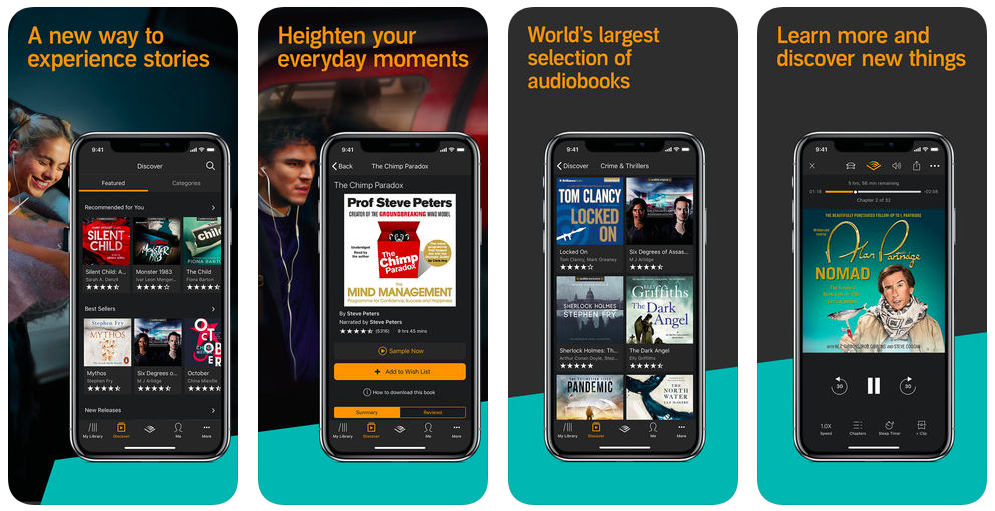 I am a huge fan of Audible, the audiobook company owned by Amazon. Memberships aren't that cheap, but when you pay for something, you're more likely use it. Audible audiobooks are performed by world-class narrators and the app is as slick as they come. It tracks the time you spend listening to audiobooks too which is a great feature if you're into habit tracking.
Some Kindle books come with a feature called Whispersync, which allows you to switch between the written Kindle version of the book and the Audible audio version without losing your place. I first heard about this from Sam Harris.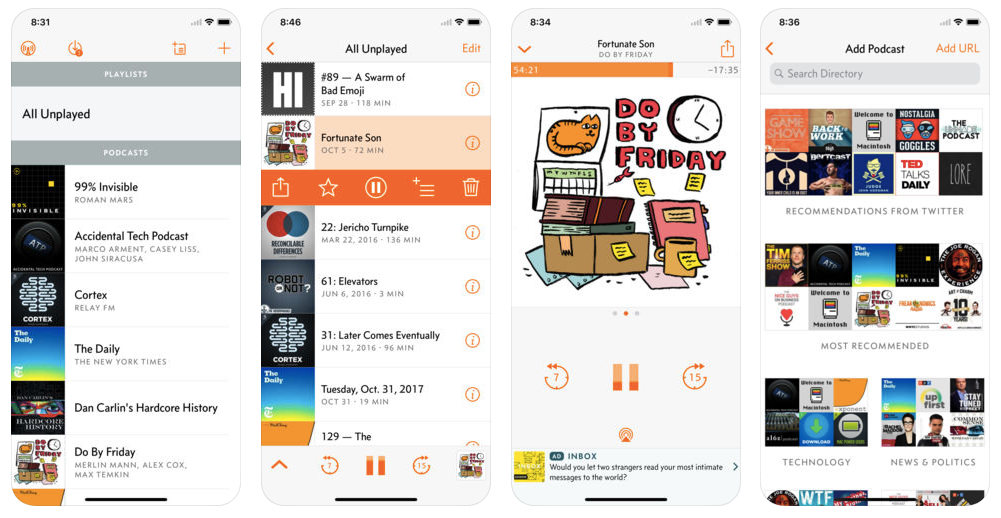 This is one of my favorite apps on the entire list. There are many amazing podcast apps available, but what makes Overcast stand out so much is that it comes with a custom-made feature called Smart Speed. This option allows you to speed up the silences between words so you can listen to podcasts considerably faster without any vocal distortion. According to my app, I've saved 42 hours of listening time just from the time sped up between words alone.
The real reason I am in love with Overcast, however, is because I upload lectures and audio courses to the app and listen to them comfortably at 2x speed. I wrote a detailed guide on how you can use overcast to do this here.
Available on iPhone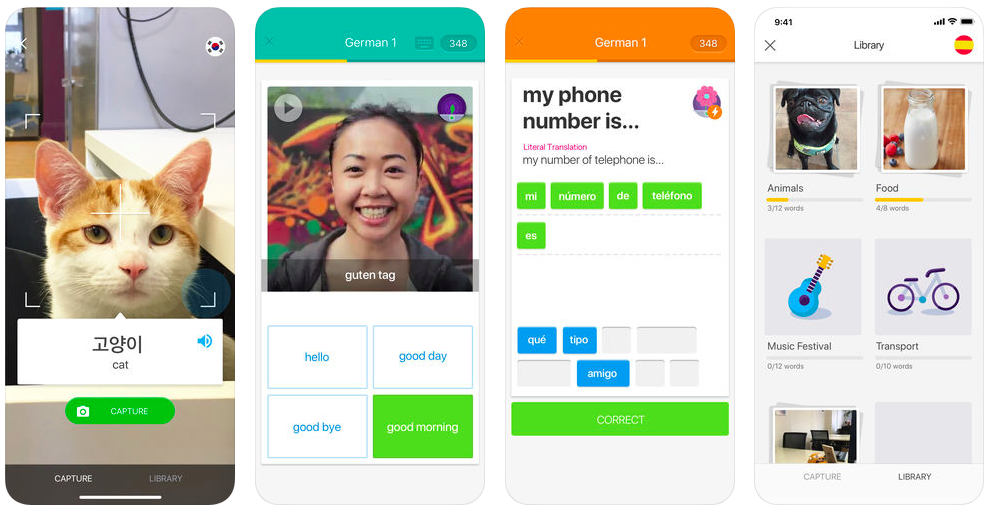 In high school, I used to create my own flashcards on colored paper to memorize history trivia. This method played a key role in helping me get the only A grade in my school. Ever since, I've been a huge fan of flashcards.
What is Memrise? Memrise is an app that gamifies flashcard learning. You can use it to learn anatomy, coding, languages, geography, history, and thousands of other topics. I began learning Czech on Memrise by studying the most commonly used 2,000 Czech words.
Dedicate 10-20 minutes to learning something on Memrise and you'll be astounded at the results in 3 months.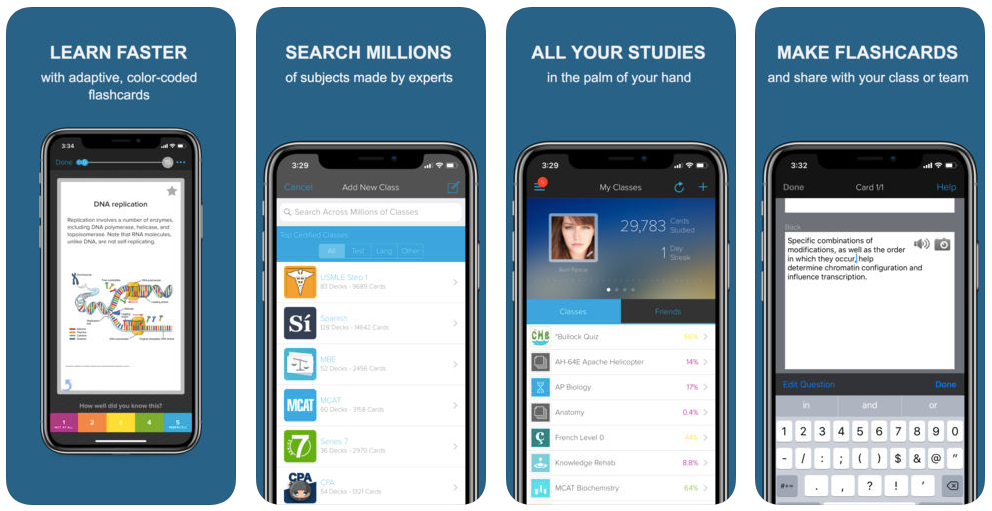 Brainscape is another flashcard app, but is better suited for unique subjects for which you make your own flashcards. The unique feature of Brainscape is that it allows you to rate your confidence level of each flashcard on a range between 1-5. When you have a 5 out of 5 confidence level, that flashcard will appear less.
I used Brainscape to improve my knowledge of grammar and punctuation. Reading actual books on grammar rules is boring and tedious, so instead, I transposed entire grammar books (Blue Book of Grammar and The Only Grammar Book You'll Ever Need) into flashcards so I could learn thoroughly in a somewhat stimulating way. I'm still in the process of doing this but can honestly say my writing would be far less polished had I not used Brainscape.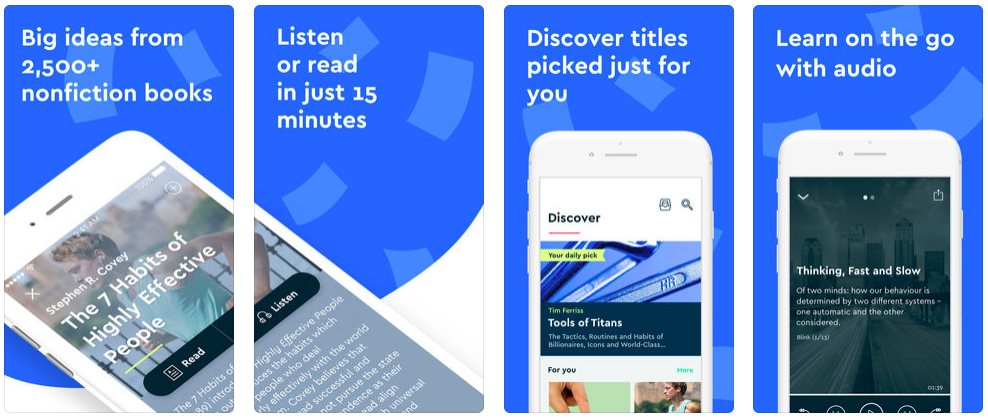 Blinkist is an app that summarizes entire books into digestible, yet potent, 15-minute reads. I love reading fiction, history, and philosophy books, but don't think Blinkist suits these genres very well. But what Blinkist is good for are the topics of time management, productivity, and self-improvement. These types of books naturally contain a lot of fluff, and maybe 20% useful, practical tips. Do you really want to read a 400-page book on being more productive? Download Blinkist.
I listed my top 10 favorite Blinkist reads here.
I would say that around 50% of the most useful stuff I know I learned from YouTube. Podcasts are great, but seeing and hearing a teacher talk in real time is, in my opinion, the most powerful way to learn as it combines more senses while still being extremely convenient to consume. TED talks, for example, are much better watched than listened to. I also love actually watching interviews too.
I recently made a list of my top 50 Jordan Peterson videos on the Internet, and they are all available on YouTube. Take a look.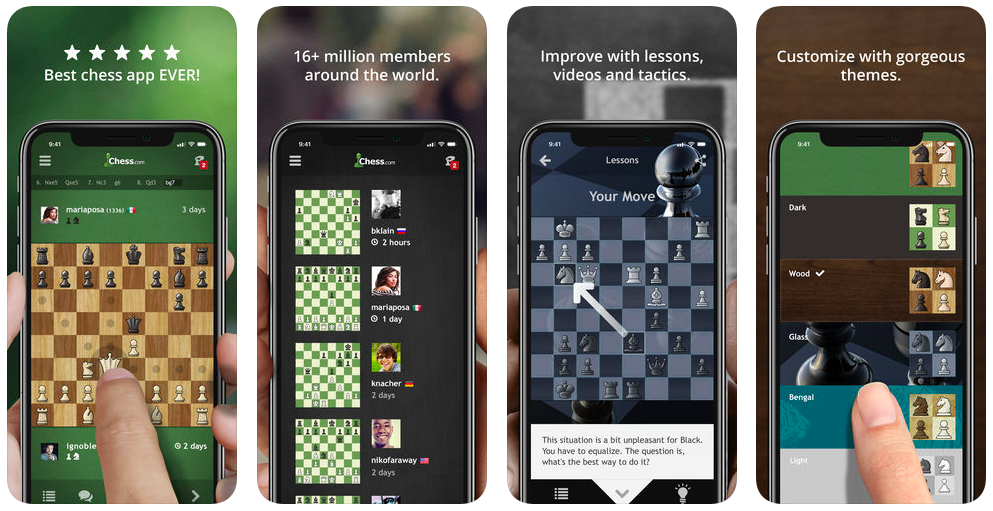 Chess does not increase your IQ or magically make you an amazing life strategist, but the act of learning to be good at chess does come with many benefits. For example, it trains you to stop rushing, to stop acting recklessly, to see yourself from another's perspective (your opponent); it shows you the value of practice, the value of humility, and resilience, to name a few things.
I asked Martijn Schirp, co-founder of HighExistence, if chess could make you a better strategician in life. He said, "Not necessarily, but it will if you consciously apply the principles you learn in chess to life." I think that's a perfect answer.
My favorite chess app is the chess.com app. It is the most popular chess app in the world and comes with so many puzzles and lessons. I love it. Aiming to become a proficient chess player is a very cool goal to have.
Wellbeing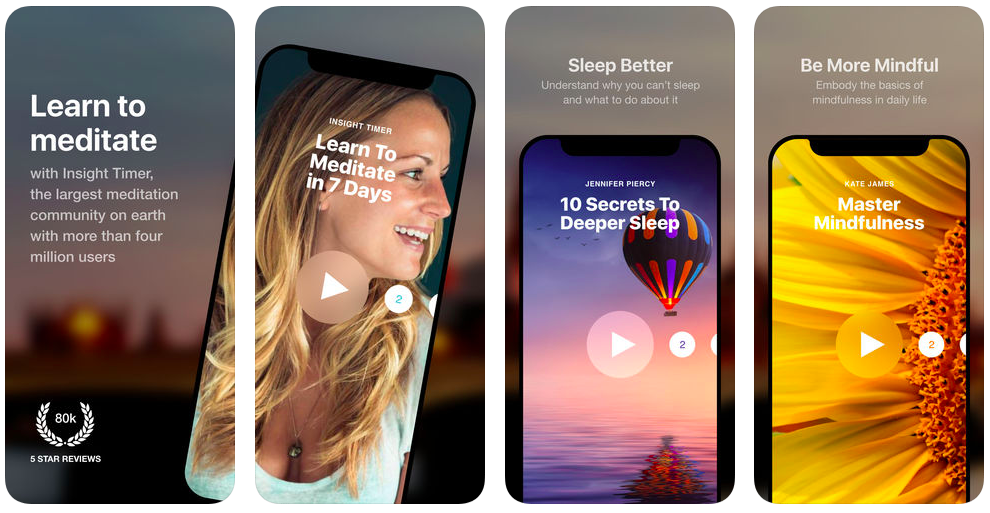 I'm going to list three meditation apps on this list because I love each of them for their own specific reasons. Insight Timer is free, clean, and my go-to app for the really deep, profound spiritual work I do on myself. There is a Thai forrest monk called Ajahn Achalo who has many guided meditations on loving-kindness, death, concentration, and these are my favorite guided meditations in the world. They are the real deal. There are thousands of teachers and free guided meditations on this app though. I think the huge variety of meditations is what makes this meditation app so special.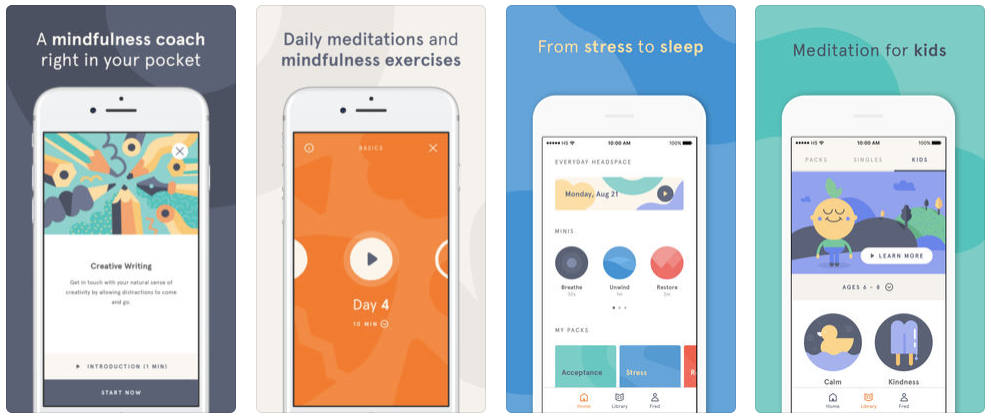 Headspace has really changed my life. This was the first meditation app I paid for, and because I did pay for it, I meditated every day for a year straight—investment equals motivation. I am also a huge fan of Andy Puddicombe, the voice behind Headspace. He was a monk in very strict Buddhist traditions for 10 years, but stripped meditation back to it's most beautiful, simple form for the app.
Some people think Headspace is only for beginners, but I don't think that's true. Meditation is all about the quality of consciousness you bring to the practice. If you bring diligence and presence to your Headspace meditations, the benefits will be huge.
I particularly loved the Self-esteem pack, and also Andy's book Get Some Headspace. Listen to it on Audible though so you get to hear Andy's voice.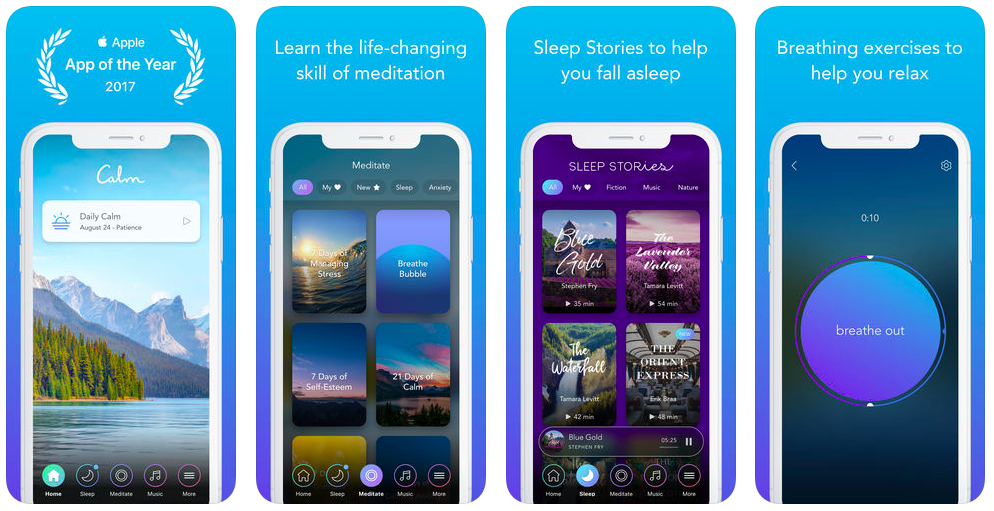 This is the third meditation app on the list. Maybe three meditation apps are overkill but who cares. I love Calm because the free version, unlike Headspace, does contain quite a lot of content—all of the loving-kindness meditations and basic concentration meditations are available without paying.
There is also an open-ended meditation on Calm where you can choose how often you want to hear interval bells. I tend to use this when I don't have a specific amount of time I want to meditate for.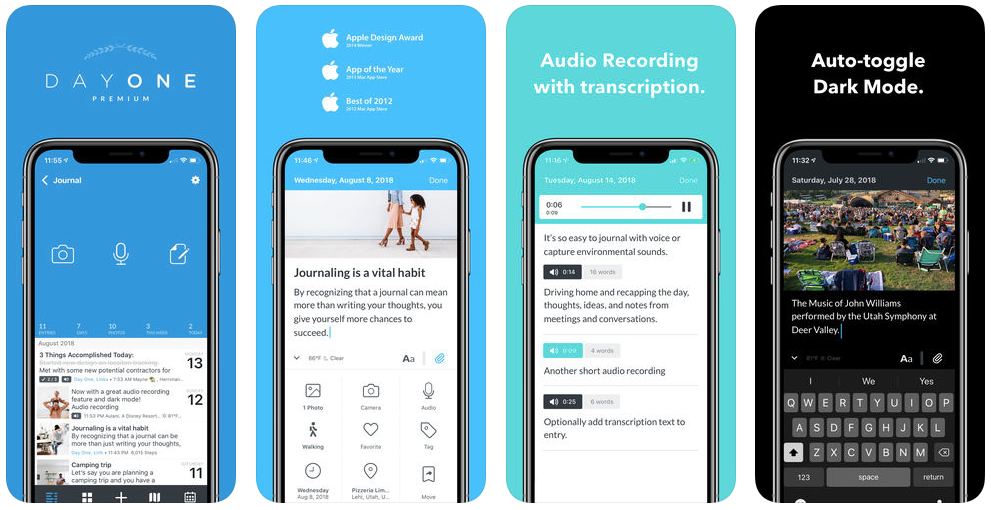 This is my journalling app—the only one I've stuck to. I use Day One primarily on desktop, but I do frequently add entries to it on my iPhone when I'm out and about. I have journals on travel, self-improvement, dream analysis, past analysis, relationship analysis, and goal setting.
I find that there are few greater things you can do for yourself than a partake in a steady journalling routine. If you combine this with meditation, you are taking great strides in your self-care regime.
After I completed Jordan Peterson's Self Authoring program, I switched to using Day One to continue writing about my life's events based on the format of Peterson's program. It has been very fruitful.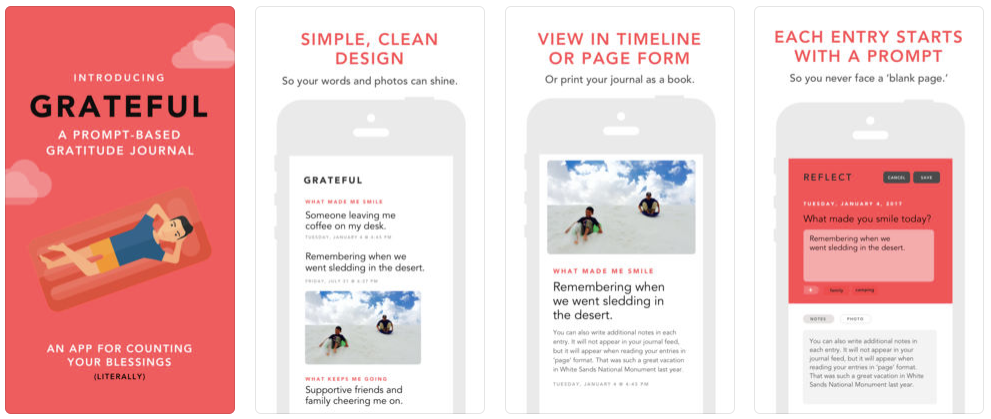 Writing 3-5 things you're thankful for each day is very good for your mental and physical wellbeing. Studies have shown that keeping a gratitude journal literally makes your immune system stronger and increases your levels of life satisfaction. If you like to write in longhand, then I would recommend the Five Minute Journal, but my favorite gratitude journalling app is called Grateful.
Over the years I've tried many gratitude journalling apps, and have found big issues in all of them, until a few weeks ago when I stumbled on Grateful. The team behind Grateful have also devised sleek habit tracking apps like Done and Tally so it was no surprise that their gratitude journalling app had the same high level of design and user experience. If you upgrade to the premium version you can add your own question prompts and experiment with Stoic philosophy questions, that's what I did.
Available on iPhone
Productivity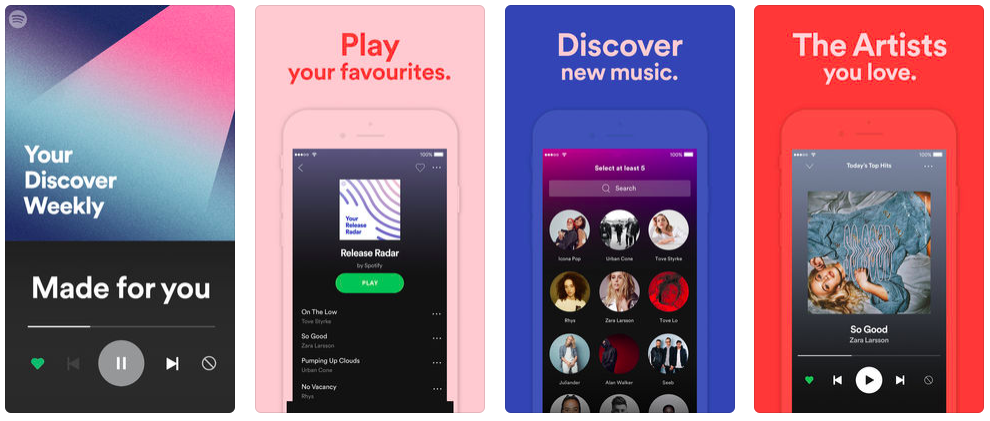 I use Spotify every day for at least a few hours. I'm always listening to music when I work, when I workout, when I go for a walk, and when I want to feel inspired. Music, of course, is absolutely a self-improvement tool. When I recently did an Ayahuasca retreat in Costa Rica, one of the most powerful aspects of the ceremony was the music. The music imbued the room and my psychological space with a deeper meaning than if there had been no music there at all.
For the last few months, I've been listening to a lot of Eminem's music. His inspirational rap has helped me get through some tough times, so Spotify had to be on this list.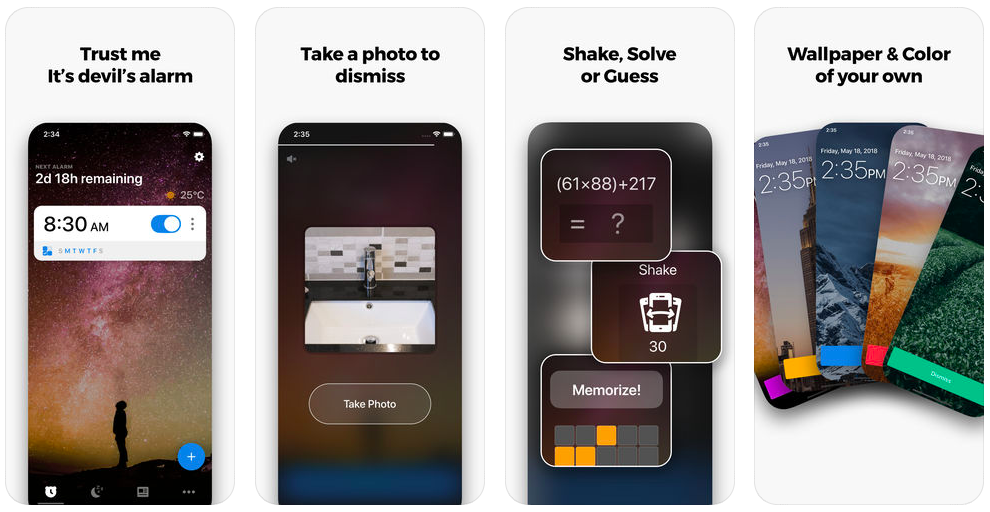 I've always struggled to get out of bed in the morning. One of my most guilty pleasures is the feeling of snoozing, between sleep and wakefulness. I just love the places my mind goes to in this semi-conscious dream state. But, unquestionably, there are huge downsides to not being able to jump straight out of bed in the morning, especially if you want to have a productive day.
A commitment device is a tool that allows you to forecast your lack of motivation for a particular task beforehand and do something in the present to prevent yourself from falling prey to your shortcomings. Alarmy is an app that you can use to overcome the inclination to stay in bed.
You set your alarm ahead of time and then choose a setting that will force you to either wake up fully or get out of bed. Alarmy, for example, makes you do math puzzles and memory games in bed before the alarm will turn off. The option that I love the most, however, is the bar scan method. You choose an item in your home with the app and scan the barcode. When the alarm goes off in the morning, you have to scan that same barcode for the alarm to shut off. If you keep the barcode in a different room then you are guaranteeing that you will wake up.
Be warned, this is a painful app to use, but it works.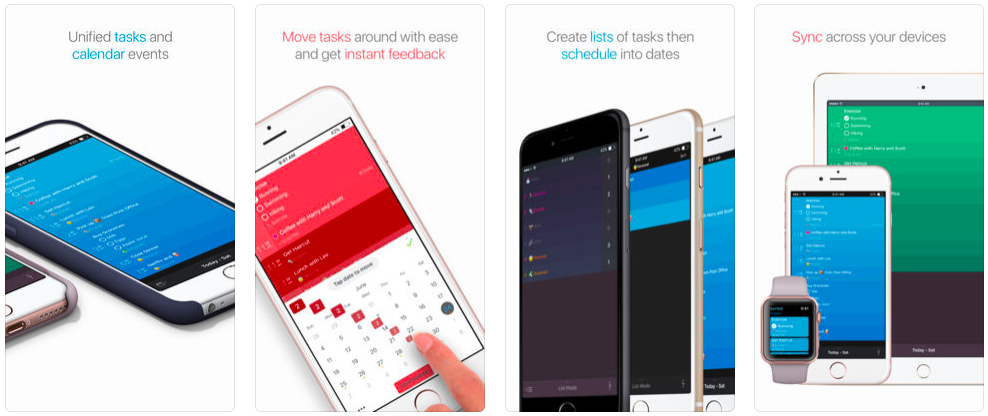 Sorted is an app that combines a calendar with a to-do list in a really beautiful interface. I love using to-do lists, and I love using Google Calendar, but sorted allows you to combine the both of them into one single app.
Sorted does take a little time to get used to using, as do many apps. But when you do get the hang of it, you should see quite a big increase in your productivity. You'll be much more aware of not only the individual tasks you are doing but also the schedule of your days and weeks all from within the same app.
Available on iPhone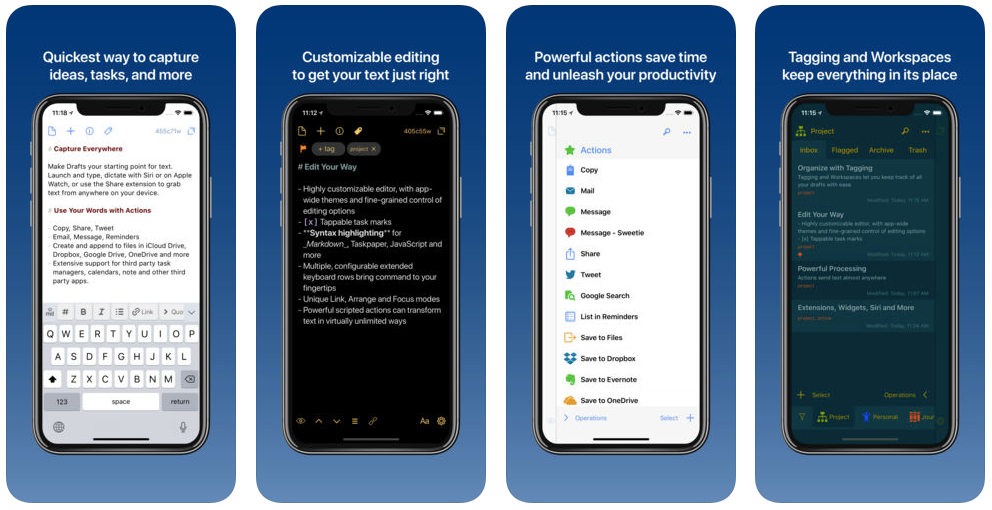 Drafts is a simple note-taking app. That's all it is. What makes drafts stand out, however, is how nice it is to use. When you open the app it immediately opens a blank page where you can capture your note. It contains tags so you can separate your different types of notes, and you can also perform dozens of actions with the notes you take such as export them to Dropbox, Evernote, text message, etc.
Drafts is the app I throw my thoughts into, then, later on, I take them out of the drafts app and collect them in Evernote, my to-do list, or a journal.
Available on iPhone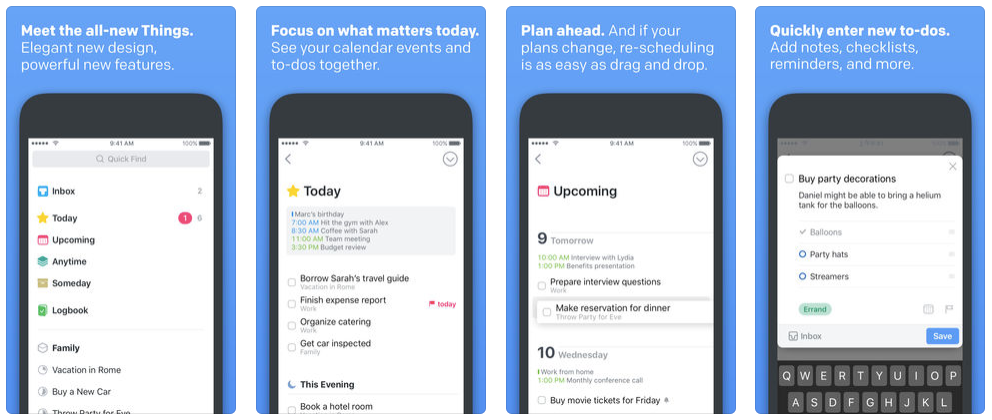 I've used many great to-do list apps such as Trello, Todoist, 2do, Swipes, Done, Wunderlist, and tons more. But Things is the most superior. It's hard to quite explain why Things is so good, but I think that's in part because of the sophistication of the design. There is a lot of power and well thought of features underneath that apps surface that just makes it feel intuitive.
My favorite thing about Things is that it just motivates me to check off my to-do list, which is arguably the most important part of a to-do list app. You should feel satisfied when you make progress with your lists.
Available on iPhone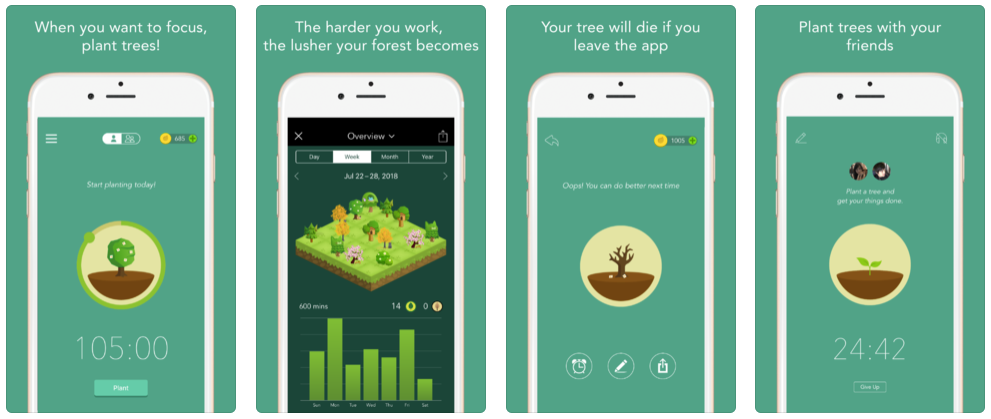 Are you addicted to your iPhone? When you get a ping, do you feel that mild excited anxiety… who is it? What do they want? Do you check your phone even when you're in the middle of doing an important task or when you're studying? If so, you'll want to get Forest.
Forest is one of the highest-rated, most-loved apps on the App Store. The premise is simple: when you turn on Forest a tree is planted on your iPhone screen. If you leave the app, the tree dies. If you don't leave the app, the tree continues to grow. You choose the time you want to be focused for beforehand, of course.
I love this app for reading. I put Forest on for 30 minutes and open my Kindle. I find that I'm able to read incredibly well with this app.
Habit Tracking
This is the greatest weightlifting app that exists. I've been Strong for years, ever since version 1.0. I've even messaged the app developer many times, and he's included my suggestions in the app updates. Strong contains hundreds of built in exercises and has incredibly sophisticated stats. The best thing about Strong is the focus on progressive overload (that's a fancy phrase for "consistent improvements"). You can't really build muscle if you don't continually increase the total volume of your workouts either through increased receptions or weight or a combination of the two. Strong motivates the user to always be improving.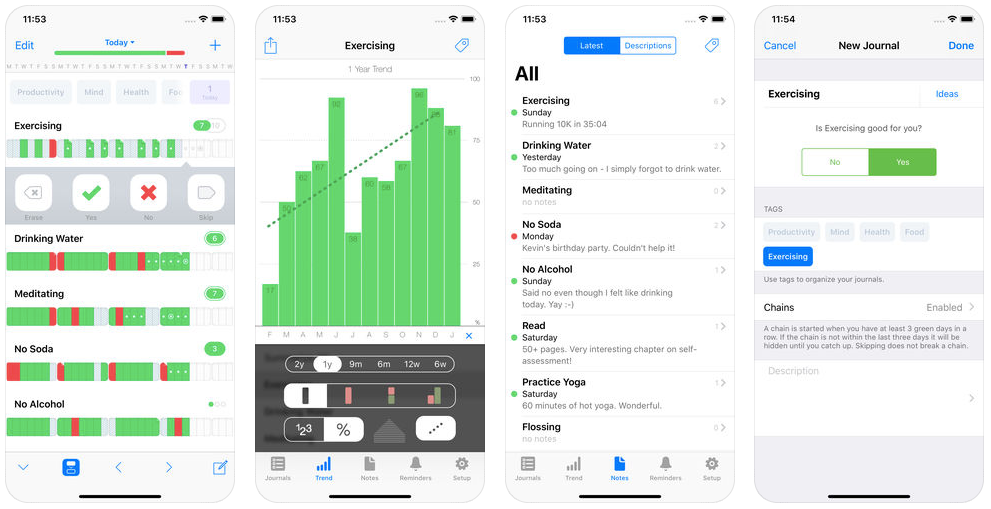 I'm going to list 2 more generic habit tracking apps in this list, we'll begin with Way of Life. I've been using this app for years. The design is simple. Mark a day green if you did your habit, red if you did not, and blue if you don't want to count it.
Where this app shines is on the data screen. You have the ability to look at your habit trends over a long period of time. This app focuses you to think long term. And whatever gets measured, gets managed, so you're likely to improve just from the tracking itself.
For me, I use Way of Life for relationship and behavioral modifications. I use it as a checklist for how I conduct myself. And example might be:
Don't get defensive
Don't lie
Don't be sarcastic
Don't be passive aggressive
Don't please the unpleaseable
Don't reward bad behavior
You can create quite a big list and use the app as a compass to keep reminding you and pointing you in the direction you want to go.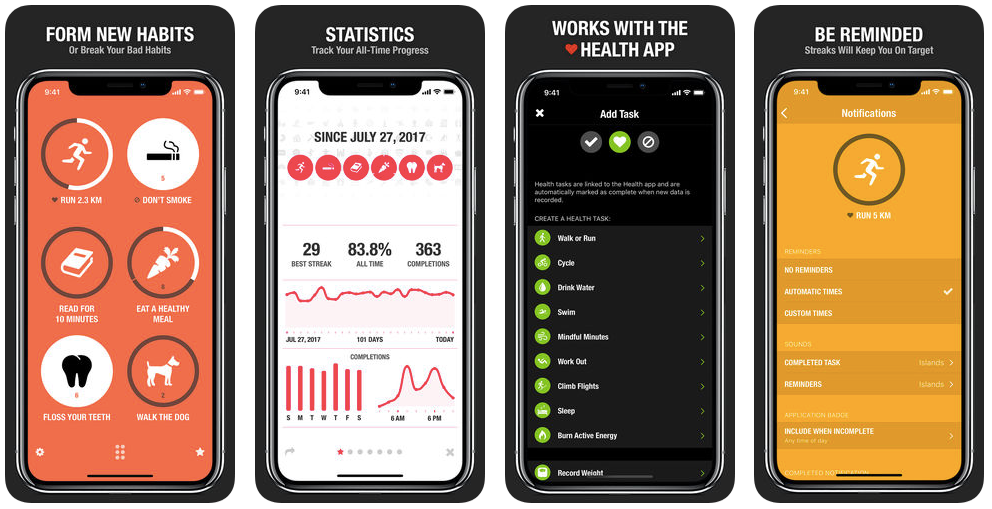 This is the app I use for my basic self-care habits. The interface is simple. In the original version you could only have up to 6 habits, but the app developers updated this so you can have 12 habits at any one time.
The reason I love using Streaks as my basic habits tracker is because the interface on the app is super minimalist, but it also has integration with Apple health.
If you aim to hit 20 minutes of meditation each day, when you meditate with any of the apps I've listed in this guide, you'll see that meditation time is automatically deducted from the total number of minutes you set out to hit on Streaks app. The same can be applied for time working out and other activities. This app also comes with a "negative habit" option, which means that you only check off the habit if you mess up.
This app works really well with alongside our course 30 Challenges to Enlightenment.
Available on iPhone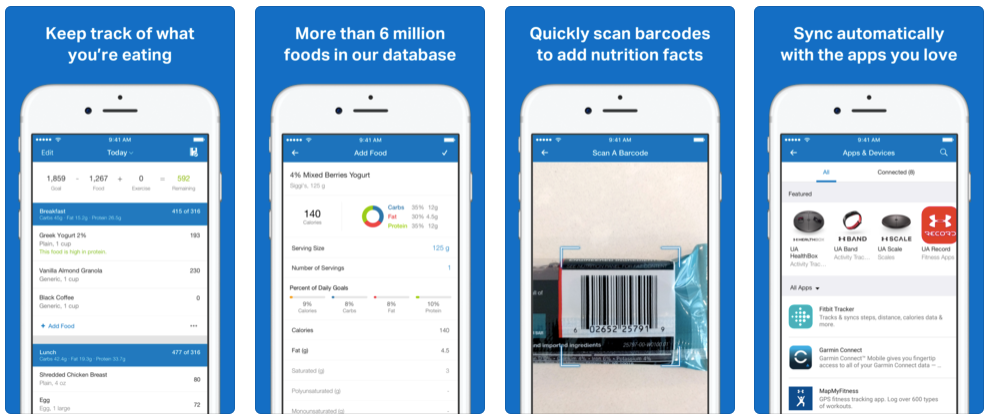 If your goal is to lose weight, and you have no idea how many calories you're eating each day, you're fumbling in the dark. Calories count. And the macronutrients you eat are also vitally important: protein, fats, and carbs. It blows my mind how some people are worrying about the tiniest details of their diet, like whether they should eat pineapple before or after a workout, yet have no clue if they're getting adequate fiber.
MyFitnessPal is the best calorie and macronutrient tracker that exists. It contains millions of foods that you can access with a barcode or a search on their database. If you have a small food scale to go with this app, you can get incredibly accurate tracking results.
If you'd like to learn more about nutrition and the significance of each macronutrient, view my in-depth guide here.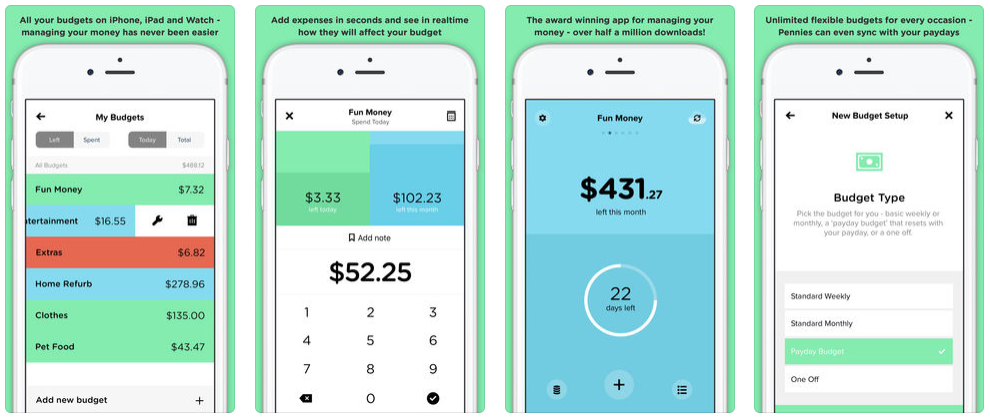 I'm not particularly good with money insofar as I don't budget and track my spending. I'm not a numbers person, and I don't get a kick out of bargain hunting the way some do. But I realize this and set out to correct my faulty financial mind via budget tracking software. I've tried quite a few money management apps—some were expensive and sophisticated, but the one I love the most is pennies. The interface is simple to use and gives you a lovely overview of both micro and macro spending.
If you want to become more aware of your spending, just start using Pennies.
Available on iPhone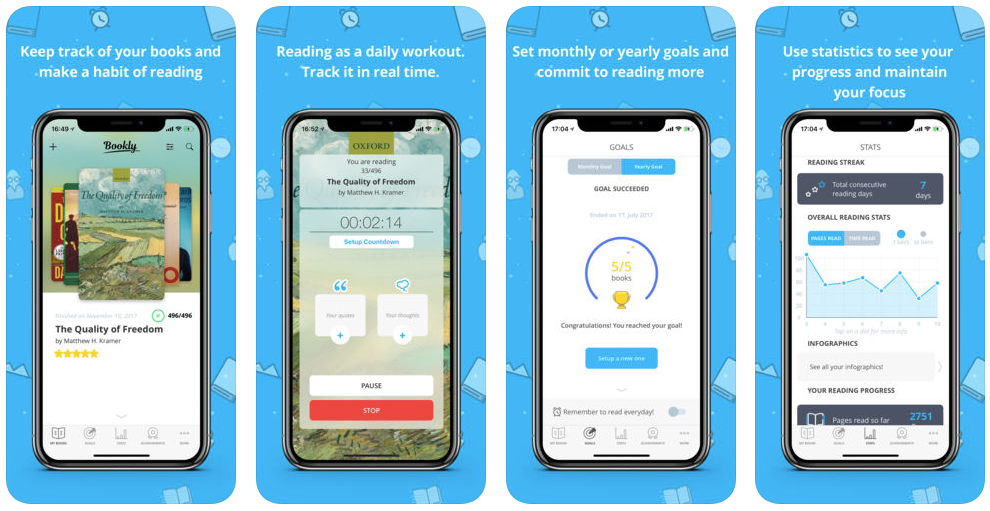 Bookly is an app that allows you to track your reading time as well as how many pages and books you read in a given time period. If you want to optimize and track your reading habits, Bookly is the only app I've found that allows you to do this in a way that's intuitive and useful. Nearly any book you can think of will be part of the library available to choose from on Bookly, but if you don't see your book, you can just add it manually.
There are few better feelings in the world than when you have a consistent reading habit and you can see the hours adding up for how many enriching ideas and thoughts are stimulating your mind.
Available on iPhone
---
Question:
What are your favorite personal development iPhone apps? Do you use any of the ones I've mentioned? Do you think I've missed any?