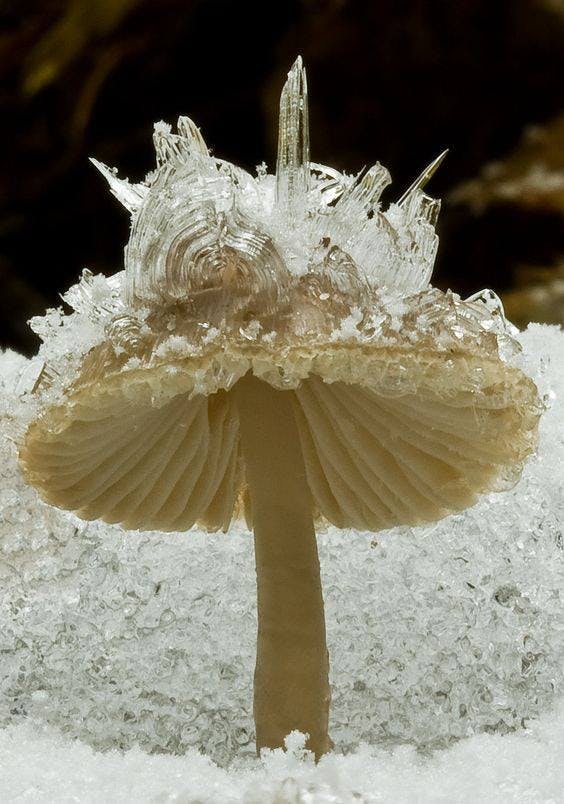 ⚡️ Enlightening Bolts
Can't miss gems of the weird and wonderful
🌍 Organism.Earth allows you to view the earth from above as you listen to quotes from brilliant minds about our fundamental connectedness.
🤔Dharma Inquiry is a list of over questions to help you pinpoint your path of greatest integrity to give your life more meaning and purpose.
🏡 The Future Thinkers are building a Smart Village that integrates nature, technology, and community on 107 acres with riverfront property and 360-degree mountain views.
🎇The coolest firework I've ever seen: Japanese Ghost Firework
🛰Over 40,000 man-made objects have been tracked in Earth's orbit since the dawn of the space age. Watch this time-lapse video that shows the dramatic increase in space debris since 1957.
🎇 Image of The Week
Nature seems to be endlessly riddled with gems like this. Here you see a frost flower on a mushroom. Frost flowers are created on autumn or early winter mornings when ice in extremely thin layers is pushed out from the stems of plants, wood, or in the case, fungus. This extrusion creates beautiful patterns that fold and curl into structures like the one you see here.
🍄 Psychedelic Renaissance
Initiative 81 will be voted on soon in Washington D.C to decriminalize entheogenic plants. This is similar to measures passed in Oakland, California in 2019, and Ann Arbor, Michigan last month. Details from Ballotpedia:
A "yes" vote supports this ballot initiative to:
declare that police shall treat the non-commercial cultivation, distribution, possession, and use of entheogenic plants and fungi among the lowest law enforcement priorities and
define entheogenic plants and fungi as species of plants and fungi that contain ibogaine, dimethyltryptamine, mescaline, psilocybin, or psilocyn.
You can get an overview of this ballot initiative here.
At the same time, Measure 109 in Oregon aims to legalize the use of Magic Mushrooms for medical purposes. Details from Ballotpedia:
A "yes" vote supports authorizing the Oregon Health Authority (OHA) to create a program to permit licensed service providers to administer psilocybin-producing mushroom and fungi products to individuals 21 years of age or older.
You can get an overview of Measure 109 here.
👂 The Power of Listening
"Generous listening is powered by curiosity, a virtue we can invite and nurture in ourselves to render it instinctive. It involves a kind of vulnerability – a willingness to be surprised, to let go of assumptions and take in ambiguity. The listener wants to understand the humanity behind the words of the other, and patiently summons one's own best self and one's own best words and questions."
-Krista Tippett
I came across this Krista Tippett quote via David Perrel this past week and find it nicely underscores the importance and power of deep listening. Every day we're afforded opportunities to listen with greater openness and acuity. This can be difficult to muster in a world where a smartphone with endless distractions is always within arms reach.
But if we can make space to practice deep listening in the moments when someone in our life is sharing, we can cultivate a skill that nourishes and fortifies the vital relationships in our lives.
Deep listening often serves as a humbling antidote to our false perceptions of others. As we shake loose preconceived notions and outdated viewpoints of our loved ones, we're invited into a deeper understanding of who they actually are.
It's a beautiful notion to consider that there is so much more to discover in those we hold dear. If only we could open our ears to hear it. How can you listen more deeply today?
💔 My Brother Jordan
A grief-stricken younger brother created a documentary for his older brother, Jordan, who was taken from this world too soon. Made from 300+ home videos and over a hundred interviews, this is one brother's tribute to another.
The filmmaker tries to tell the story of his brother and capture the spirit of what he lost. In the beginning, he tearfully expresses, "I wish you could have met him but you can't so I made this documentary. It's not good enough but it's all I got."
It's an emotional journey and a powerful reminder that we don't know how long we get to enjoy the gift of life. If you have a sibling you'll likely find this hour-long documentary especially meaningful.
🤓 Learn This Word
Sonder, n. the realization that each random passerby is living a life as vivid and complex as your own—populated with their own ambitions, friends, routines, worries and inherited craziness—an epic story that continues invisibly around you like an anthill sprawling deep underground, with elaborate passageways to thousands of other lives that you'll never know existed, in which you might appear only once, as an extra sipping coffee in the background, as a blur of traffic passing on the highway, as a lighted window at dusk.
⏳ From The Archives
A hand-picked classic HighExistence article
Check out our collection of Personal Growth & Productivity articles to defeat procrastination, breakthrough self-help myths holding you back, and discover the self-improvement industry's most destructive blindspot.Personal Growth & Productivity
We hope you enjoyed this issue of Down The Rabbit Hole. Feel free to reply and tell us what you think.
With Wonder,
Mike & The HighExistence Team
P.S. Did a friend forward you this email? Sign-up to receive future issues here: https://highexistence.com/rabbithole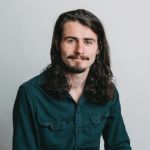 Mike is a magician and poet telling tales from the intersection of attention, deception, and wonder.