Nic Stubbs • • 2 min read
Steve Sims – Be You, Be Clear and They Will Come: Straight-up Marketing Advice (#60)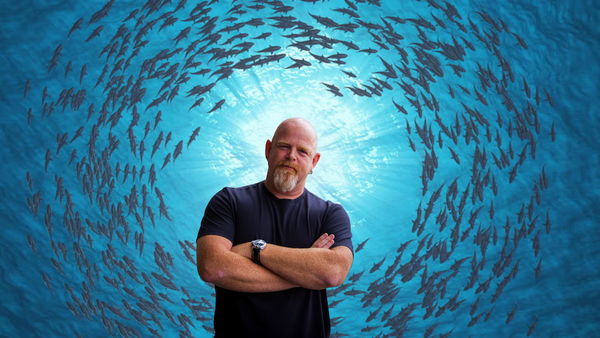 "Here's the funny thing: when I ask someone to tell me what his or her wildest dream is, they dilute it. Ten times out of ten, people sell themselves short"
– Steve Sims
Our guest on the podcast today should never have been able to succeed in business or in life. Growing up as a bricklayer in London, England, all the odds were against him achieving the kind of outlandish success he's been able to claim so far, but it's clear that the universe didn't expect someone with Steve Sims' heart, ingenuity, and initiative to appear and to turn traditional forms of networking on their heads.
I first came across Steve Sims in his absurdly motivating book, Bluefishing, which tells the story of his company that makes seemingly unreasonable requests come true. The company is called Bluefish, and they're who you call if you want to sing on stage with Journey, eat dinner in front of Michelangelo's David, or visit the undersea wreckage of the Titanic. He's orchestrated all of these experiences for his clients and many more besides.
Steve is just an absolute magician when it comes to making the impossible possible, so listen to today's episode if you're open to receiving a ton of inspiration to get out there and make big things happen.
He teaches that there is a password for every door, a weak spot in every wall, and if we would only stop selling ourselves short and start taking massive action, we might just be able to make that wall come down.
Especially important to understand, moreover, is that in today's business environment, mean guys finish last. A new, longer-term, more generous form of networking is making the old, manipulative kind of networking obsolete, and Steve Sims is helping to lead the way.
I hope that you finish this episode just brimming with inspiration and courage, and leave with the understanding that you can get pretty much anything you want in life, so long as you help enough other people get what they want.
Please leave a review if you enjoy The HighExistence podcast.
Links mentioned:
Steve's Work
Other Links Mentioned
Introducing a brand new weekly newsletter from the minds at HighExistence.
Over the past year, we've been publishing the wonder-inducing weekly email known as "Down The Rabbit Hole," and now we're taking it a step further.
We want our readers not only to feel a deep sense of enchantment towards the world around them but also to apply deep teachings to their daily life so they can experience the life-transforming benefits of wisdom-in-action.
The Stairway to Wisdom is a premium weekly newsletter for those who are ready to dive deeper. We've partnered with independent researcher and knowledge connoisseur, Matt Karamazov, who has taken sharp, meticulous notes on over 1000 books so that he could share the most inspiring pearls of wisdom with the world.