Jordan Bates • • 4 min read
The HighExistence Store is ALIVE, & We Made Some Beautiful, Badass Posters For You! :)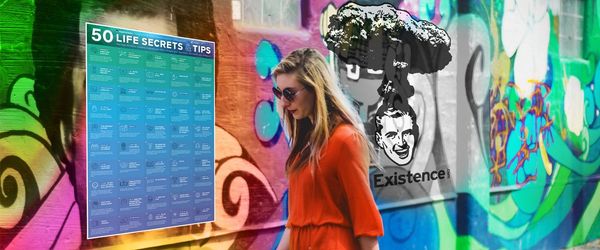 Please allow us to tell you a little backstory.
The Blog Post That Sparked a Movement
50 Life Secrets and Tips Pt. I, if you're unaware, is a rather legendary blog post here at HighExistence.
Years ago, it was the first blog post on HighExistence to blow the f#$% up. It caught a tsunami-wave's worth of hype on StumbleUpon and spread like wildfire through a vast segment of the interwebz, reaching over
ONE MILLION
people.

That might have been the moment when Jordan Lejuwaan realized he was onto something big with this Wild Wisdom Wonderland of a website.
I'm sure there are people reading this right now who discovered the site through StumbleUpon and landed on that very post. Come to think of it, I'm not so sure it wasn't StumbleUpon that originally brought me to HighExistence, to that very post. Crazy shit. :]
Anyway, so we got to thinking . . .
We started thinking about how the original 50 Life Secrets and Tips post (there's also a Part Two!) was, in many ways, like, the GENESIS of HighExistence, of what HE would become.
We know that many of you have a soft spot in your heart for that post and for the inspiring, uplifting, and enlightening messages it contains.
And we wondered: How can we help all of you to remind yourselves regularly of these life-enhancing secrets and tips?
How to actually make sure you are taking the necessary daily steps to a life of AWESOMENESS?
Our answer:
GIGANTIC, GORGEOUS '50 LIFE SECRETS AND TIPS' POSTERS!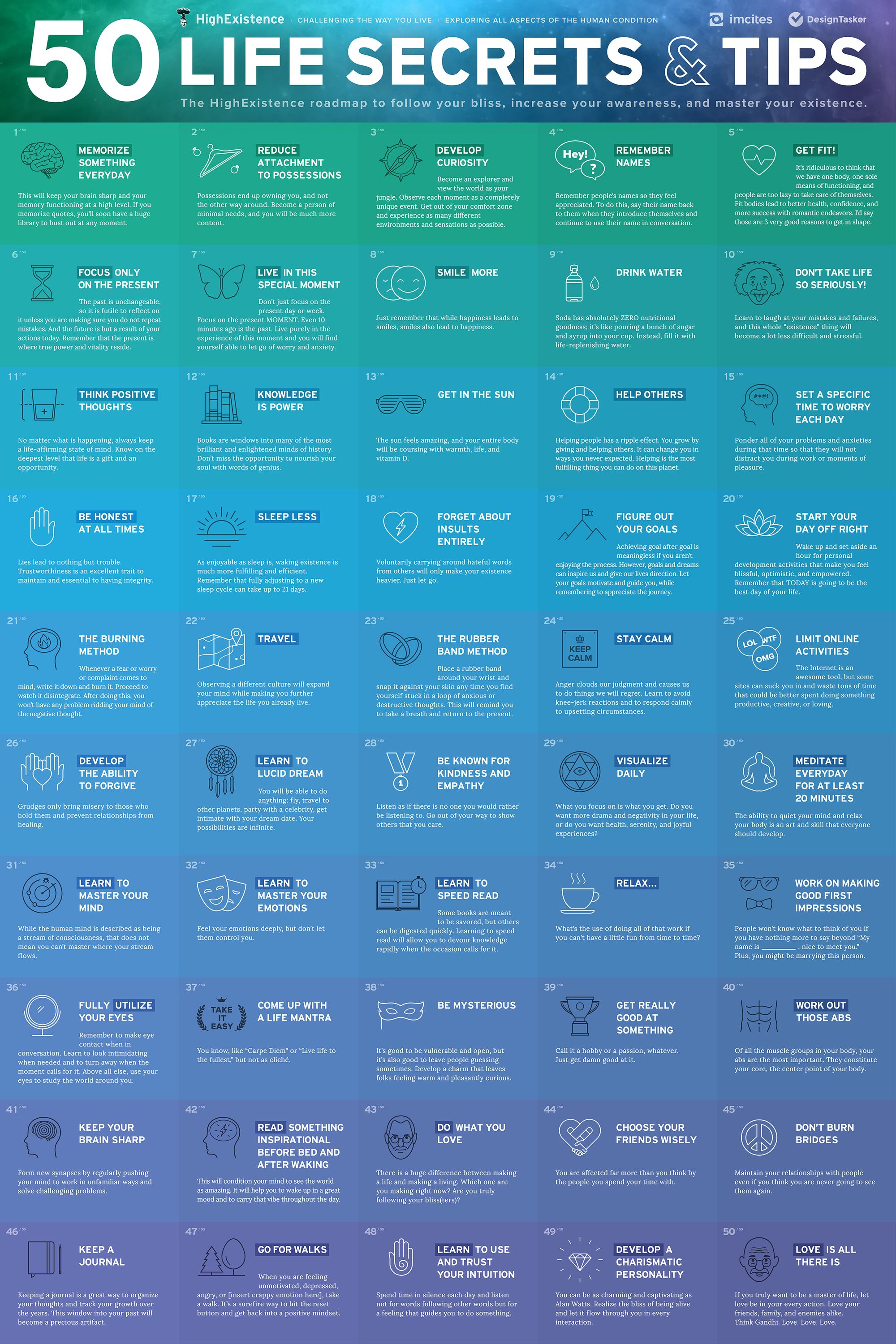 Yep, we went there . . . :]
At THREE feet long and TWO feet wide, these posters are pretty MASSIVE. (yes, there is another one.)
They're also positively vibrant, stunning, and impossible to overlook.
Any room will be electrified by the presence of one of these veritable paper lightning bolts.
And the best part, of course, is that THIS BEAUTIFUL POSTER GENTLY REMINDS YOU OF VIRTUALLY ALL OF THE WISDOM YOU WILL NEED IN THIS LIFE! :)
These posters are printed on high-quality, 180-gsm paper with a semi-gloss finish, and man, we're truly satisfied with how BOLD they look in person.
We can't wait for many of you to see them up close.
And they're available now in our new HE Store!
Furthermore, since it's the holiday season, we're doing a Christmas Launch Sale.
From now until Sunday 12 AM EST, you can use the discount code 'high15' to score a 15% discount on all products.
More Than a Poster
We view this poster as a HighExistence collector's item — an artifact that summons to mind the early days of HighExistence and contains so much of what we stand for.
Beyond that, this thing is a gorgeous room-enhancer, a conversation piece, and most importantly, a roadmap to a higher existence.
We sincerely believe that this will be money well spent, as this is a truly quintessential example of a "gift that keeps on giving."
Not only will the poster continue to remind YOU, year after year, of the path to a High Existence, it will also doubtlessly attract the attention of your friends, family, and acquaintances, introducing more people to ideas that just might change their lives.
People are sure to ask about this poster all the time, giving you plenty of opportunities to have deep and mutually enlightening conversations about the ideas it presents.
So, to be honest, it isn't a stretch to say that by buying one of these posters, you are helping to create a more reflective, open-minded humanity, one person at a time.
Our Vision
Imagine yourself reading a few of these tips every day, first thing in the morning, probably on the toilet, effectively priming your mind to follow through on the life-transforming advice you hadn't been able to implement previously.
Imagine yourself remembering our best advice, after repeated read-throughs, instead of reading an endless list of blog posts that you quickly forget and do not act upon.
This is our vision, and that's why we dedicated many, many hours to bringing these posters to LIFE, for ourselves and for you.
We're damn excited about them, and we hope you are too. As I said, they're available now in our new HighExistence Store, while supplies last, and you can get 15% off the cost of your order by using the discount code 'high15' when you check out.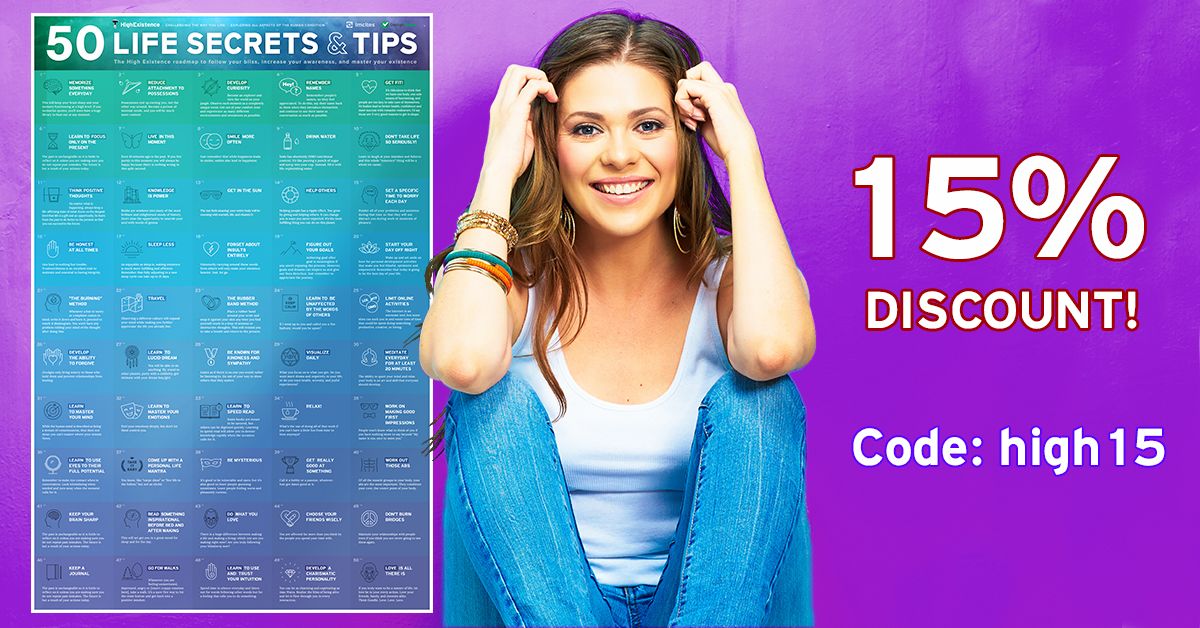 We hope you'll snatch one up right away and help us to bring our vision to life!
I'll even summon the audacity to suggest that one of these would make a RAD Christmas present for a really cool person in your life, if you still need to figure out some gifts for the holidays. :)
Anywho, I'll shut up now. Thanks so much for reading, and once again, please snag one of these posters to support HighExistence and BEDAZZLE THE F#$% out of your living quarters! Cheers, everyone.
Peace & Love,
Jordan Bates, HE Co-Creator
P.S. Also, if posters aren't your thing, we're also selling t-shirts and mugs in the store. Go take a look. :]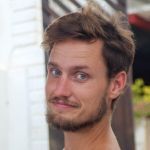 Jordan Bates is a lover of God, father, leadership coach, heart healer, writer, artist, and long-time co-creator of HighExistence. — www.jordanbates.life