Jon Brooks • • 4 min read
Dan Munro: Radical Honesty as The Path to Bulletproof Confidence (HEx Podcast #18)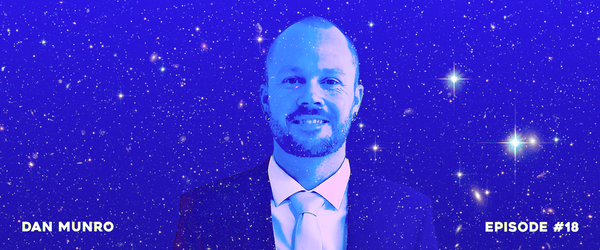 "If someone says, "I'm a fucking loser," that's a form of dishonesty. What you actually are is a collection of atoms talking to each other. To say that you're a loser isn't accurately describing yourself. To say, "right now I'm having a thought that I'm a loser and engaging in some self-pity around that," that's more accurate."— Dan Munro, from HEx Podcast
"When I say I was working with criminal offenders, really I was just coaching people, and now I'm still coaching people it's just they're less likely to be in a gang these days."
— Dan Munro, from HEx Podcast
I heard about Dan Munro from a friend who had received coaching from him. My friend was telling me how amazing this coach was and that he was even going to receive more coaching from him in the future.
I wanted to talk to Dan about coaching, so I arranged a call with him to pick his brains about this topic as well as connect in general. I was blown away by Dan's groundedness and willingness to share his ideas with me. As the call progressed, it turned out that Dan and I were already connected.
Dan told me that Donald Robertson, the Stoicism writer, was writing the foreword for Dan's new book on honesty. Quite the synchronicity considering I had recorded a podcast with Donald a few days prior.
Who is Dan Munro?
Dan Munro is a Confidence Coach based out of Auckland, New Zealand who now lives in the Czech Republic with his fiancé. Dan created the Brojo men's mastermind group which is growing every day, and is the author of The Legendary Life and Nothing to Lose. Dan also worked for many years as a probation officer where he learned how to make lasting change with the worst coaching clients you could wish to have—people who didn't want coaching.
Dan used to really struggle with authenticity, honesty, and making "real" connections. And as we know, it's usually the people who suffer in a particular area that go on to master it and become the best teachers.
There is nothing quite like hearing Dan's ideas straight from the man himself, however, so If you'd like to live a more authentic life, and walk through the world with more ease and confidence, give this episode a listen:
In the podcast, we discuss:
The role of honesty in confidence
The difference between good and bad coaching
How to deal with manipulators
The dark side of the pick up industry
What it means to "be yourself"
Dan's confidence boosting 30-day challenge
LISTEN TO THE HEx PODCAST
(Please remember to leave a review because it helps us to improve the podcast!)


NOTABLE MOMENTS
Who is Dan Munro? [04:25]
Why do you focus so heavily on "confidence"? [05:27]
What is confidence? what does the word mean to you? [08:15]
The power of having core values. [11:55]
What did you used to be like and how'd you end up here? [14:15]
Dan's time studying pick up artistry and how it relates to authenticity. [20:25]
What kind of effects does "honesty" have on your coaching clients' dating life? {25:25]
Jon Brooks talking about his experience with authenticity and dating. [30:25]
Should a self-hating person "be themselves"? [32:25]
The power of focusing on accuracy when trying to be honest. [36:15]
Do you ever lie or tell white lies, and what is your relationship with the truth on a day to day basis?What would it take for you to tell a lie? [39:25]
How would you deal with coaching clients who are caught up in pathological relationships that are founded on lies? [44:25]
You mentioned that you worked with criminal offenders? How did that experience inform your understanding of psychology? [52:10]
How was your fear of confrontation obliterated when you were a probation officer? [57:42]
What is gaslighting and invalidation? [63:35]
Who do you deal with invalidators or manipulators? [1:07:25]
How did you transition from being a probation officer to being a confidence coach? [1:12:10]
What is the difference between a good coach and someone who's a bad coach? [1:15:17]
People who are avid readers, practicing good self-care, etc., might think, "I don't need a coach." Do you still think there would be value in coaching for this type of individual? [1:22:22]
Can coaches actually change their clients or is something else going on? [1:28:20]
Dan's thoughts on improving clients vs. revealing them to themselves. [1:33:39]
The power of human connection in successful coaching. [1:37:40]
What challenge would you give someone listening to improve their confidence? [1:43:55]
Where can people learn more about you? [1:47:22]
LEARN MORE ABOUT DAN MUNRO