bryan g • • 5 min read
A PLURfect World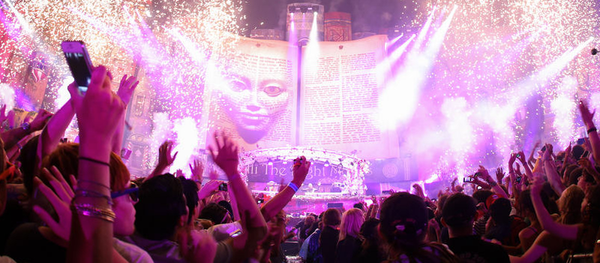 The music is a drug.
It speaks to you.
It dances through your ears and dives deep into your heart. A potent energy pumps throughout your veins. You are surrounded by a sea of smiles, a fountain of love. Everything is vibrant. You are present. No worries. There is only now.
Welcome to EDC.
I remember when I got my first true taste of electronic music. It was early 2012 in Vancouver. I went to see Sander Van Doorn and Benny Benassi perform at the Vancouver Convention Centre. When I first walked in, I felt a bit out of place; the neon colors, the glow wear, the crazy lights; it didn't really seem like my scene, especially since I never considered myself much of a dancer.
But as I worked my way toward the middle of an exuberant swarm of "EDM'ers", the energy of the crowd kidnapped my soul. Flashes and strobes of light put me in a trance. It felt like a dream. All I wanted to do was jump and move to the beat. There was no right or wrong way; it was simply a personal reflection to the music. I felt alive… I was hooked.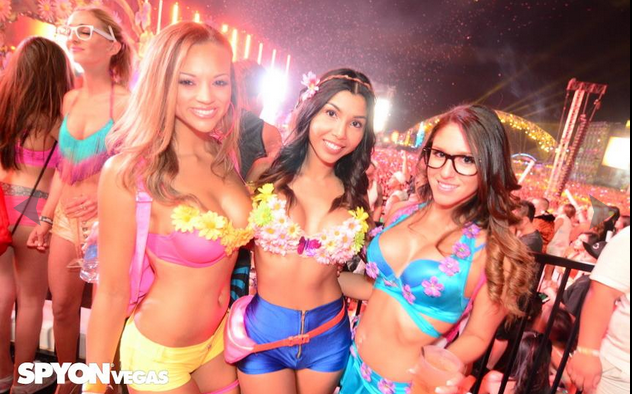 Several months later I found myself at Electric Daisy Carnival 2012 in Las Vegas. By this time, I had a little more experience with the electronic music scene. But even that could not suffice in preparing me for the magnitude of EDC: over 300,000 fans raving from dusk till dawn to numerous top artists on multiple stages … three days in a row. Hell, I even threw in rides on the Ferris wheel and Teacups to get the full experience. By the end of the third day, Insomniac Events had found themselves a repeat customer.
A year later I was back in Sin City with my close friends, eagerly awaiting our journey to the Las Vegas Motor Speedway for EDC 2013. We were a year older and a bit more prepared. Our crew rented two RV's for the trip, stocked up on waters and snacks, and made sure to have plenty of chap stick (don't forget a backup… your lips get so dry in the desert). Check out the highlights below!
The energy in the venue is ecstatic. Fanatics in costumes walk the paths between amusement park rides and food vendors. You see fairies, superheroes, Power Rangers, Disney characters, and the like. Breathtaking women dressed in neon colors line the stages. The little kid inside you screams to be let free.
The aura resembles that of a utopia; an ambience of empathy fills the air. This culture is referred to as PLUR, an acronym for Peace Love Unity Respect. It is a mantra that was birthed during the rave scene in the UK back in the 1990s. People are kind and compassionate, and everyone is happy, excited and smiling. It's as if each person's best self comes out. This atmosphere of optimism flows all around you, and when the right chord pierces your heart, it's as if some formless presence tells you that everything is going to be all right. You begin to feel at one with all.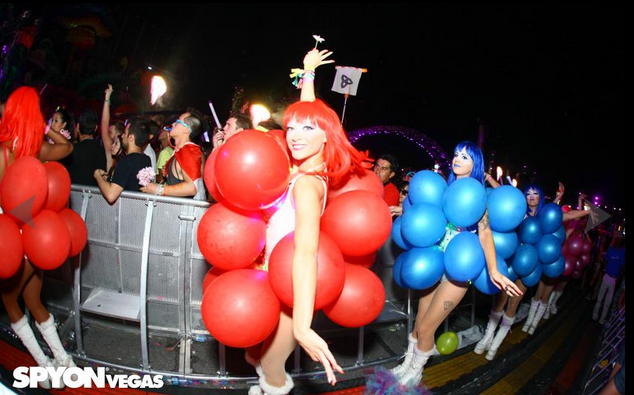 Electronic Dance Movement (EDM) continues to grow. While the rave and techno scenes have been around for decades in both Europe and the US, the Internet has delivered a resurgence to the genre, giving birth to a multitude of new artists, with some music even penetrating the pop-culture scene. EDC Las Vegas alone has grown from 230,000 attendees to 300,000 to 350,000 from 2011-2013 respectively.
Lyrics work as tiny affirmations pulsating in my subconscious mind.
The exciting thing to me is the way in which EDM is evolving and expanding to different cultures. Electronic music festivals are popping up all over the globe now, and the mainstream DJ's have taken on the roles of rock stars. I recently saw Armin Van Buuren perform at Creamfield's Peru and David Guetta perform in San Jose, Costa Rica. While the EDM culture hasn't fully evolved to what it is in Europe and North America, it was interesting to watch people try to assimilate. I feel it is only a matter of time before its influence spreads throughout the world.
The music has this universal feel to it. When I am stomping to the bass and leaping to the drops with my hands flailing overhead, my primal nature begins to take over. I get this tribal, ancestral feeling as if I have been there before. I feel home. Many of the lyrics promote themes of love and unity. They work as tiny affirmations that pulsate in my subconscious mind, washing away that which has been spray-painted over my third eye from years of television and commercials. I often think about how the music holds the power to aid in a shift in human consciousness.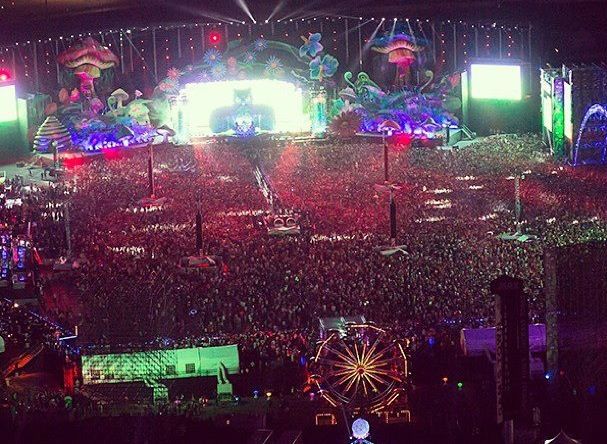 For the last year or so, the music has become the source to my "happy place." I've always been a big fan of Happy Gilmore, but my love for the movie was rejuvenated after meeting a friend whose appreciation for the film went much deeper than its comedic value. The idea of a happy place: somewhere we can go in our minds where stress, anxiety and fear become nonexistent, so that feelings of peace, love and excitement can fill our hearts.
Headphones in, music blasting and dancing like no one is watching; this is my happy place. People definitely are watching. But I don't really care. I throw my gym clothes on and dance up and down the streets, up stairs through college campuses, along the beach and wherever the music takes me. It's a great workout, and it's fun. And when I close my eyes while bouncing side to side, I almost feel like I'm back among the crowd of EDM'ers. I let go.
It's the open environment at all of these festivals that encourage people to let go, to surrender to the present moment. And when we do, our hearts take over, while our minds are put to rest. A community is created. We share the human condition. We feel compassion for one another. We want to give, and we want to love, unconditionally. The problem is that it ends. The magic ceases once people jump back into their mundane routines. Those vibrant energies fade, and the stranger who walks by you on the street corner the next day seems far removed from the friendly stranger dressed like a banana the night before. You suddenly forget about your longing for connection as you slowly dissolve back into your "normal" state of consciousness.
It's frustrating to me. Because when I go to these events and experience this seemingly perfect world, I take it as a glimpse into what humanity is capable of achieving. I feel there are deep, survival related reasons for why we have evolved with the ability to be good to one another. But then I ask myself… Can you really expect the culture at these events to be applicable to the world we live in today? And I think the answer to such a question rests on the individual.
That feeling of connection, of wanting to open up and give, it can always be brought back into your everyday life. You can always choose love. You can choose to be of service to others. It can be as simple as complimenting a stranger, or being a listener for someone in need. Each morning you wake, just ask yourself the question: how can I make the people around me better today?
It begins with you.
Live High,
Bryan