Nic Stubbs • • 4 min read
Matt Karamazov – Uncommon Insights From 1000+ Books (#53)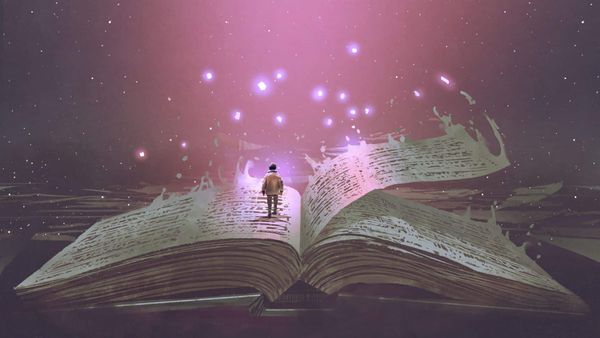 Read all of Matt's books breakdowns and join his weekly High Existence newsletter, Stairway to Wisdom here.
"Once you learn to read, you will be forever free."

— Frederick Douglass
Matt Karamazov has already accomplished multiple lifetime's worths of achievements.
You'd think the topic of this conversation would be about his experience as a world heavyweight boxer, a natural bodybuilder, nightclub bouncer, professional writer, or successful music label owner…
But no… On top of all that, Matt decided that he would take on the mammoth task of reading 1000+ books!
And he doesn't just read them. He makes detailed notes on them too.
Since this episode was recorded, he has accomplished the goal of reading 1,000 books and has now extended it to 10,000.
With an average of 7 hours a day spent reading, Matt has mastered the art of focusing for long periods of time in pursuit of an aim, and he has joined us on the High Existence Podcast to share key insights and tips for turning our own lofty ambitions into fully realized goals.
This conversation expands way beyond reading into the depths of a mind that has downloaded 1000 of the greatest pieces of content of all time.
In this Episode:
Matt's history with High Existence
Why he decided to read 1,000 books
How to stay focused for 7 hours a day
Can you be mindful while reading?
The secret to retaining what you read
Is optimism the privilege of someone who hasn't experienced true difficulty?
The futility and utility of envy
Why you should read more fiction
How reading can improve your creative writing and communication skills
The importance of enjoying the moment to moment process of working towards the goal
How to read 5 books a month
Why you should have a 100 year plan if you're under 50
MUCH MORE…
Please leave a review if you enjoy The HighExistence podcast.
LISTEN TO HEx PODCAST (#54)
(Please remember to leave a review because it helps us improve the podcast!)



Links mentioned:
Books:
Matt's Work:
Reading Apps:
People:
Other Links:
✨ The Stairway to Wisdom
You've gone Down The Rabbit Hole. Now it's time to walk up The Stairway to Wisdom.
Introducing a brand new weekly newsletter from the minds at HighExistence.
Over the past year, we've been publishing the wonder-inducing weekly email known as "Down The Rabbit Hole," and now we're taking it a step further.
We want our readers not only to feel a deep sense of enchantment towards the world around them but also to apply deep teachings to their daily life so they can experience the life-transforming benefits of wisdom-in-action.
The Stairway to Wisdom is a premium weekly newsletter for those who are ready to dive deeper. We've partnered with independent researcher and knowledge connoisseur, Matt Karamazov, who has taken sharp, meticulous notes on over 1000 books so that he could share the most inspiring pearls of wisdom with the world.