Connor Hensel • • 23 min read
20 Alternative Homes That Will Have You Ready to Drop Out of Society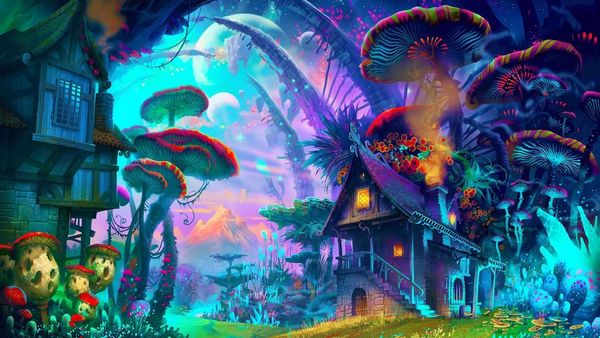 "Find joy in everything you choose to do. Every job, relationship, home… it's your responsibility to love it, or change it."

— Chuck Palahniuk
With the price of housing and relatively low income so many of us live on, moving towards alternative homes and unorthodox styles of living is an increasingly attractive option.
It's said that a good rule of thumb is that a person shouldn't spend more than 30% of their income on housing. I don't know about you, but that seems like a pretty lofty goal for me right now.
Beyond simply the expense of modern living, people are growing tired of commercial lifestyles, and feeling a strong call to live more independently, self-sufficiently, and more symbiotically with nature. The growing tiny home movement is just one symptom of a shifting collective, as our minds continue to expand to reach the challenges we face. Maybe it's time to consider letting our homes work for us, rather than us always working for our homes.
Home is an abstract concept; as the Dalai Lama once said, "Home is where you feel at home…" But someone else's idea of home might be radically different from yours, and who knows — maybe there's a way of life out there that will resonate with you in a way you never knew existed.
It's tough to even know where to begin when talking about the myriad ways that people find to live alternatively, though it is safe to say that with a little ingenuity and a little (or a lot of) hard work, the results can be amazing. This list is meant to be a source of inspiration and a chance to see some truly unique places. Whether they seem realistic or ridiculous, people everywhere are utilizing alternative housing options like these.
The Crib
Prefabricated or modular structures consist of pre-assembled pieces that are later put together on-site. These 'kit' structures are often relatively simple to build and can be less expensive than other construction methods. The Crib, taking its basic form from traditional American corn cribs, is a prototype building made with sustainable and recyclable materials. Instead of traditional wood timber framing, it is framed with a shop-fabricated galvanized steel bent structural system. The design also adopts the structural simplicity of a common scaffolding system. Manufactured wood beams connect the bents.
The Crib comes in two models, both of which can be elevated on an enclosed foundation that can house the bathroom or storage space. You can even bring it with you if you decide to move, as it can be dismantled and relocated. Winner of several awards for architectural design, The Crib is a great example of modern ingenuity mixed with tradition.
New Story + ICON 3D-Printed Home
Have you ever considered printing a home? With the advent of 3D-printing, the idea of printing a livable structure is fast becoming a reality. In an effort to answer the call to end global homelessness, non-profit organization New Story partnered with innovative construction technologies company ICON, and in March 2018 unveiled the first permitted, 3D-printed home in America.
Currently standing in Austin, Texas, this home was built with a prototype printer. The production version of the printer will have the ability to print a single story, 600-800 square foot home in under 24 hours for less than $4,000. The first community of homes will be printed in El Salvador, with additional locations soon to follow.
Ziggy's Cob Cottage
New technology and innovation are great, but what about the old tried and true methods that need little more than your bare hands and some creativity? Built by a 25-year-old with almost no building experience, this home only took around 6 months to build, was inexpensive (the whole thing cost under $3000), and utilized as many local and natural materials as possible.
Cob houses are constructed from a natural building material made from subsoil, water, fibrous organic material (typically straw), and sometimes lime. As it is fireproof, cob can be used for building ovens, stoves and chimneys.
"I moved in on July 11, 2009 with my galfriend April, and I have been so satisfied to finally live in my home, to experience something I built from the ground up, with the help of so many friends. It's been awesome."

— Excerpt From: Lloyd Kahn. "Tiny Homes: Simple Shelter."

Free Spirit Spheres
The Pacific Northwest could be considered a haven for alternative housing ideas and living. There is a seemingly endless supply of amazing places and people who cultivate a nature-first lifestyle, integrating with the ecosystem rather than separating from it. These spherical treehouses hang from the coastal rainforest canopy and provide a truly unique, back-to-nature experience. Free Spirit Spheres are located on Vancouver Island in British Columbia, Canada. Though more of an interesting concept than a practical dwelling, it's still a great example of what can happen when we think outside the box.
When asked about where the idea came from, the master craftsman and creative director Tom had this to say: "The way I see it I am a spiritual being having an experience in a body. If the Creator/Spirit is everywhere and in everything, including me, then I am one with it and everything else in all of existence. This way of thinking led me to pose a question to Spirit: "What can I do to prolong these 'whole-minded moments' which arise from my awareness of oneness in meditative and creative states?" The idea for the spheres came as a response to that question." A classic tree house like what you dreamed up during childhood.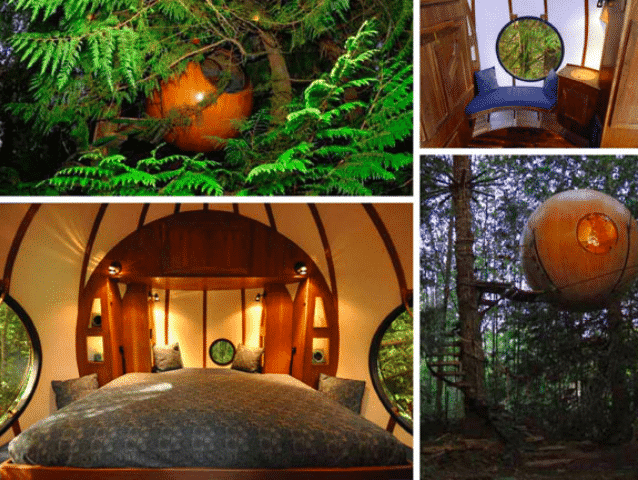 The Pentagon Cabin
Another place where alternative living is embraced is France. One example is a community called ARDHEIA, which is an acronym for "Association de Recherche et de Dymnamisation de la Filiere pour un habitat ecologique, innovant et alternatif" (Association for Research and Revitalization of the Industry for Ecological, Innovative, and Alternative Housing).
"ARDHEIA, whose mission is to accompany the art of building on its transformation into something more reasonable, more sustainable, more accessible, and more beautiful, in spite of tightening laws in France which transform alternative building into a tricky balancing act."

— Julie Lambertson (Excerpt From: Lloyd Kahn. "Tiny Homes: Simple Shelter.")
The Pentagon Cabin is just one of many great structures that exist at the community.
"The pentagon cabin, designed for a young family on their nearby property, has a 20m² (215 sq. ft.) floor plan, in accordance with French building regulations at the time, but they are a very deceptive 20m². The walls spread out at a diagonal from the floor, making room for shelves and seating without taking away from the floor space. A pair of roomy bedroom lofts overhead, at the widest point of the pentagon, are linked together by a gangway-style walkway. A tiny shower is tucked into one corner, and the composting toilets are outside."

— Excerpt From: Lloyd Kahn. "Tiny Homes: Simple Shelter."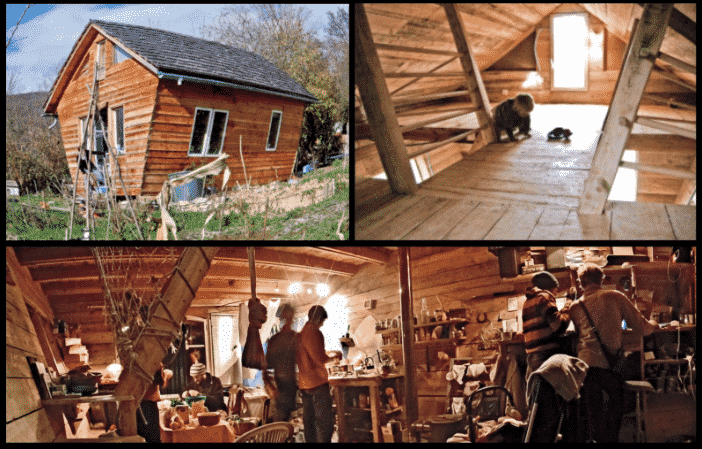 Plastic Bottle Island
Using salvaged building materials and other 'trash' like discarded tires, aluminum cans, driftwood, etc. is no new concept, but British artist Richart "Rishi" Sowa took it to another level with his floating plastic bottle islands in Mexico. Despite resistance from local authorities and losing his first island to a hurricane in 2005, Richart pressed on and built Joyxee Island, which floats today on a base of about 150,000 air-filled bottles held inside large nets. The bottles are held together by the roots of mangrove plants that grow all over the island and form an organic, sustainable netting. The roots help maintain a solid structure as well as wrapping around the bottles and preventing friction that leads to their erosion.
"This private island property features swimming ponds, internet access, a hot tub, private beach space, solar power, a three-story home and a total area of 750 square meters (8,000 square feet)… Environmentally, the island is an example of a wind-, solar- and wave-powered living space. Sowa claims to be perfecting a wave-powered air conditioner, water pump and electricity charger. Furthermore, the mangroves can clean the air by absorbing carbon dioxide."

— Excerpt from article
Richart provides a truly remarkable example of alternative living. He welcomes guests to Joyxee island and has been giving tours since 2008, so everyone can get a firsthand experience. And if that deal doesn't sound sweet enough, if you come for a visit, word is he'll even throw in a piece of solar-cooked cake!

Waternest 100
The Waternest 100 was developed for London-based company EcoFloLife by Italian architect Giancarlo Zema. Available since 2015, the Waternest is built to order and available in a range of interior configurations, such as a home, bar, restaurant, office, event space, store, or whatever else you can dream up. This luxurious, eco-friendly space is made entirely from recycled timber and aluminum, and gets all its power from 60 sqm of photovoltaic panels installed in the roof. It has 100 sqm of floor space, and can be positioned along rivers, lakes, bays, atolls and sea areas with calm waters.
Alternative living isn't just for people on a budget — prices for the waternest start at €500,000 (approx. $590,000 US).


The Tin Can Homestead
Repurposing an old vehicle is a great way to get into alternative living, and this couple did a beautiful job with their vintage 1971 Airstream. It started with gutting the leaky trailer they had purchased for less than $5000, and with the help of only a couple specialists (for electrical and structural work) they proceeded to do almost everything themselves, from the flooring and custom cabinetry to wiring and plumbing. Despite their lack of experience, the results speak for themselves. Altogether the project cost approximately $22,000 US, and they dubbed it the Tin Can Homestead.
"Inspired by a Scandinavian aesthetic, Natasha sought to create a minimalist home that was bright, airy, and modern. She picked a neutral color palette of mostly black and white with brass accents and fastidiously stuck to it to create an interior that was beautifully cohesive and full of life, yet visually clutter-free. Timber cabinets and floors add a sense of warmth. Plenty of potted plants—Natasha counted over 60 at a certain point in time—breathe life into the space."

— Excerpt from article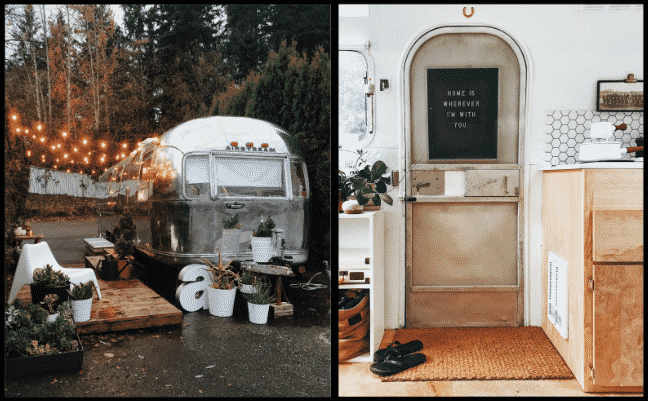 Kenton & Melissa's Tiny Home
Kenton Zerbin teaches courses on permaculture and tiny home building, and his 380-square-foot home is a model for modern tiny home construction. It has two water tanks that hold 1,800 litres of water, solar tubes to heat the water and 10 solar panels that provide all the energy they need. Kenton and his wife Melissa live with their cat in the portable tiny home outside Edmonton in Canada.
The house is valued at around $120,000 CDN ($90,000 US), including sponsorship, as well as much labor done by Kenton and Melissa themselves. He says tiny homes can be built for half that, but the couple wanted to have the ability to live off the grid.
Kenton and Melissa were faced with restrictions on minimum house size, so they appealed to the municipality, successfully convincing them to change regulations and remove the minimum size requirement.
"We are always looking for ways to incorporate new housing choice in our neighbourhoods, and the tiny house movement is definitely one we want to support," said Anne Stevenson, a planner with the City of Edmonton.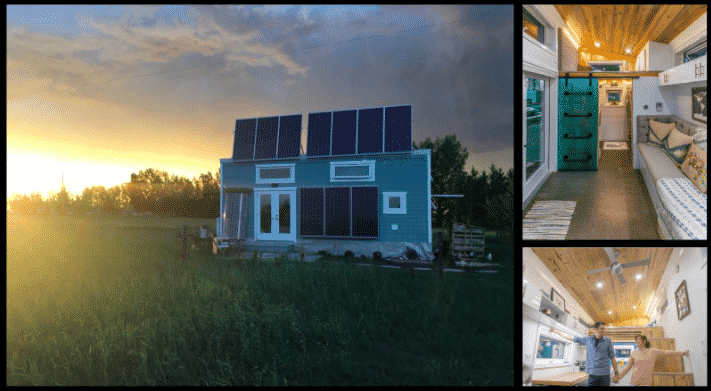 Bungalow in a Box
This company based out of Woolwich, Maine builds made-to-order panel-frame structures and delivers them throughout New England and the Mid-Atlantic states. With a physics degree from Harvard College, founder and craftsman Raoul Hennin custom designs and engineers each structure for optimal use of materials and space.
Panel-Framing takes advantage of the efficiency of modern SIP (Structural Insulated Panel) construction methods, which consist of an insulating foam core sandwiched between two structural facings. This means reduced labor costs from shorter construction time and less jobsite waste, as well as further savings from smaller heating and cooling systems required with SIP construction.
"Heavy timbers span cathedral ceilings, but no bulky posts intrude on the living space. Prefabricated panels assemble quickly, but are weathertight from day one. And, perhaps best of all, Panel-Frame structures go up with little impact on the site."

— Excerpt from article
Raising Hennin's bungalows takes just one or two days, instead of one or two weeks of conventional construction. Whereas many alternative homes on this list require a lot of work on the homebuilders part, this process takes most of the hard labor out of the equation, while still leaving ample room for creativity.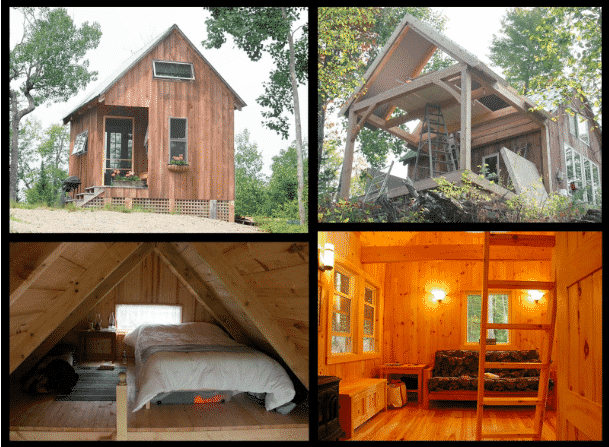 The Cube Project
The cube project is a series of low-energy microhomes designed by Dr. Mike Page at the University of Hertfordshire, who set out to build a home with an internal size no bigger than 4x3x3 meters, in which two people could live a comfortable, modern existence with a minimum impact on the environment.
The cube project has gone through several upgrades since its first appearance in 2011. The third-generation QB3 is their latest production model, which debuted at the Edinburgh International Science Festival in March 2016.
"As with all the Cube Project buildings, QB3 is optimized for energy use. It uses two heat pumps (for heating and hot water), heat-recovery ventilation, LED lighting and TV, A++ rated appliances, triple-glazing and excellent insulation. There is also the option of a green roof, with solar photovoltaic panels, that would make QB3 energy neutral over a typical year."

— Excerpt from article
One of the more innovative features of the QB3 comes in the form of moveable walls that help to make the most efficient use of its 18 square meters of floor area.
The QB2 and QB3 are production models available for purchase in the entire mainland UK from Bolton Buildings, as complete buildings at various stages of finish.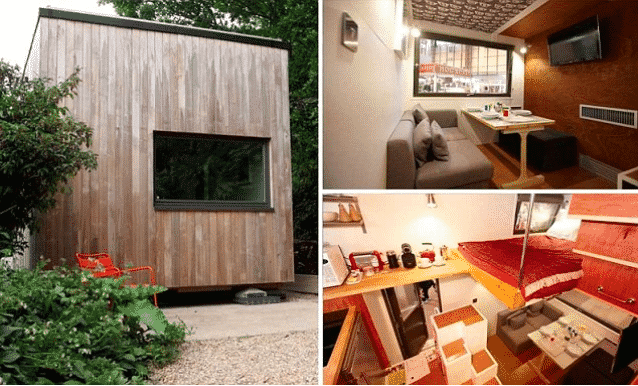 Y:Cube
Another cube concept from the UK, the Y:Cube units are 26m² one-bed studios, for single occupancy, that arrive on site as self-contained units. Additional units can be added as needed, and whole developments can be taken apart and rebuilt in new locations.
Each unit is constructed from high quality, eco-efficient materials (primarily renewable timber), and the units are so well insulated that they require little or no heating, even in winter months.
"Y:Cube Housing is a modular system using volumetric technology that enables the factory-made units to stack easily on top and/or alongside each other, making it completely adaptable to the size and space available and therefore perfect for tight urban sites, creating semi-permanent communities."

— Excerpt from article
The Y:Cube is one of the more unique homes we've seen, providing an alternative to poor quality shared accommodation managed by private landlords and can offer a better solution for those in housing need within the community. A simple, elegant prefab house.
Y:Cube Mitcham is the first Y:Cube development, made up of 36-units, and the first residents moved into their homes in September 2015.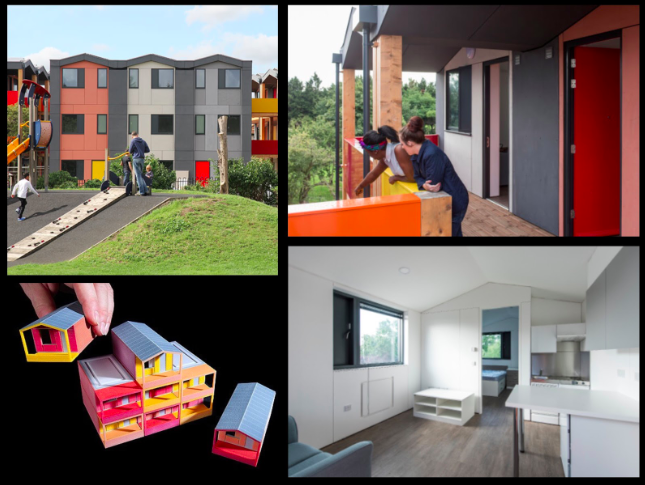 Nicolette's €1,000 Wagen
Nicolette Stewart moved to Germany in 2005 after tiring of her 9-to-5 office life on the east coast of the United States. She moved to a wagenplatz (trailer park), where she was given an old 6m (19') caravan which she hauled to Mainz to overhaul with scavenged materials and borrowed tools.
There was plenty of work to be done: rotten boards to be replaced, wasp nests to be removed, insulation to be put in, an oven to install. But she was ready, after discovering that the wagen lifestyle really meshed with her ideals: the maintenance was manageable, the living was more environmentally responsible, the rent was dirt-cheap, and the community of wagen dwellers around her provided a network of mutual support. Similar to this, some individuals opt for a pallet home or silo home.
"All I had to do was dig the axle out of the ground and get it home. Two days later and a few layers dirtier we hauled trash house home to the wagenplatz where I live and the oh-crap-I've-never-built-anything-more-complicated-than-a-CD-shelf, DIY renovation gauntlet began. A year, 1,000 Euros, and many borrowed tools and trips to the dumpsters later, I had me a sweet little house on wheels."

— Excerpt From: Lloyd Kahn. "Tiny Homes: Simple Shelter."
"…timely dumpster-dived resources were key to the low cost, but one area she did spend was on hemp insulation. "Three packs, which will insulate my ceiling and part of the still-open wall, cost 130 Euros. Ouch. One pack of fiberglass poison-on-a-roll would have cost me 16 Euros. No wonder nobody buys organic. But I have my priorities, and fiberglass is not one of them."

— Excerpt from: Lloyd Kahn. "Tiny Homes: Simple Shelter."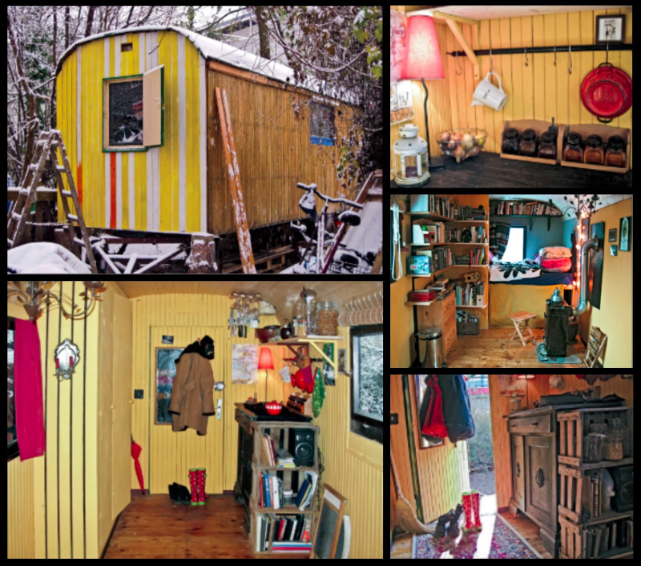 Brithdir Mawr Community
In 1998, a survey plane flying over the countryside in Wales spotted sunlight glinting off a mysterious solar panel on old farmland. When the pilot reported back, officials were unable to find any records, let alone planning permission, for the mystery hillside village surrounded by trees and bushes. After five years of living happily off-grid in straw and mud huts, the community had been discovered.
They faced resistance from authorities that wanted to demolish the grass-covered buildings, but the 22 villagers fought planners even when they were within hours of the bulldozers moving in to demolish their eight homes. Despite a decade-long legal battle involving court cases, inquiries, and planning hearings, in 2008, backed by more modern support for green issues, their struggle ended in victory.
"We had to prove we were improving the biodiversity of the area and conserving the woodland and we did that. It's great that our efforts to build a community using renewable resources have now been supported by the planners. 'The planners have worked miracles in making a new policy which enables communities which are self-sufficient to exist."

— Excerpt from article
The biggest challenge now for Brithdir Mawr is to save the community and safeguard this land into the future. The current Landlord needs to sell the site by January 2020 but wants to see the community continue and is, therefore, giving them first refusal.
To acquire the funds to purchase Brithdir Mawr, the community accepts donations, and has a variety of income generating strategies such as providing bed and breakfast, being a permaculture design course venue, holding events such as seasonal fairs, and selling their own eco-products.
"Our vision is for Brithdir Mawr to be held in a Trust so that it may remain a thriving place for future generations to learn about living with others in a sustainable and nurturing way. If this vision speaks to you please contact us for a chat."

— Excerpt from article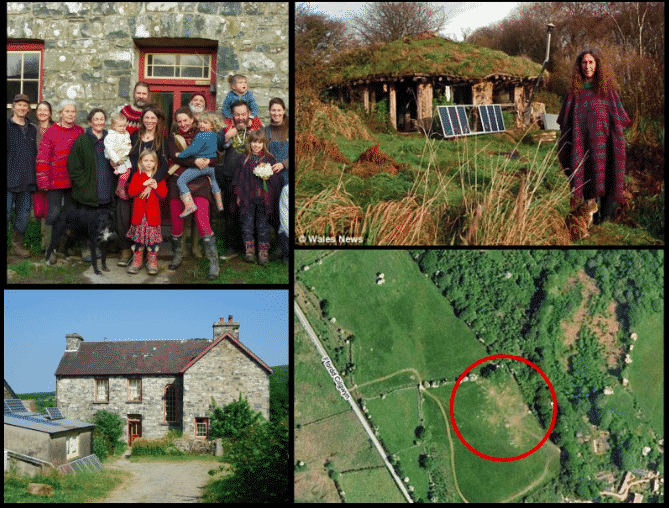 Purple's Bedford Bus
For 10 years, Purple has been living in his old Bedford bus on South Island, New Zealand. Almost everything in this off-grid home on wheels was reused or upcycled from trash back into an object of value, from old solar cylinders which have been reconditioned to provide hot water, to old microwaves and fridges which have been upcycled into solar ovens and food dehydrators.
Purple is a musician and audio engineer, and the bus is just the latest in a string of alternative homes he's lived in over the years. He also lived in a caravan and a small house he built himself, and touts the connection with nature that it affords him as one of the biggest motivators for why he chooses the lifestyle.
"When I've lived in comfortable houses, I stay inside. I miss out on the range of feeling and great dynamic-ness of nature, which is precious."

— Excerpt from video
The previous owner of the bus saw its potential as a living space, and gifted it to Purple on the condition that he do it up and make it legal. Though the project is still a work in progress, it's safe to say that Purple has created a unique and inspiring habitat. Lots of people now also opt to live in an RV.
"Here in the Bedford, Purple lives a life of creativity and comfort. With all his basic needs met, he is surrounded by inspiration from nature. Simple living gives his soul the space it needs to create and add art and beauty to the world around him."

— Excerpt from article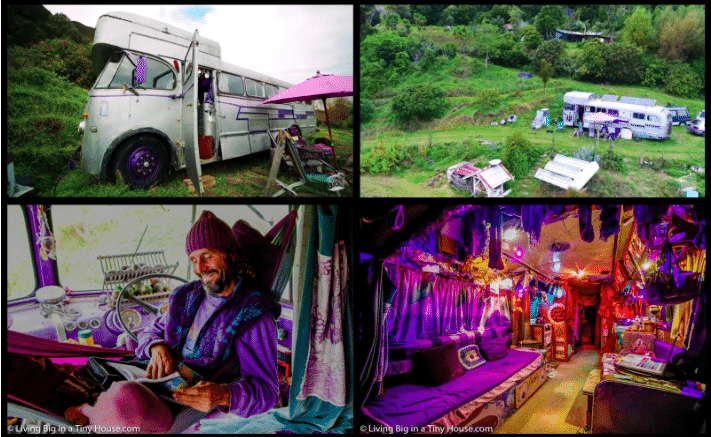 Ecocapsule
This egg-shaped microhome comes ready to go with all the basics to live a minimal, off-grid lifestyle. A compact, self-sustaining unit that collects rainwater and generates power through solar panels and a wind turbine, the Ecocapsule was designed to have the best possible shape for collecting rainwater and minimizing thermal losses. It can be connected to external power and water supply, but with efficient power generation and storage, chances are you won't need to.
Intended for mid-term accommodation, the Ecocapsule comes equipped with a cooking area, stovetop, sink, mini-fridge, toilet, shower, fold-out double bed, and plenty of storage space. With limits on space and power, it foregoes appliances such as a tv, microwave, and washing machine. Since the Ecocapsule does not require a building permit and can be moved easily, the options for location are about as broad as your imagination.
Based out of Bratislava, Slovakia, the first generation of Ecocapsules was released in 2017. Though the units came with a fairly steep price tag of €79,900 (approx. US $93,000), the company says the cost for the capsule will be lower as production increases in the future.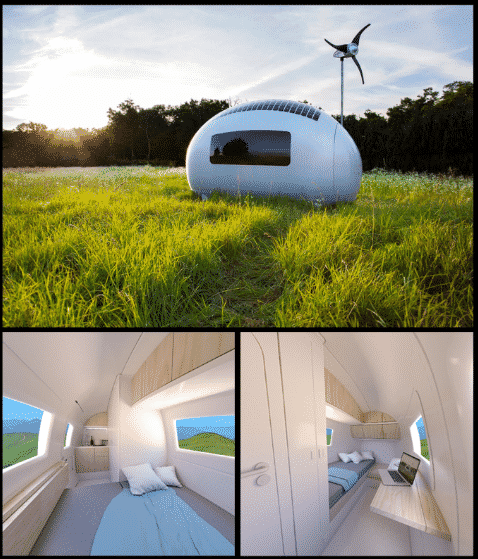 The Peak
This tiny home was designed by UK architectural firm Grimshaw to raise money for Kids Under Cover, a not-for-profit organization that supports homeless youth in Australia. Homes in Australia's cities can be expensive, with its capital Sydney ranking as the tenth most costly city to buy property in the world. The 35-meter-square micro home was created to provide an affordable option for young people priced out of the housing market.
The prefab home has high ceilings which aren't typical of most tiny homes. The design is meant to give residents a greater sense of space inside, and create enough space over the central kitchen, bedroom and bathroom area for a second loft bedroom.
"Typical tiny houses are seriously tiny and essentially a studio space, like a developed caravan. What we were looking to provide was more of a liveable, high quality piece of design with a small size and at an affordable price point."

— Excerpt from article
The Peak has space on the roof to accommodate up to 16 solar panels, and with a composting toilet and enough room under the floorboards to fit a water bladder, it's feasible to take it completely off-grid. The prefabricated homes start at A$110,000 (approx. US $79,000), with the fully kitted out version costing A$150,000 (approx. US $107,000). All profits go to Kids Under Cover.
"You can imagine it in the backyard of an existing house, but you can imagine tiny house subdivisions and the design of tiny communities. We're really keen to explore how we'd design new neighbourhoods around tiny houses," he added. "It does solve so many really big issues."

— Excerpt from article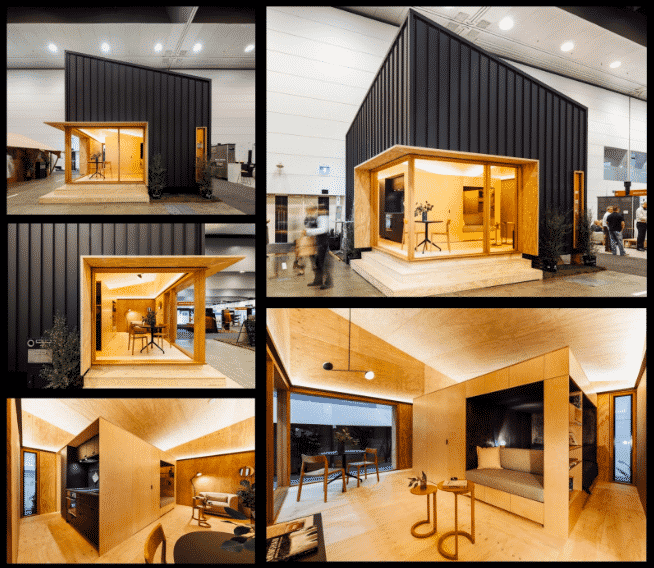 Yin & Yang House
In early 2018 architecture studio, Penda released visualizations of a "yin & yang house" designed for a tiny plot in the rural Edersee countryside in Germany. Created for a young family that wants to live sustainably, this house was designed with sloping rooftop gardens, allowing the residents to grow most of their own food at home.
Being on a small plot of land that could not accommodate both the home and sufficient garden space, the house incorporates a terraced roof that allows the owners to grow food on both sides. The sloping roof will channel rainwater towards a tank, where it can be stored and used to water the plants. Throughout the year, the plants on the roof will change with the seasons, altering the building's appearance and enhancing its connection with nature.
"The building's form comprises two interlocking sections that define the living areas and a dedicated workspace. The shape is based on the symbol for yin yang – a Chinese philosophy that describes how seemingly opposing forces can combine to create a balanced and stronger whole."

— Excerpt from article
The unusual home was partly inspired by Penda co-founder Chris Precht's own lifestyle in the mountains of Austria. This house was built with a reverence and respect for nature: the yin & yang theme, the mountain-esque rooftop garden terraces, the compact size and rural location, the sustainable, off-grid capabilities, and the living roof that changes with the seasons, all add up to a home that offers a remarkable and unique living experience.
"Whenever architects design a building, they take an area away that used to belong to nature. We try to give this space back to plants on the roof. At the same time we provide a gardening-system for the owners with greenhouses in winter and rows of planters for the rest of the year."

— Excerpt from article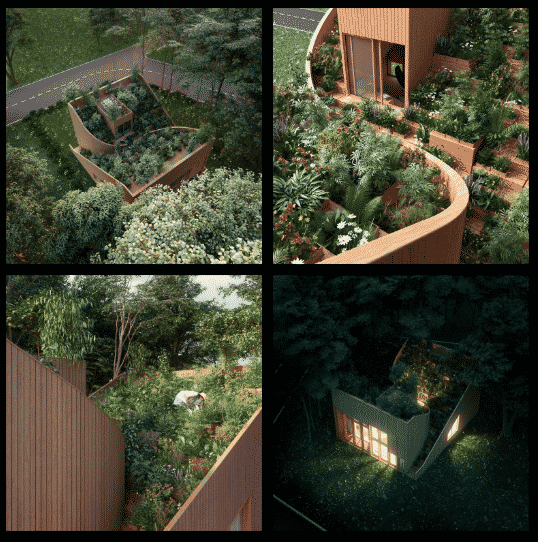 Paul, Julie and Mia
With growing populations and property costs, decreasing available land space, and rising ocean levels, living on a boat is making more sense than ever. Floating homes, houseboats, narrow boats, and sailboats are just a few of the options, and people everywhere are choosing to call a boat home. Whether you decide to travel and wake up somewhere new all the time, cruise around an area stopping where you choose, or find a permanent mooring, chances are you'll appreciate the freedoms that you can only find on the water.
Paul and his partner Julie met in Victoria, Canada in 2003, shortly after he had sold his house and was dreaming of finding the right woman to sail with to the southern channels of Chile. It was also here where Paul first saw Mia, their future home and sailboat, sitting in a haul-out yard. They fell in love with the teak wood boat, so they bought it, and the couple set out turning it into their dream home.
After immigrating with his family to Canada from the Netherlands at the age of 16, Paul became a goldsmith. While goldsmithing he raised a family, built a house, sailed and rebuilt boats, all the while acquiring the knowledge and capabilities to be self-reliant and off-grid: plumbing, electrical, carpentry, rigging, mechanical, etc. He put these skills to use fitting the ship for what would become a five-year adventure abroad, with the couple relying only on themselves and Mia.
"Paul installed a solar panel, a self-steering vane, a generator, and four deep-cycle batteries. These alterations, plus a hand coffee grinder, hand tools, solar showers, and hand laundry done in the dinghy minimized our dependency on the grid. We are the model of efficiency and self-sufficiency."

— Excerpt From: Lloyd Kahn. "Tiny Homes: Simple Shelter."
In September 2005, they set out on a long journey heading south toward Chile. Their adventure ultimately took them all the way, but not without a series of mishaps, setbacks, and all sorts of unforeseen events along the way. They ran out of wind and diesel and drifted helplessly for days, were struck by a Galapagos National Parks service vessel and spent four months in Ecuador repairing, they awoke one morning to a dusting of volcanic ash from a volcano erupting deep in the Andes, and even encountered pirates on two occasions.
"We sailed by the glaciers, dodged bergie bits, sailed with the dolphins and whales, saw a puma, guanacos, and condors, and shared seafood with the few fishermen. This part of the voyage was most memorable for its stunning beauty and gifts of nature."

— Excerpt From: Lloyd Kahn. "Tiny Homes: Simple Shelter."
Despite the setbacks, in September 2006, they reached Arica, the capital of Chile, where they were welcomed by new friends, given help finding parts and repair shops, and treated to home-cooked meals and plenty of Pisco Sours, the Chilean national drink. The kindness they received proved to be a stark contrast to "inhospitable North American society" as they sailed back to Victoria, BC in 2008.
Paul and Julie's story is just one of so many inspiring tales like theirs, of people who found the means to truly embrace an alternative lifestyle. Their thirst for adventure and the courage they displayed in dropping out of society is something we should all be able to appreciate.
"What does it mean to be a cruiser? It means you live with what you need. You enjoy the journey, landfalls, languages, and cultures but always live in your own humble abode by your own means. We're on Mia's short tether; always looking out for her because she sustains us, we have a truly symbiotic relation­ship. Two fifty-year-olds in love, camping with the elements and waking up together in different parts of this great Earth."

— Excerpt From: Lloyd Kahn. "Tiny Homes: Simple Shelter."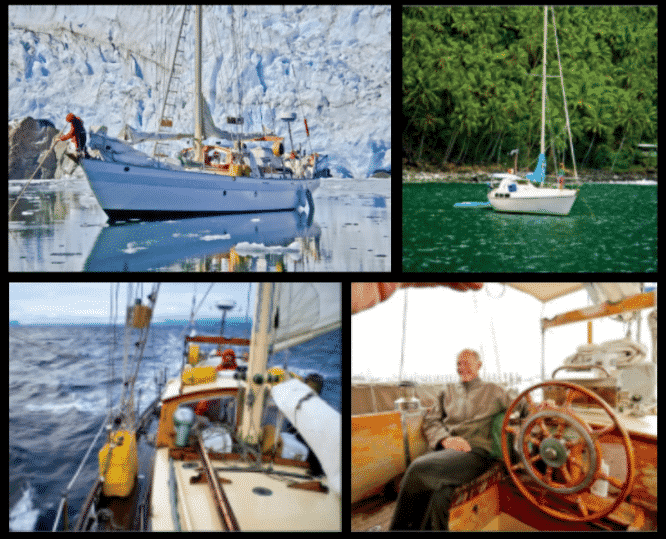 The Earthship
If you're interested in alternative homes, or just avoiding a traditional home, there's a good chance you've come across the Earthship. A concept first introduced in the 1970's by architect Michael Reynolds, the Earthship is a type of home built with natural and recycled materials that produces water, electricity, and food for its occupants. Using technology and taking advantage of natural phenomena, these homes are designed with environmental issues and energy conservation in mind.
Earthships are defined by six basic design principles: building with natural and repurposed materials, thermal/solar heating and cooling, solar and wind electricity, water harvesting, contained sewage treatment, and food production. Great energy efficiency too.
"The houses we now build with earth rammed tires are so strong that no foundation is required, giving load bearing walls and thermal mass storage. Solar glazing along the whole front of the structure allows the sun to heat the floors and the walls providing comfortable, stable temperatures inside without using fossil fuels or wood. Operable windows and skylights provided natural ventilation to cool the buildings."

— Excerpt from article
The Earthship has gone from a so-called "bunch of dirty hippies" to a global movement and a company that includes construction and rentals, merchandise, even a school where they teach you how to build your own Earthship. They are currently offering internship opportunities and workshops in New Mexico, Japan, and Uruguay. The company also regularly carries out humanitarian builds around the world, in countries such as India, Haiti and Sierra Leone.
Reynolds was the subject of the 2005 documentary, 'The Garbage Warrior', which follows him as he works to pass the "The Sustainable Development Testing Site Act." Legislation that allows land to be set aside for the testing and development of sustainable buildings.
"Whether this product, Earthship, lives or dies, is not really that important. I think the concept of encountering phenomena of the planet, for deriving sustenance, is going to catch on. I think people are smart enough to realize that."

— Michael Reynolds, Excerpt from 'Meet the Earthship'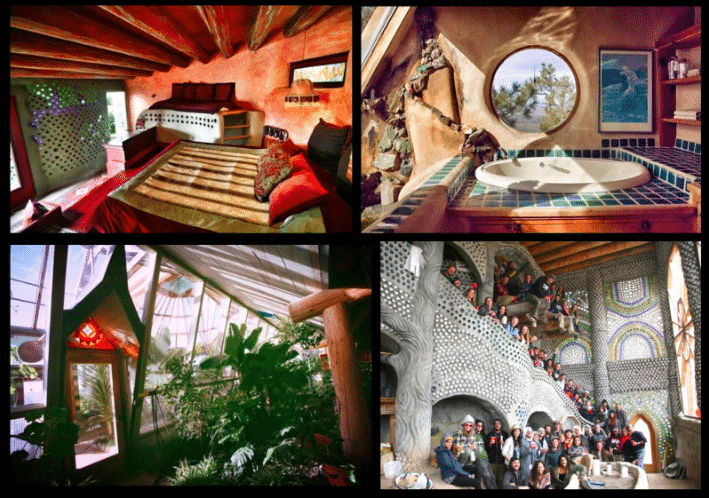 Conclusion
Don't be fooled by reports of resistance against tiny and alternative homes — this is a large and growing movement that is necessary for a sustainable future.
Things like government regulation can seem imposing, but even within this article there are examples of people who have changed the system and gained the right to live how they wanted. This year in Oregon, US, a new building code was proposed to allow for more reasonable standards for the design and construction of tiny homes. Ted Allsopp, owner of Hummingbird Micro Homes, pioneered British Columbia's first tiny-house village in 2015. Seventeen tiny homes are now located in Bluegrass Meadows Micro Village. A similar village is being put together in Sunshine Valley, a largely recreational community 175 km east of Vancouver.
This list is but a glimpse of the possibilities that exist for breaking the consumer lifestyle mold. If you're interested in moving away from living how we're expected to, you might want to continue down the rabbit hole of alternative living and see where it takes you.
---
---
---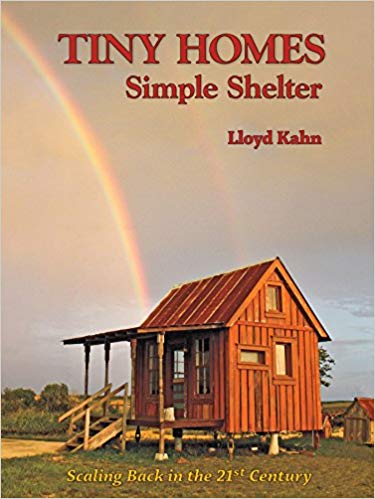 If this post sparked the alternative home fire within you, you need to dive deep into the work that inspired this piece. Take a look at the history and future of alternative homes, and have your expectations of what living can be like shattered.