Jordan Bates • • 3 min read
Make Your Soul Grow: 84-Year-Old Kurt Vonnegut's Wonderful Letter to a Group of High School Students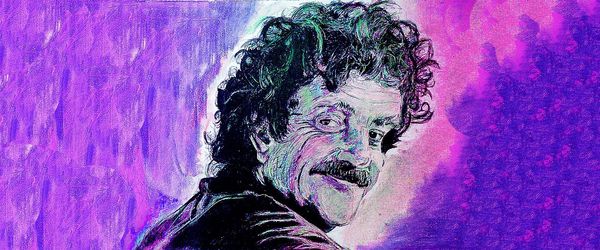 "Practice any art . . . no matter how well or badly, not to get money and fame, but to experience becoming, to find out what's inside you, to make your soul grow."

— Kurt Vonnegut
In 2006, a group of students at Xavier High School in New York City were given an interesting assignment: to write their favorite authors and try to persuade them to visit the school.
Five students opted to write to none other than Kurt Vonnegut, the inimitable author of numerous hilarious, mind-bending, darkly satirical sci-fi classics such as Slaughterhouse Five and Cat's Cradle.
Wily ol' Kurt was the only author to reply to the high school students. Although he opted not to visit the school — noting that he no longer makes public appearances because he "now resemble[s] nothing so much as an iguana" — he did take the time to write the students a marvelous letter.
Vonnegut's Wonderful Letter
(Scroll down for the transcript.)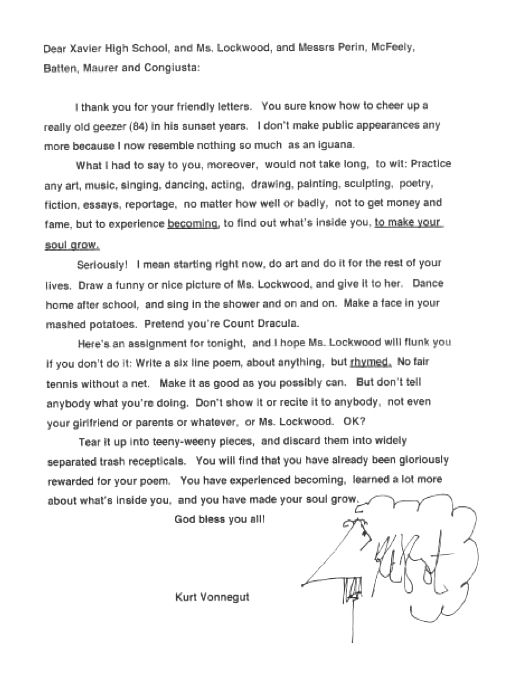 November 5, 2006
Dear Xavier High School, and Ms. Lockwood, and Messrs Perin, McFeely, Batten, Maurer and Congiusta:
I thank you for your friendly letters. You sure know how to cheer up a really old geezer (84) in his sunset years. I don't make public appearances any more because I now resemble nothing so much as an iguana.
What I had to say to you, moreover, would not take long, to wit: Practice any art, music, singing, dancing, acting, drawing, painting, sculpting, poetry, fiction, essays, reportage, no matter how well or badly, not to get money and fame, but to experience becoming, to find out what's inside you, to make your soul grow.
Seriously! I mean starting right now, do art and do it for the rest of your lives. Draw a funny or nice picture of Ms. Lockwood, and give it to her. Dance home after school, and sing in the shower and on and on. Make a face in your mashed potatoes. Pretend you're Count Dracula.
Read this: Artgasm: Why You Ought to Make Some Art
Here's an assignment for tonight, and I hope Ms. Lockwood will flunk you if you don't do it: Write a six line poem, about anything, but rhymed. No fair tennis without a net. Make it as good as you possibly can. But don't tell anybody what you're doing. Don't show it or recite it to anybody, not even your girlfriend or parents or whatever, or Ms. Lockwood. OK?
Tear it up into teeny-weeny pieces, and discard them into widely separated trash recepticals. You will find that you have already been gloriously rewarded for your poem. You have experienced becoming, learned a lot more about what's inside you, and you have made your soul grow.
God bless you all!
Kurt Vonnegut
If you appreciated this, please pass it on.
---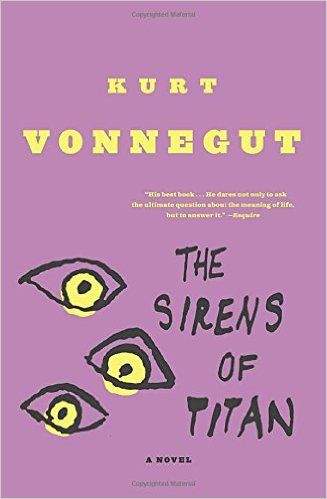 "A purpose of human life, no matter who is controlling it, is to love whoever is around to be loved."
The Sirens of Titan is an uproarious jaunt through time and space that follows the richest man on Earth as he hurtles toward a prophesied fate. It's a satire bursting with black humor, social commentary, and Kurt's unmistakable voice. It's wonderful. It's Vonnegut. It's worth it.
---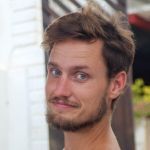 Jordan Bates is a lover of God, father, leadership coach, heart healer, writer, artist, and long-time co-creator of HighExistence. — www.jordanbates.life