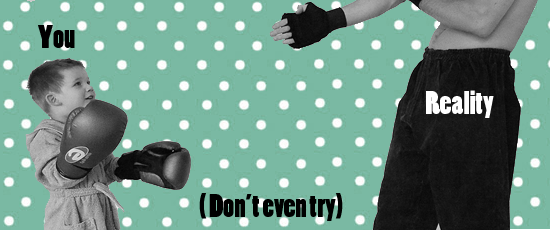 When something bad happens to you, what is your automatic reaction? If you are normal, your answer is to react with anger or sadness along with some complaint.
However, if you are on this site, reading this article, chances are you are not normal, nor do you want to be normal.
Rise Above Normality:
When life gives you lemons, realize that lemons were exactly what you needed. By that, I mean:
When something happens to you, it is the

best possible thing

that could happen to you.
That means no complaining, no anger, no sorrow. Just acceptance.
Here is the reasoning:
1)
There is absolutely no point in fighting against reality because you will always lose. If you are fired from your job, complaining about it will only bring your more misery. It will not get you your job back. It will not make you feel better. In fact, it will only prolong the unhappiness you feel about getting fired because you will be focusing on being unhappy! So don't argue against your reality. It's like asserting that the sky is pink, not blue. It most definitely IS blue! Trying to say that it is pink will get you no where.
To put it simply, "Shit happens." No matter how careful you are in life, 'negative' events are going to come up inevitably. So when they do, try to just accept them instead of complaining and being adversely affected by them. Instead, try #2 below…

2)

When you believe everything that happens to you is the best possible thing to happen to you, nothing bad will ever happen to you! It's just that simple. When you are fired from your job, assume that there is some greater good that is going to come out of you losing your job.
After you have that assumption down, look for that greater good. Try and figure out why your firing was the best possible thing to happen to you. If you search for the good, you WILL find it, guaranteed. This will not only help you to quickly get over being fired, it will also point you in the direction that should go towards in your newly job-less state.
Questions you should be asking yourself:
— What can I do now that I couldn't do when I had the job?
— What negative things do I no longer have to deal with?
— What did this experience teach me? What did I gain?
By answering these questions, you are finding positive outcomes of a seemingly negative event. Doesn't that sound like a better idea than
complaining and writhing in your own misery like normal people do? I thought so…
3)
When you get into this habit for looking for the good in every situation, you'll find that nothing can get you down. Your overall happiness will go through the roof because essentially nothing negative ever happens to you. When you don't get into that college or your significant other breaks it off or the movie you wanted to see is sold out, you will see only opportunity, not misfortune.
Another phrase for this kind of lifestyle is "Going with the flow."
Once you start going with the flow instead of fighting against it, you will also find that the flow has a course. By that, I mean that when you work with the flow, when you embrace it, you will discover that you will start to flow in a good direction. Great things will start happening in your life. The universe has a flow! It is very much alive and conscious of you. Those of you who are religious can liken this statement to god having a plan for your life. If you fight against said plan, you will encounter hardship. Go with the plan and events that can normally only be regarded as serendipity will spring up everywhere.
Some call this the law of attraction, some call it god, others call it universal flow. Whatever you want to call it, this effect is very real. Believe that everything that happens in your life is the best possible thing to happen to you and experience it for yourself.